I love making stuffed squid recipe dishes and I enjoy trying out new techniques, but this is the one I usually make because it's just so good!
Use big squid tubes to make this recipe and only fill them two-thirds full so the filling does not expand and come out. This is, in my opinion, the best stuffed squid recipe with sauce. I love the texture, the flavor… everything!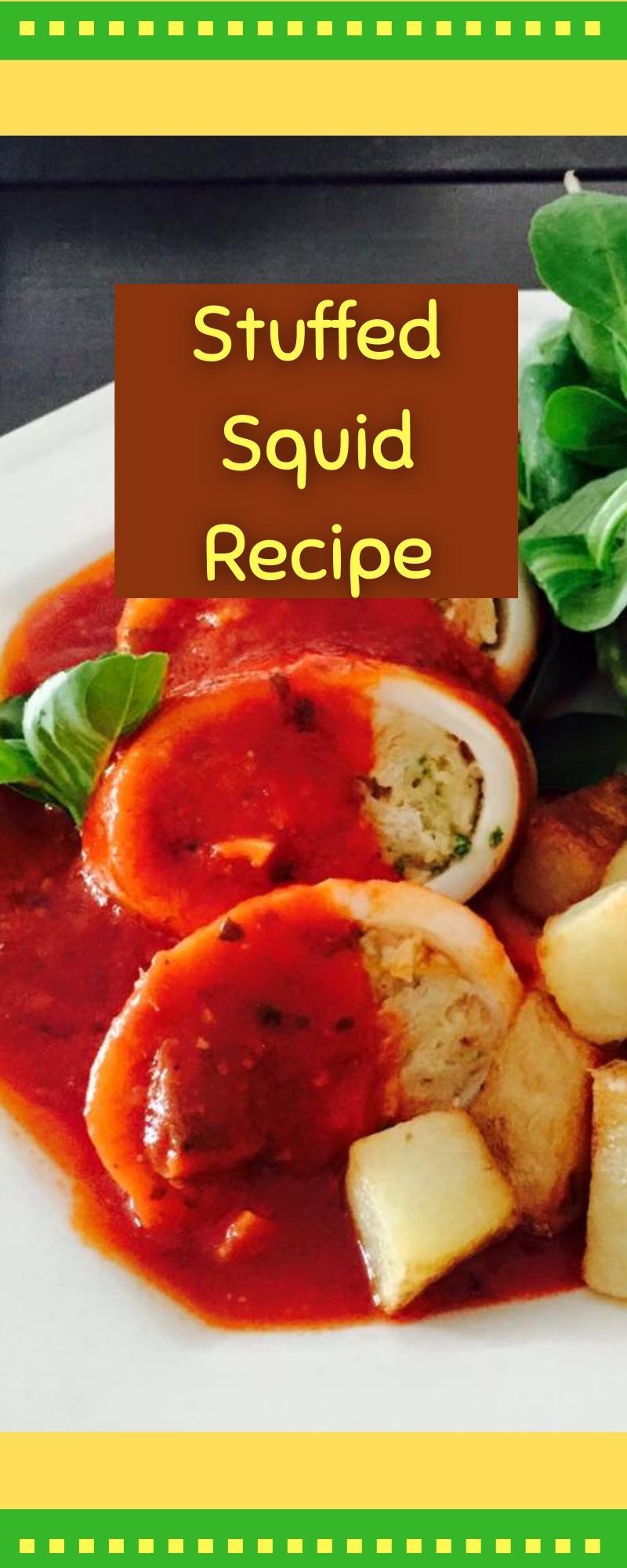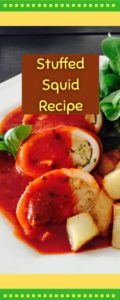 You will need to clean the squid first, unless you are using the cleaned type. I usually get ready-cleaned ones, and I can get a package of 5 frozen ones from the Chinese store. I thaw them overnight in the refrigerator and they are great.
When cooking the squid, cook them until they are tender. This means a knife should slip through easily. Squid needs to be cooked either for a very short time (like a minute) or for a long time (like 45 minutes) because it relaxes then toughens then relaxes again. Squid should never be chewy!
Stuffed Squid Recipe Tips: Such a Tasty Filling Idea
I love the filling in this best stuffed calamari recipe with sauce recipe because it is flavorful without being too rich and it complements the squid itself. I usually get squid tubes and baby squids separately and thaw them together but you might have a squid with attached tentacles, so just use what you have.
This best stuffed squid recipe with sauce recipe takes just over an hour to make from scratch so start it in plenty of time. You will need to flip the squid a few times while it is braising but otherwise you do not have to watch it all the time. Serve this with a fruity red wine, something Italian if you can get it.

Although it is best to ensure the squid is covered with the sauce when cooking, I find my squid is a little too big and my pan is a bit too wide, so I just ladle the sauce over the top and flip the squid often. It still comes out very tender!
How to Present the Best Stuffed Calamari Recipe with Sauce
I like to slice finished stuffed squid into 4 or 5 slices. The filling sets (thanks largely to the egg, cheese and breadcrumbs) so don't worry that it is going to ooze out when you cut the squid because it shouldn't. Even if it does a little bit don't worry. It will just offer a homemade charm that frozen stuffed squid (is there such a thing?) could not possible have.

I like to contrast the squid with a nice fresh salad. Pick out some salad greens and add those to the plate with cucumber slices and a creamy dressing, or whatever you personally like. Another option is a cooked side dish such as green beans or asparagus.
Print
Italian Stuffed Squid
Squid is stuffed with parmesan, breadcrumbs, pine nuts and more, and then finished off in an anchovy and tomato sauce. Great served with a crisp green salad on the side.
Author:
Prep Time:

25 mins

Cook Time:

45 mins

Total Time:

1 hour 10 mins

Yield:

2

1

x
Category:

Seafood

Cuisine:

Italian
2

cleaned big squid tubes
Salt and black pepper, as needed
For the Filling
1

minced garlic clove

1 tablespoon

pine nuts

1 tablespoon

olive oil

2

finely chopped squid tentacles

2 oz

(

60g

) fresh breadcrumbs

1 oz

(

30g

) grated parmesan

1

beaten egg

1 tablespoon

chopped fresh parsley
For the Sauce:
1

finely chopped garlic clove

3

anchovy filets in oil

14 oz

(

400g

) polpa di pomodoro (tomato pulp or passata)

4 tablespoons

olive oil

2

stuffed squid tubes

1 tablespoon

fresh oregano leaves and some sprigs to garnish, if liked
Instructions
For the filling, heat the oil in a skillet and fry the tentacles for a minute.
Drain and put in a bowl with breadcrumbs, garlic, parmesan, pine nuts, egg and parsley,
Add salt and black pepper and toss to combine.
Divide the stuffing mixture between the squid tubes, leaving some room at the top, and secure with a cocktail stick.
For the sauce, heat the oil in a skillet, add the stuffed squid and cook gently for 12 minutes.
Stir in the garlic and anchovies, and cook more, stirring until the anchovies have nearly dissolved into the oil.
Add the tomatoes, oregano, salt and pepper, and stir to combine.
Cook uncovered for 20 minutes or until the squid is tender.
Cut the squid tubes to 1/2 inch (1 cm) thick pieces to serve.
Spread a spoonful of sauce on a plate then arrange cut squid pieces on top and garnish with oregano sprigs if liked.