This recipe for Pad Thai is sooooo GOOD! I want to share it with everyone. You know, I never get tired of this wonderful dish – it really is the yummiest Pad Thai ever.
The rice noodles, shrimp, tamarind, nuts, lime juice and other ingredients work together in perfect harmony and the flavor is simply wonderful.
The full name of pad Thai (sometimes spelt pat Thai or even Thai pat recipe) is kway teow pad thai, which means stir-fried rice noodles in a Thai style, and it is thought to be a southern Chinese dish which was introduced to Thailand in the mid-20th century.
Recipe for Pad Thai: Authentic Pad Thai Noodles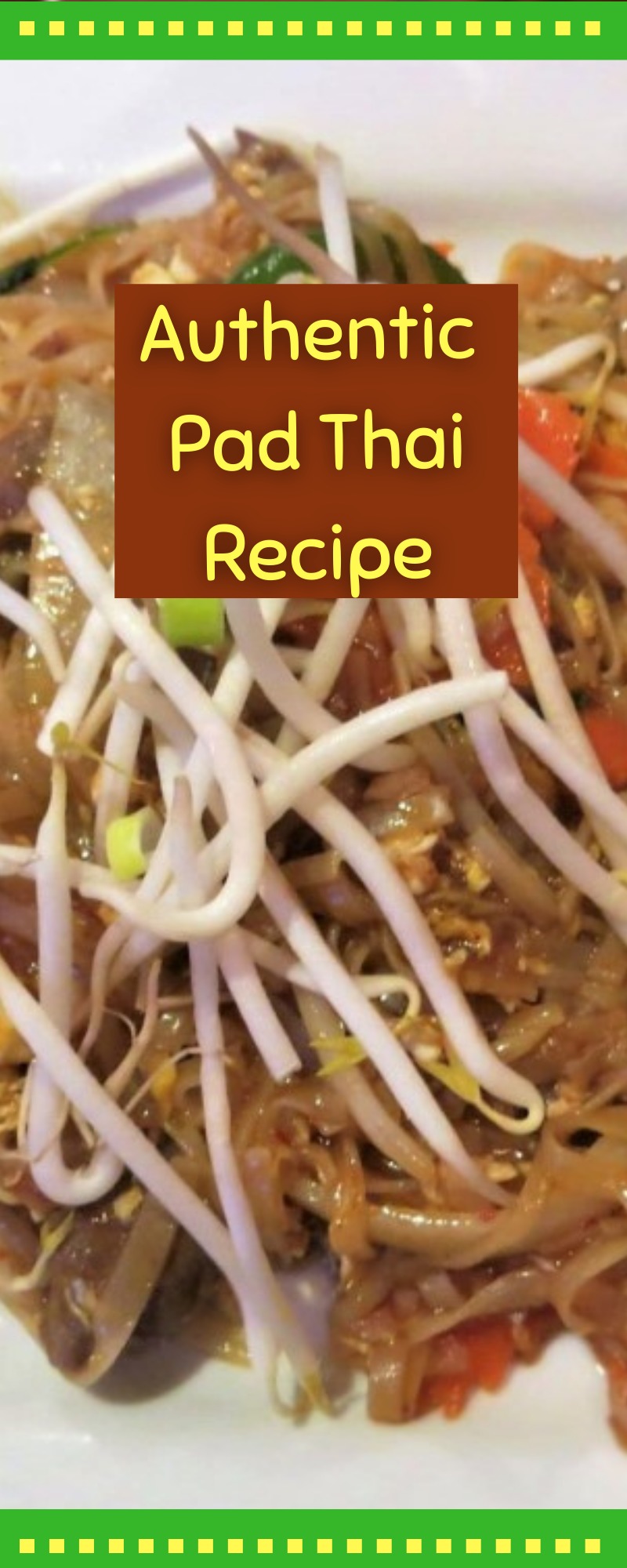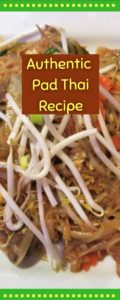 It is important to cook the noodles perfectly in order to make the very best traditional Pad Thai recipe. You will need 'rice sticks' which are dried flat noodles. Some people soak them while others boil them. I've tried both ways and both work fine.
These noodles do tend to clump though so keep them moving while you are soaking them, warming them up in the dish or boiling them. You might also want to consider cutting the cooked 'clump' in half so you can stir them easier in the pan when you are combining them with the other ingredients.
Traditional Pad Thai Recipe Sauce
Although street vendors in Thailand sometimes rely on a ready-made brown 'pad Thai sauce' for the sake of speed, it is better to make your own.
I mean instead of using bottled or packaged sauces or sauce mixes. Pad Thai is supposed to have a wonderful fresh flavor and that just doesn't come from a bottle!
Meat and Seafood for the Best Traditional Pad Thai Recipe
Shrimp and firm tofu are favorites here, although chicken is also great.
If you are vegetarian go with the tofu. You could even try beef or pork although those are not such popular choices for homemade pad Thai.
I like to serve this authentic recipe for Pad Thai with beansprouts, chopped toasted peanuts and cilantro on top. Oh and don't forget the lime wedges!
If you want to try a tofu and shrimp pad Thai recipe, this one is really good!
Print
Best Traditional Pad Thai Recipe
The flavors in this delicious pad thai recipe are amazing. This combination of rice noodles, garlic, chicken or whatever protein you like, egg, and more, is really delicious and it's easy to prepare.
Author:
Prep Time:

15 mins

Cook Time:

15 mins

Total Time:

30 mins

Yield:

2

1

x
Category:

Entree

Cuisine:

Thai
4 oz

(

115g

) dried rice stick noodles

6 tablespoons

vegetable oil

1/3 cup

fish sauce

½ cup

(

125

ml) tamarind juice concentrate (not tamarind paste!)

½ cup

(

100g

) palm sugar

8

minced garlic cloves
Generous handful thinly sliced raw chicken, beef, pork, shrimp and/or tofu

1

thinly sliced red onion

1

egg
Generous handful julienne (matchstick-cut) carrot

3

green onions (spring onions) cut diagonally in

½

inch (

1 ¼

cm) pieces
Generous handful fresh beansprouts
Generous handful cilantro (fresh coriander)
Generous handful chopped toasted peanuts
Lime wedges, to serve
Instructions
Soak the noodles in cold water or or boil until a little firmer than al dente.
Rinse with cold water and set aside.
Stir the fish sauce, tamarind, palm sugar and half the garlic in a pan over a low-medium heat.
Cook it until the sugar has dissolved.
Heat half the oil in a wok and cook your meat/seafood/tofu until done.
Set to one side.
Add the rest of the oil to the wok and add the rest of the garlic plus the red onion.
Stir-fry for a minute.
Add the noodles and stir-fry for a minute.
Add a few tablespoons of the sauce and keep stirring until everything is well mixed.
Now add the cooked meat, seafood and/or tofu and stir-fry for 3 minutes.
Push the pad thai up one side of the wok and crack an egg into the other side, then scramble it for 30 seconds.
Add the green onions, carrot and half the beansprouts and cook for 1 minute, mixing everything together in the wok.
Now taste the pad thai.
If the noodles are not soft yet, cook for another minute.
You can add more sauce if it lacks flavor or some Thai chili powder if it lacks heat.
Serve garnished with the rest of the beansprouts, some cilantro, peanuts and lime wedges.