This chorizo stuffed squid recipe really is good. The baby squid are stuffed with chorizo to make this Spanish inspired chorizo stuffed squid meal.
The end result is simply amazing. Whether or not you have cooked squid before, you are sure to find this a relatively easy recipe to follow and get right.
Chorizo Stuffed Squid: Hmm, Fish and Meat Together?
Although using chorizo and squid in the same recipe sounds odd, it really is good and the chorizo adds a beautiful salty finish to the seafood.
Have you ever tried bacon-wrapped fish or prosciutto-wrapped shrimp? Seriously, pork and fish do go together really well. I wasn't convinced but then a friend of mine made bacon-wrapped cod filet and it was amazing.
So I wanted to make chorizo stuffed squid and taste for myself!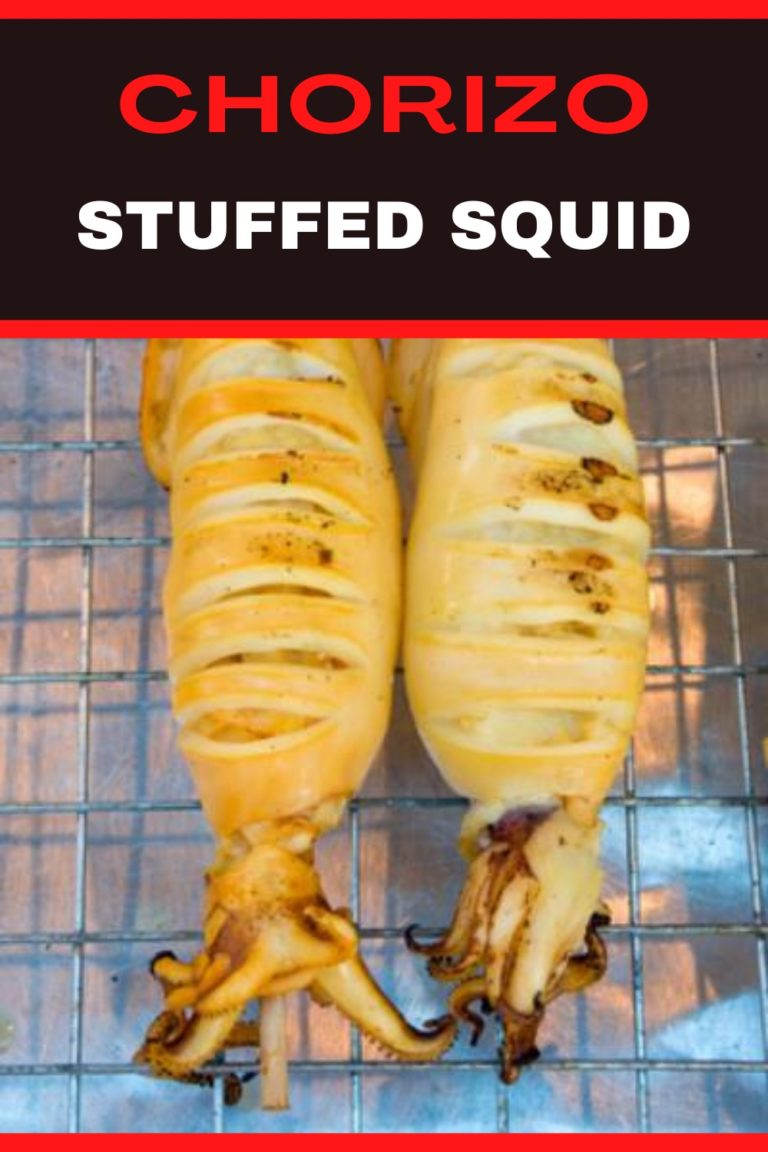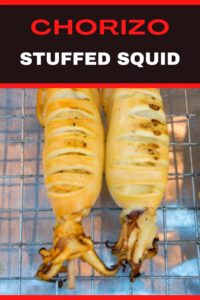 You will need to snap toothpicks in half and soak them in water for half an hour before using them to close the squid pockets so they do not char.
This recipe takes a while because you need to prepare each ingredient and of course stuff the squid, but it is well worth it. Homemade stuffed squid is always excellent.
Pan-roast the squid and the chorizo filling will soak up the amazing cooking juices.
This chorizo stuffed squid really is a great dish and you can serve it with crusty bread and perhaps a glass of Rioja too.
If you want to use squid to make something with an authentic Spanish flavor, this is a nice recipe to opt for. It is authentic and very tasty.
Print
Chorizo Stuffed Squid
This delicious recipe features squid stuffed with chorizo, as well as capers, sage and lemon for an incredible flavor. You will need baby squid for this easy stuffed squid dish.
Author:
Prep Time:

10 mins

Cook Time:

20 mins

Total Time:

30 mins

Yield:

4

1

x
Category:

Seafood

Cuisine:

Spanish
20

baby squid, tentacles removed and reserved

2 oz

(

50g

) unsalted butter

1 oz

(

35g

) tiny pickled capers

15

chopped sage leaves
Zest of

half a

lemon

5

peeled and finely chopped spicy chorizo

3

peeled, inch-diced (2.5cm diced) potatoes

2

crushed garlic cloves with skin on
Olive oil, as needed
Salt and black pepper
Instructions
Knead the chopped chorizo to make a rough paste.
Form a piece of this paste into a shape to fit the cavity in the squid.
Fill each squid to 3/4 full, pressing the filling down.
Take care not to overfill the squids or they could well burst on cooking as the chorizo expands.
Secure each squid tube with a toothpick half.
Cook the potatoes in salted water until they are tender then drain.
Heat a nonstick skillet over a medium heat, add some olive oil, the crushed garlic cloves and potatoes and season with salt and pepper.
Cook over a moderate heat, tossing every now and then to crisp and caramelize the potatoes evenly.
Heat another pan over a medium heat.
Season the squid pockets and tentacles using salt and pepper.
Add some oil to the pan and then add the squid.
Cook for a couple minutes on each side until caramelized.
Add the butter and sage and when these start to foam spoon the herb butter over the squid pockets and keep cooking them.
The filling will feel firm to the touch when everything is fully cooked.
Add the baby capers and lemon zest and take the pan off the heat.
Arrange the potatoes and squid on plates and spoon over the pan juices, capers and lemon zest.
Serve immediately.