Chicken is a nice meat to use if you want to enjoy that classic crackslaw flavor but limit the amount of calories. Of course beef is tasty but it is high in calories so if you are counting those too, or at least keeping an eye on your red meat intake, you might like to consider using chicken instead. This crack slaw with chicken recipe is simple to prepare and you will love the flavor.
This recipe is made with chicken breast, which is a lean part of the bird, but is still flavorful and will soak up the lovely Asian seasonings used in the recipe.
Delicious Chicken Crackslaw
The following recipe makes use of mushrooms, red onion, carrot and white cabbage, so you will not be short on nutrients or flavor.
If you like you can use different ingredients or just use cabbage (no carrots on Atkins induction, remember) or use another kind of mushrooms in this crack slaw with chicken.
Some people just find themselves in the mood to eat this crack slaw with chicken and the raid the cupboards seeing if they have the right ingredients.
All you really need are some source of protein (here, chicken, but you can also use beef, lamb or even fish), some kind of shredded veggies, and then soy sauce, oil (preferably sesame oil for an oriental touch), hot sauce or chilies and then some ginger if you have it.
Once you have made the classic crackslaw recipe and then perhaps some others you will get a good feel for what will work anyway and then you can make up your own crack slaw recipes as you go.
Crack Slaw with Chicken: Making Tweaks
Since this is an Asian recipe you might wish to try Shiitake mushrooms or try the earthiness of brown mushrooms or another kind. Oyster mushrooms would also work.
Crack Slaw with Chicken: Changing Up the Seasonings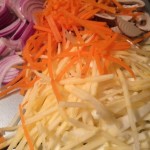 Something else you can do when preparing crack slaw with chicken is tinker with the seasonings. The standard flavors that seem to crop up in every crack slaw recipe are ginger, soy sauce, sesame oil and hot sauce. Those 4 staples nearly always seem to make it into every crack slaw recipe I make, but if you want to swap the ginger for 5-spice or the soy sauce for tamari, then go ahead.
It's actually hard to get this crack slaw with chicken wrong. You can even go for a fusion result, using both Japanese and Thai seasonings for example. Another idea is experimenting with something you don't usually use like Cajun spices or a BBQ dry rub used as a spice.
Considering protein (chicken, beef, seafood) and vegetables (usually cabbage, onions and carrot) tend to pair with the spices from all kinds of cuisines, you can see how it would be hard to get this too far wrong.
Beware Hidden Carbs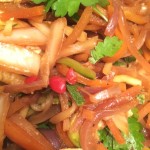 Remember to adjust the carb count if you are switching things around and ensure there is no sugar in anything you use to make this crack slaw with chicken. I like to use tamari because unlike soy sauce it's wheat free (and tastes even better, especially with sushi but hey, that's another story!)
Most herbs and spices are extremely low in both calories and carbs unless you are using a readymade blend or mix and then you do need to look out for added sugar because that can really push the carb count up.
Also if you are low carbing and haven't had sugar for a while, you will find it tastes 'wrong' in savory dishes.
When I quit sugar and then accidentally had salad dressing with sugar in, it tasted really bad to me. I like a touch of sweetener in my crackslaw to counteract the spice, but I don't want it in my spice blends to bulk them out.
Print
Best Chicken Crack Slaw
This recipe teams juicy chicken breast with red onion, carrot and more, and the resulting dish is sure to make you go 'yummm!' with enjoyment! Feel free to spice it up, if you dare.
Author:
Prep Time:

10 mins

Cook Time:

15 mins

Total Time:

25 mins

Yield:

4

1

x
Category:

Low Carb

Cuisine:

Chinese
1

lb (450g) chopped chicken breast

2 tablespoons

sesame oil

2

crushed garlic cloves or

1 teaspoon

'lazy garlic' paste

1/4 teaspoon

artificial sweetener

7 oz

(

200g

) shredded white cabbage

2 oz

(

55g

) finely chopped red bell pepper

4 oz

(

110g

) shredded carrots

5

thinly sliced mushrooms

1/2

finely chopped red onion

2 tablespoons

soy sauce or tamari

1/4 teaspoon

ground ginger

1 teaspoon

white wine vinegar
Salt and black pepper, to taste

1/4 teaspoon

Tabasco sauce
Cilantro (fresh coriander) for garnish
Instructions
Brown the chicken in a skillet and season it with salt and black pepper to taste.
Remove the chicken from the skillet and set it to one side.
Heat the sesame oil in the same skillet, and sauté the vegetables with the garlic until the veggies are cooked to al dente (that is cooked but with a bit of crunch left in them).
Stir in the vinegar, soy sauce, sugar or sweetener, hot sauce and ginger.
Add the cooked chicken back in and mix well to combine.
Taste the mixture.
Add more Tabasco, vinegar, soy sauce, sweetener or anything else you think it needs.
Serve with fresh cilantro leaves on top.
Nutrition
Calories:

230

Carbohydrates:

5.5g