Reading a folding bikes review like this will hopefully help you understand more about this option and see whether a folding bike is perfect for you.
A folding bike will fold into a compact form when not being used, which makes both storage and transportation easier. Fold the bike after using it and it can be carried into your apartment easily or stored in your car. You can also transport a folding bicycle on a plane or boat. Find out which one is the best for you by reading a folding bikes review and prepare to enjoy your new ride.
The folding mechanisms for such bikes vary and each kind of mechanism differs, so it pays to examine the different kinds available and consider such things as how many parts the bike comes in, the folding ease and speed, how compact the bike is, how much it weighs, what the price is, and how durable it is.
Folding bikes are pretty handy and they're a nice way to add to your fitness regime along with yoga and trips to the gym! They're also great to throw in the car if you're going out for the day, certainly simpler than conventional bikes.
Folding Bikes Review: How Much are They?
Of course the best folding bikes will come with a higher price tag but you get what you pay for and if you plan to use it a lot then it's worth investing in a good one. Take your folding bike wherever you go and you will thank yourself over and over for buying it and investing in something which is not only unique and fun, but handy as well.
A conventional bike is cumbersome and large, which doesn't matter if you are simply riding from A to B, and then back to A again, but if you want to travel in another vehicle and bring the bike along, having a folding bike will certainly make things much easier.
Folding Bikes Review: A Look at the Top 5 Folding Bikes

Shimano 20-Inch Folding Bike
One of the best choices if you want an economical yet very capable folding bike is this 20″ Shimano model. With 6 different speeds, front and back hand brakes, and a 22″ wide chrome-plated alloy handlebar, this one is a joy to ride.
The bike weighs about 35 pounds and is simple to fold up and fold back out again. Less than $150 for something which you can use for your daily commute is certainly a bargain.
This is a sturdy bike which will support your weight, and for the price you are getting something pretty good. A lot of people have bikes that they use for weekend rides or just popping to the store, but if you want something you can throw in the car or just stash under your desk at the office, have a closer look at this Shimano model. The wheels are smaller than on some other models and while that means more pedaling it is fine unless you are going up and down mountains, and it also means it folds up really compact.
20″ Folding Bicycle Shimano 6 Speed Bike Fold Storage Silver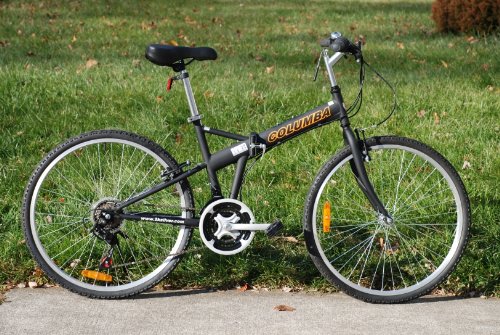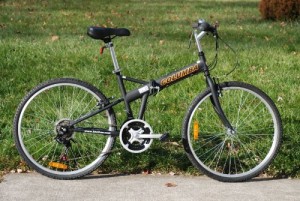 Columba 26-Inch Folding Bike
Another worthy contender in any folding bikes review, this model looks like a regular bike at first glance, not a folding type. However it folds up quickly and easily so you can throw it under your desk, into a small garage, into the trunk of your car, of wherever you want.
There is an 18-speed shifter and the front handle stem comes off easily. There is a steel kick-stand and front and rear steel hubs, along with alloy front and rear V-brakes. It will easily support a rider up to 200 pounds in weight. Bigger tires than some other models mean less pedaling for you. This sturdy bike does not have any shock absorbers so it is pretty much for on-road use only. Reviews like the convenience, price and capability of this folding bike.
Columba 26″ Folding Bike w. Shimano Black (SP26S_BLK)
Folding Bikes – They've Been Around Longer than You Think!
Foldable bicycles are nothing new. They were even used in the 1890s, would you believe it. The French army deployed them for infantry use and Mikael Pedersen invented a folding version of his Pederson bike in 1900 for the British army. This model had 24 inch wheels and weighed 15 lbs. It came with a rifle rack too, which is not something modern foldable bikes need!
The Airborne BSA folding bike was used in World War II by British paratroopers, since a full size bike would have been impossible to parachute out of a plane with. This bike was compact enough to be carried down from the plane to the earth and sturdy enough not to break upon landing.
The diamond design was too weak for this kind of usage so an elliptical frame with twin parallel tubes was used instead. This type of bike was used by British paratroopers at the Battle of Arnhem and also at the D-Day landings.
Folding Tricycle for the Youngest Member of the Family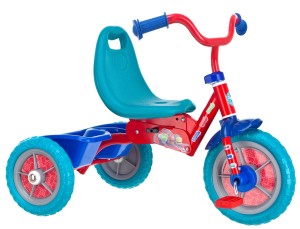 Who says folding bikes are only for the grownups, and why do they get to have all the fun?
This fold-up trike shows you the whole family can stow their bikes in the car and then simply unfold them at their destination, and this one is of course designed with the youngest family member in mind!
Cute and colorful, this foldable tricycle is lightweight, safe for kids, and boasts a rear basket for carrying toys or other 'necessities' along on the trip.
A child can push, scoot or pedal, and this is good for getting them used to bikes, and it is a nice lead-up to a 2-wheel 'grownup' bike. The great price makes this a nice gift for a child. A 2-year old might or might not be able to reach the pedals, but he or she will spend the next couple years growing into it.
Pacific Cycle Chuggington Folding Tricycle, Red