French manicure videos can be helpful in teaching this technique. A lot of girls have trouble applying a professional looking French manicure This is understandable because not only do you have to pick out the best French manicure nail polishes but you also have to get your nails the right shape, apply the white tip evenly and professionally, and get the result looking beautiful. French manicure videos are very important because you will want the prettiest result!
The smallest error is glaringly obvious when painting your nails French manicure colors. So it pays to familiarize yourself with French manicure videos, as well as practicing a lot.
French Manicure Videos: What is a French Manicure?
To paint a French manicure you need to paint the tips of your nails white or off-white and then apply pink or beige polish. The result is very natural looking and classy. You can see this technique in French manicure videos. Head to a salon and you can choose from pink and white (or 'solar') acrylics or you can have your own nails painted with gel polish or regular nail polish.
If your nails are short you can paint a very thin white line on top and if they are longer you can have more white.
Something else people like to do is experiment with different colors. Perhaps you have never tried different colors when applying a French manicure but you will can expect a brand new look. Blue glittery tips are not technically a French polish but they are French polish inspired, for example.
Keep reading for the best French manicure videos as well as tips, nail polishes, suggestions about what to do if you botch one of the nails, and more!
If you have ended up on this page because you have had a French manicure disaster, then paint over the whole nail with a light colored mauve or pink nail polish to disguise it, or use a coat or 2 of glitter polish to hide it. Either of those are great fixes!
French Bijou French Nail Lacquer Mini Collection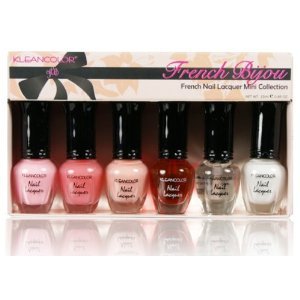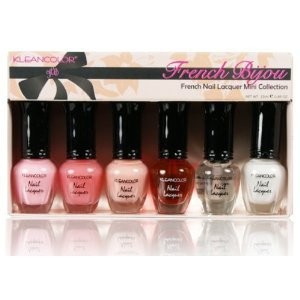 These make a beautiful gift, and the nail polish itself is chip-resistant and long-wearing.
You have all the essentials in this set which you need to create a beautiful French manicure look and the fact there are several colors to choose from allows you even more scope.
Although pale pink is often the color of choice for a French-tipped nail, there are different shades of pink to choose from so you can personalize your manicure. I like a cute candy pink for mine.
Some people prefer a beige shade which is perhaps more natural and if that is the case you can sub in any nail polish you already have to act as the top coat. Just ensure it is sheer enough for the beautiful white tips to show through and you will have a gorgeous manicure.
If you like natural-looking nails which look clean and healthy, that is one style that is never going out of style. The sheer colors dry quickly and the sheer red is simply stunning. Watch some French manicure videos then create your own gorgeous look.
Mini French Manicure Set, on Amazon
Sally Hansen Hard As Nails French Manicure Kit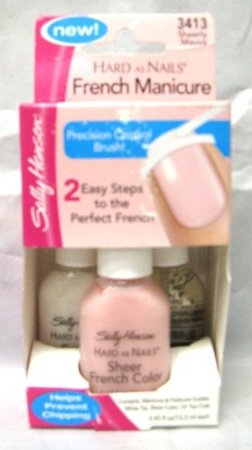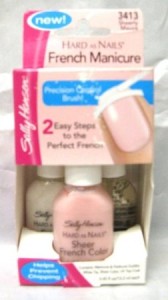 Choose the Sally Hansen brand if you are looking for top quality.
Poor quality nail polishes tend to chip in a day or 2 (and there is nothing more annoying when you have gone to all the trouble of creating a stunning French manicure and then have it chip on you, believe me!) but a good one will last all week. Despite how many French manicure videos you watch and learn from, use inferior polishes and your results just won't last.
This Sally Hansen Hard As Nails French Manicure Kit comes with everything you need to paint your fingernails and/or toenails in the classic French nail style.
The brushes are well shaped and great for precision painting, and you also get a UV topcoat as well as manicure and pedicure guides, sheer color, white tip paint and a top coat.
Just 2 coats to the perfect French manicure and that means no need to pay expensive salon prices. You can get a gorgeous finish in the comfort of your own home. There's nothing not to love about that.
Sally Hansen Hard as Nails French Manicure, on Amazon
First You Need a Good Base Coat
One of the secrets to beautiful nails and a long-lasting result is base coat. You need to know this and you'll always see it in the best French manicure videos. If you are applying a dark nail polish you should always wear base coat underneath, else the polish might stain your nails and then no sheer or light color is going to look on them until they grow out (and we all know how long that takes!)
If you are applying a French manicure, use a base coat. The manicure will last much longer and go on smoother too, so it's totally worth it. Allow the base coat to dry completely before applying the white tips and the sheer color on top.
French Manicure Kits
Once you have painted on a layer of base coat and allowed it to dry, you are ready to apple the white tips. You will need this layer to be opaque, so paint on 2 coats, allowing each one to dry.
This is something which takes practice. I can't paint the fingers on my right hand (using my left hand) as well as I can paint the nails on my left hand (using my right hand) but the difference isn't that extreme. Practice makes perfect!
Help! I Messed Up My French Manicure!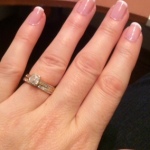 OK so what do you do if you mess up the white tips? You could do what I did 2 days ago and apply a couple of layers of sheer pink glitter polish.
This will mask the white tips a little so they take on a pink hue, and the glitter will detract from the sharp line (or not so sharp!) under the white tip. Not all French manicure videos tell you this!
This is my answer anyway, if I get the white tips bad. The glitter polish adds party-like fun and looks really good. It will hide minor errors in the white tips.
If they are slightly off then you can dip a cotton bud in acetone or nail polish remover and use that to clean up under the white tip, to give a smooth white arc. You can use this one one nail gone bad, or on the whole set of nails.