So what is the appeal of groovy shades? Shades, or sunglasses, come in many styles and designs, and although there are plenty of modern ones a lot of people like to go for the retro style sunglasses which often appear in vintage clothing stores, and on Amazon and eBay. Consider retro shades if you want a cool look.
Whether you are looking for some classic vintage Chanel sunglasses or something fun made with brightly colored plastic, there are lots of old-fashioned styles you can get, and retro shades are even cooler than a lot of modern ones.
Pick out something that suits the shape of your face as well as your personality and not only can you have something that protects your eyes from the sun, you also get to show off your individuality and make a statement. There are so many different types of vintage sunglasses to choose from and you can enjoy mulling over the different looks and possibilities.
Retro Shades: Classic and Timeless
Retro sunglasses have a timeless appeal whether you like the aviator style or perhaps something cool and gorgeous from the 1950s. Choose from a plastic or metal rim and pick whether you want slightly tinted lenses or blacked out ones. You can even get mirrored glass. There is something for every taste and individual style.
Pretty Retro Shades: Pink Chanel Sunglasses
How beautiful are these? If you really want to invest in a stunning pair of sunglasses, it has to be Chanel!
And wearing these on a daily basis (at least if you live somewhere sunny!) means you can show them off and be the envy of your friends. These pink Chanel shades suit pretty much any face shape and you are sure to look like a princess in these lovely sunglasses.
Pink Chanel Sunglasses, on Amazon
Dolce & Gabbana Ladies' Sunglasses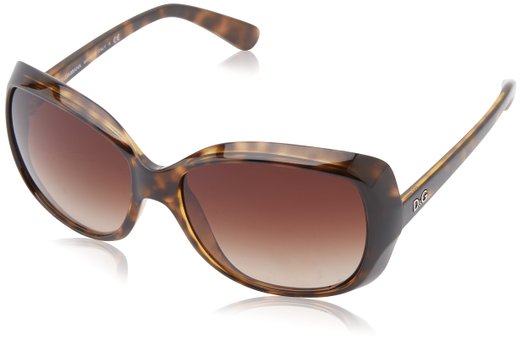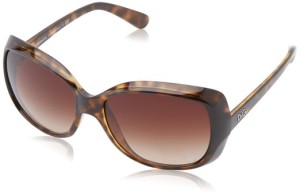 These beautiful Dolce & Gabanna retro shades are the last word in style.
Choosing a vintage sunglasses type over a super-modern one means you have taste and appreciation for classic looks.
Audrey Hepburn eat your heart out with these gorgeous Dolce Gabbana retro shades.
The smoky brown lenses are less harsh than black ones and this is a style to complement pretty much any face.
The tortoiseshell frames never go out of style and the D&G on the sides will let everyone know you are wearing the very best in sunglasses.
Dolce & Gabbana Sunglasses, on Amazon
Retro Shades: Facts about Sunglasses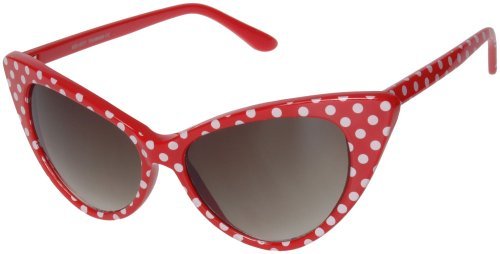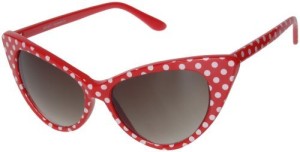 Sunglasses protect your eyes from UV rays, protect you from debris and reduce eye strain when it's bright. They also make a bold fashion statement and can complement your outfit.
Before choosing shades, consider the lens material you will be happiest with. Glass is quite scratch-resistant and also very clear optically, but it's heavier and if impacted it will spider instead of shattering or chipping.
Retro Polka Dot Sunglasses, on Amazon
NXT polyurethane has great resistance to impacts and is also very clear. It is lightweight and flexible but costs more than some other lens materials. Acrylic is cheap but not so clear as glass or polycarbonate. You will also get some image distortion with it so choose this for occasional use shades or casual usage.
Choose the Right Frame for Retro Shades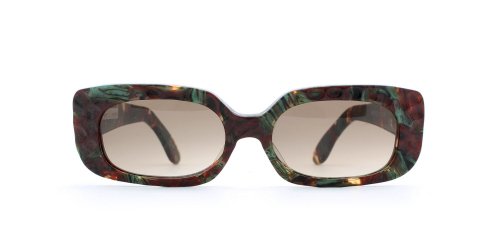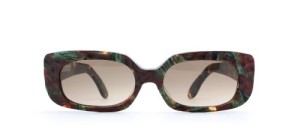 It is important to choose the right frame. Metal is easy to adjust but more expensive than other times and will get hot if you leave them in a hot car. They're not good for high impact activities either.
If you are looking for something unusual, how about these Emmanuelle Khan vintage sunglasses (photo, right) which offer a bold design, square frames and a nostalgic retro look which is sure to complement any vintage outfit choice.
Emmanuelle Khan Vintage Sunglasses Frame, on Amazon
Acetate and Zyl are varieties of plastic and you can get all kinds of colors. These aren't meant for high activity sports either. Nylon is cheap and light, and more durable than metal, although you can't adjust it like metal.
Good frames should fit well on your nose and ears without rubbing or feeling like they pinch. The weight needs to be distributed between your nose and ears and the frames should not cause too much friction. Don't have a frame or glass which touches your eyelashes. If you are buying online then look for 'fits large faces' or 'fits smaller faces' in the description if in doubt.
Retro Shades: Which Tint to Choose
Sunglasses are tinted to cut down on brightness so you can see more clearly but there are different tints. Choose yellow or amber for overall brightness especially in low light situations. They are good for snow sports and will enhance contrasts in flat light conditions. Brown, green or gray will cut down on brightness without color distortion. Use these in quite bright conditions.
Mirrored shades have a reflective film on the outside and they reflect glare. Rose-tinted shades are good for low light visibility and they enhance contrast. They also make it easier to see shades against green or blue backgrounds which is why drivers like them. Wraparound lenses block more light from the side but not everyone likes this style.
More expensive sunglasses have more coating layers, perhaps a water-repellant layer, an anti-fog coating and an anti-scratch one. Polarized lenses are good if you are sensitive to glare or do water sports because the filters in such lenses block light reflecting off flat surfaces.
"Since The Matrix, I can't wear sunglasses. When I put them on people recognize me"
– Carrie-Anne Mos
Retro Shades: Just Remember
Sunglasses are an individual choice, and different styles suit different people. Forget what everyone else is wearing and choose a pair that resonates with you!
Some people love retro aviator glasses or will pick what a certain celebrity is wearing and other people always go for yellow-tinted glasses or polarized glass because that is what they like. You can't ever have too many shades though so why not collect a few funky pairs? Then you will always have a great pair of shades for every outfit?