This product comes in a variety of gorgeous shades and the metallicness offers something special if you want a fashion forward look. Metallic nail polish isn't for everyone but if you can carry it off it certainly looks stunning.
Choose silver or gold for a special occasion, magnetic if you want to make crazy patterns, or something more neutral like bronze or shiny blue or gray for a funky, edge look.
Metallic Nail Polish: The Option of Stickers
If you do not want to paint anything on, you can get stickers which are nail-shaped stickers that adhere to your nails and look like you've had a proper manicure.
This is a great way of getting a professional looking result without having to apply nail polish, and of course the stickers won't chip like the regular stuff can. Either use stickers or use regular metallic nail polish.
Choose Gorgeous Colors
Any color can be made to look metal, so if you want a cool effect with a green, blue, red, pink or even black nail polish, go for it. You can get trendy metallic nail polish colors online or in many stores.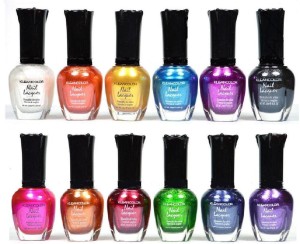 Shopping online is always easier and your purchases will be delivered to your door so you can get started giving yourself an edgy look.
These metallic nail polish bottles are very tiny and you can keep them organized in a makeup bag.
If you end up with lots of shades you can use a selection of makeup bags, say keep the reds and pinks in one, your base coat, top coat and other treats in another, and perhaps the metal ones in a third.
Metal shades can be used for a funky French manicure. Instead of a white-tipped pink or beige nail, try using metal polish either for the base or for the tip. The resulting look is quirky and unique.
Set of 12 Metallic Nail Polishes, on Amazon
French Manicures Demystified
Discover how to give your hands and/or feet a classic, timeless look but perhaps using different colors than you normally do.
Opt to keep things elegant using pink or pink/beige and white, or try something modern like primrose yellow or neon green. Other hues such as navy with silver, burgundy with gold, or even bronze with purple can also look really fab.
Materials
Base coat
Top coat
Polishes
Tools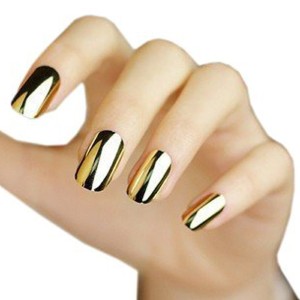 The first thing to do is remove any old nail polish, then wash your hands with soapy water and rinse well.
Optionally you can paint on some nail oil, perhaps peach or lemon or similar, then after 5 minutes wash your hands again. The oil will help with the condition of your cuticles.
Next apply a base coat to safeguard against yellowing and let it dry well. The it is time to apply the color of your choice and let that dry too.
Choose whichever shade you want to use for the tip and paint this on across the top of each fingernail. Let this dry, then apply a top coat and let that dry too. Enjoy your new manicure!
Metallic Nail Stickers, on Amazon
Test Your Knowledge with Our Fun Quiz
How much do you know about nail shades and types? Test your knowledge with a few fun questions.
1. Where and when was the first polish made?
A. Japan in 5000 BC
B. China in 3000 BC
C. Egypt in the 14th century
D. New York in 1910
E. Paris, France in 1911
2. Which of the following is not a type of polish?
A. Acrylic
B. Gel
C. Metallic
D. Kohl
E. Glitter
3. Which of these types of paint is modern nail polish a refined version of?
A. Gouache
B. Kohl
C. Car paint
D. Liquid mercury
E. Melted wax
(Answers under the video)
Answers… 1B 2D 3C – how did you do?