Shrimp is a great addition to salad recipes. It offers a subtle, light flavor and goes well with many other salad ingredients. A base of salad leaves or spinach can be topped with hot, warm or chilled cooked shrimp along with other things like pineapple chunks or mandarin segments for sweetness, walnuts or cashews for crunch, cherry tomatoes for color and anything else you want to add to your healthy easy shrimp salad recipe.
You can cook shrimp in various ways, such as deep-frying, stir-frying, boiling, baking or grilling. If you want to pan-fry the shrimp, they will only take a couple of minutes, as will boiling or grilling, although if you want to grill or bake them, you will need to wait for the grill or oven to heat up first. Then cook them to perfection for your healthy easy shrimp salad recipe.
How Do You Know When Shrimp is Cooked?
Shrimp starts off a grayish color and turns pink when it is ready. When you see this color change it means your shrimp is done.
A healthy easy shrimp salad recipe belongs in various cuisines. You might like to keep the ingredients very simple and add some ranch or caesar dressing for an American flavor, marinate the shrimp in soy sauce to give them an Asian flavor, or even sauté them with curry powder and other spices then serve them with a yogurt-based dressing for an Indian taste on your plate.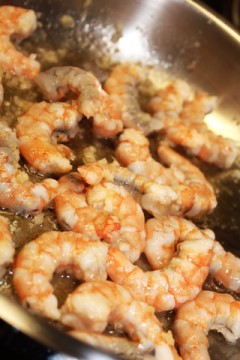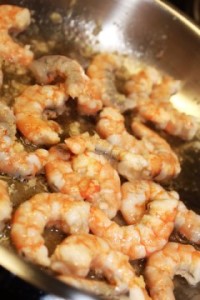 You can buy ready-cooked shrimp to make a healthy easy shrimp salad recipe but cooking them is so quick and easy you might as well just cook them yourself for a fresher flavor.
I always keep frozen shrimp to hand. You can thaw them out fast and then use them in all kinds of dishes. Frozen shrimp taste just fine when they're cooked.
How to Thaw Frozen Shrimp
You can leave them in the refrigerator overnight and they will be fully defrosted by the morning. If you are in a rush though, put them in a plastic bowl and pour cold water over them. Change the water every now and then.
Depending on the size of the shrimp they should be thawed in an hour or so (maybe less if you use warm water instead of cold).
This is a good method if you are going to be using the thawed shrimp immediately, such as making a healthy easy shrimp salad recipe or similar. It is not recommended to cook shrimp from frozen.
Tempting Ideas for Making a Healthy Easy Shrimp Salad Recipe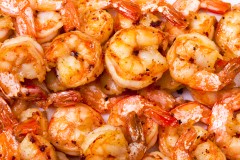 We already mentioned how you can tweak the spices and other flavors in a salad to bring a taste of another cuisine into it, but there is so much else you can do. What about making the perfect, healthy easy shrimp salad recipe to fill a baked potato or sandwich?
In that case, I would boil the shrimp until pink, then drain them well before tossing them with mayonnaise. Perhaps add a squeeze of fresh lemon juice and some black pepper.
If you prefer a Marie Rose (thousand island) dressing for your healthy easy shrimp salad recipe, combine tomato paste, Worcestershire sauce and perhaps even a splash of whisky to make a delicious pink sauce which goes beautifully with shrimp. Use your judgment as to the quantities you are using, adding small amounts of Worcestershire sauce and tomato paste until the flavor is just right.
Another idea is tossing the cooked shrimp with cold cooked noodles, mandarin segments, baby salad leaves, chopped peanuts and green onions, along with your favorite Asian salad dressing, to make an easy Asian shrimp salad.
Finally, what about threading the shrimp on to skewers (bamboo ones must be soaked in cold water for 30 minutes first) and then grilling them? This works well with large shrimp, tail-on too if you want. Then you can serve them, still on the skewers, on a bed of mixed salad leaves, with some yogurt-based dressing (try a mixture of Greek yogurt, grated cucumber, fresh mint leaves, salt and garlic powder). That would a really good way of making a healthy easy shrimp salad recipe.
Print
Healthy Easy Shrimp Salad Recipe
Shrimp is a low-calorie option if you want to add tasty protein to your salad. You can boil or fry it first, then pair it with fresh garden salad ingredients as well as fruit, nuts and/or cheese if you want to.
Author:
Prep Time:

10 mins

Cook Time:

2 mins

Total Time:

12 mins

Yield:

1

1

x
Category:

Salad
2

large handfuls mixed salad leaves or baby spinach

1

small handful raw medium shrimp

4

cherry tomatoes

2 tablespoons

your favorite salad dressing
Optional Ingredients
1 tablespoon

chopped nuts

2 tablespoons

grated cheese
Small handful well-drained pineapple chunks
Crispy onions or bacon bits

1

chopped green onion
Anything else you wish to add!
Instructions
Boil the shrimp in lightly salted water for 2 minutes or until pink.
Alternatively you can fry them in a little olive oil for 2 minutes or until pink.
Put the salad leaves in a bowl topped with the shrimp and cherry tomatoes.
Add any of the optional ingredients and either leave the salad layered or toss it.
Now drizzle the salad dressing on top, and serve.