Wonton recipe ideas are great for any home cook. Easy wonton recipes should find a place in your meal, or at least appetizer, rotation.
Whether you fancy making wonton soup, crunchy fried wontons, sensational steamed wontons or even healthy baked ones, there are plenty of wonton recipes for you to choose from. These feature all your favorite ingredients from chicken to duck or pork, nutritious veggies, exciting herbs and spices, and even fruit or cheese.
There are wonton recipes for ever season, occasion and palate, and wontons can make amazing comfort food, a well-deserved snack, or even a complete meal. There are homemade easy wonton recipes for everyone to enjoy.
Wonton Recipe Ideas for Kids and Grownups
Kids as well as adults love easy wonton recipes and you can make kid-friendly sweet ones with mashed banana and chocolate, or with applesauce and a pinch each of sugar and cinnamon.
Serve your hot, crispy dessert wontons with vanilla ice cream or whipped cream and watch the smiles appear on your kids' faces. Kids also love savory wontons, especially if you get them involved in the preparation.
There is a knack to wrapping wontons but practice makes perfect, so you can let older kids try wrapping wontons for themselves. Younger kids can stir your wonton filling ingredients together or help you choose what kind of wontons to make. These easy wonton recipes are going to be fun to make, really!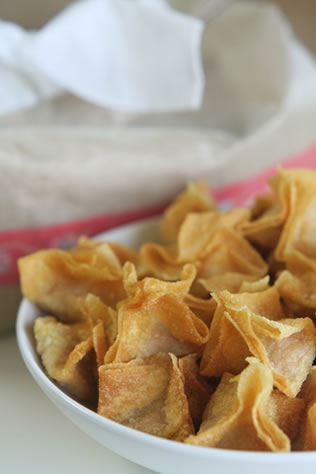 Everyone loves wonton recipes, regardless of age or ethnicity.
What is not to like? The wonton skin is made with flour, egg and water, or simple flour and water, and this wrapper can be filled with anything you can imagine.
The mixture you use for your wonton filling should not be too dry or too liquid, but something in between the two, with finely chopped or minced ingredients and a paste-like consistency.
So why not try out some of our mouthwatering wonton recipes for yourself, and fall in love with these bite-sized little treats? I especially love crab rangoon wontons.
Once you have discovered how easy wontons are to make, you will want to make them again and again.
Try some easy wonton recipes and you will never be disappointed in the wonderfully authentic Chinese results you may expect in return for your efforts.
And Some Ideas for Dessert
Wontons are just one of those things that always satisfies, whether you are making them as an appetizer, snack or even dessert. Try our banana chocolate wontons and you will see why this is such a popular idea.
Honestly, there are wontons for every season and occasion, and anything you can think of to put in wonton wrappers is sure to work and make the most delicious crispy (fried) or soft (steamed) little snacks. Try some wonton recipe ideas today and prepare a feast for your family.