Unusual wonton recipes are fun to make and taste great. Just because wontons are Chinese in origin does not mean you have to stick with the tried and tested Chinese wonton recipes. International wontons are an exercise in experimentation and sometimes this fusion cuisine really works!
Of course, traditional wonton soup is delicious and Chinese-style fried wontons offer a flavor experience that most people enjoy very much, but you might like to experiment with a different take on the classic wonton recipe.
Since wonton skins are made with egg, flour and water, they do not have a lot of flavor. This means you can use any kind of filling and rest assured it will complement the wonton skin flavor. Just like you can fill bread with literally any kind of filling, sweet or savory, hard or soft, meaty or vegetarian, and so on, the same's true of wonton skins.
Find out how to fold wontons, pick a filling and get ready for some amazing crunchy snacks!
Unusual Wonton Recipes: Some Examples
For example, if you want to try out something Italian, what about combining mozzarella or cream cheese with finely chopped sundried tomatoes and basil as your wonton filling. For a Greek feel, you could use feta cheese, diced black olives and perhaps some lemon juice and black pepper. A pinch of oregano would also work.
For an unusual Asian wonton, try duck and plum sauce or your favorite meat with your favorite Asian condiment. You could even make a Mexican wonton recipe by mixing grated Mexican blend cheese with minced chilies and ground beef if you want international wontons in a south of the border style. The sky is the limit and you can incorporate your favorite ingredients to make a wonton filling to die for.
Unusual Wontons: Difference Between Wontons and Gyoza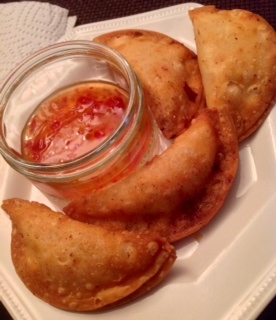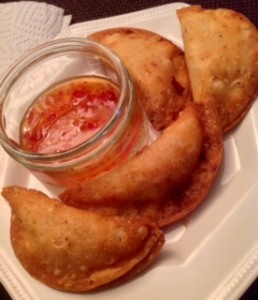 Gyoza (in Japanese) or Jiaozi (in Chinese) are potstickers. With their thick wrapping they are more like ravioli wraps than wonton wraps. They are also longer and flatter than wontons. Different Chinese provinces favor different gyoza recipes, so you might find them made with chicken, fish, pork, lamb, or beef, as well as various vegetables.
Gyoza can be steamed, pan-fried or boiled, and they are served with a dipping sauce such as chili sauce, soy sauce, or red vinegar.
Some of our wonton recipes can be made with gyoza skins, and vice versa, so if you fancy making potstickers, we also cover those, since they are too yummy to leave out! Simply switch the wonton skins for gyoza skins, and adapt the cooking method, if you want to make those. One of my all-time favorites is crab rangoon wontons which blend crab with cream cheese and green onion.
Healthy Recipes for Unusual Wontons
It goes without saying that deep-fried wontons served with a sugary or creamy dipping sauce is perhaps not the healthiest snack ever, but if you fancy wontons and you are on a diet or trying to cut out excessive calories or fat, it might please you to know you can make healthy wontons.
Working out at around 30 calories a piece, wonton wrappers can be filled with a healthy filling and then steamed, poached in liquid or baked, for a healthier option.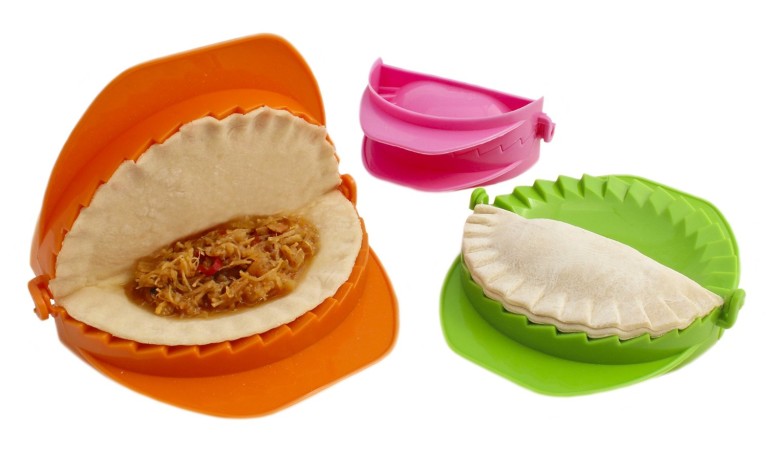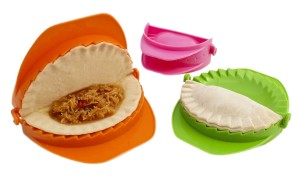 Try filling your wonton wrappers with green onion and reduced-fat cream cheese, and then sealing them, spraying them with cooking spray, and baking them at 400 degrees F (200 degrees C) for ten minutes, or until they are hot and crispy.
You can make healthy wonton soup recipes or even healthy steamed wontons. Just because you are eating healthily does not mean you have to eliminate wonderful wontons from your diet altogether. You can even spray wonton wrappers with cooking spray and bake those to make chips!
Gyoza Press, on Amazon
Unusual Wonton Recipes: They Make Great Snacks
Fried wontons make amazing snacks and you can prepare them in advance and fry them when your guests start getting hungry. Since you will only need to fry them for a minute or two, you can make hot, crispy wontons in next to no time.
As soon as they are crunchy and golden brown, your unusual wonton recipes are ready to serve, either alone or with a dipping sauce. We recommend you drain them on paper towels and either warm your guests they are very hot inside or let them cool off for ten minutes before serving.