If you want to improve your kitchen it is vital to plan it properly. If you don't plan well, you might end up with an expensive bad kitchen which you are unhappy with. This is why it's vital to learn how to plan kitchen layout, improvements and everything else.
In the past, kitchen planning involved the stove, sink and refrigerator work triangle and the work surfaces took second place. Today there is a lot more to think about. Do you want a modern style kitchen? Might you prefer to have a rustic style kitchen with a kitchen pantry? Do you have your own ideas about how to blend styles to give your kitchen your own personal touch?
It is common these days to see professional style kitchens entering the domestic scene. Kitchens are a fashion accessory in some ways and there is more choice than ever these days. It does however take a lot of planning to create the perfect kitchen and there are various things to think about before you start, including your budget, your personal tastes, the space you have available and more.
Ask yourself a few questions before you start your new kitchen plans. Are you going to be cooking for large numbers of people regularly? Do you want your kitchen to be a place for people to congregate during a party? How many people in your house will cook? Does someone in the house like baking? Do you like spending a long time cooking or do you prefer making quick and easy recipes?
More to Think About
You might want to leave the planning of your new kitchen to a kitchen planner rather than do it yourself. This is cheaper than you might think. Home Depot, B&Q and similar places have staff with plenty of knowledge so if you purchase some appliances you might get free kitchen planning help from the shop. You can more easily find out how to plan kitchen remodeling and improvements with some professional advice.
Don't go overboard. You might think that expensive marble would look nice as kitchen surface but if you want to move house in the future, you can't take it with you and the price of a modestly priced house won't include the extravagant outlaying you have made in the kitchen.
Remodeling Your Kitchen on a Budget
It is easy to look at magazines featuring amazing kitchens and dream of having one just like it. It's not quite that easy though and the problem most people have is money.
The phrase 'kitchen remodeling' might be synonymous with 'very expensive' but it doesn't have to be. There are a few great ways to ensure your new kitchen designs can be within your budget.
The first thing to do is to think about your floor plan. You might want to have an island fitted in the center of the kitchen or change the layout in another way.
One option which can increase the space of your house without having to have an extension is to take down an exterior wall. This will probably lead to changing two rooms in your house and can increase the property price too.
Kitchen Idea Book, on Amazon
What about a gallery kitchen? Consider that if you're thinking about how to plan kitchen changes. These kitchens aren't as pokey as you might imagine. You can always attach your kitchen to the dining room to make a special living space which is roomy and comfortable.
If you want a hassle free way of just putting something down and having done with it, what about an island? Islands are simple to fit and they don't have to match the rest of the kitchen.
Easy Kitchen Planning and Remodeling
You only get one chance to plan your new kitchen so take your time. It is important to understand the different aspects of your new kitchen's design.
Secrets of the Kitchen Work Triangle
When considering how to plan kitchen improvements, this is something to learn about. It's quite interesting. The work triangle of the kitchen is an imaginary line drawn from the center of the refrigerator to the center of the sink to the center of the stove and then back to the refrigerator again. The triangle should be a maximum of 26 feet and no single leg of the triangle should be shorter than 4 feet or longer than 9 feet. The work triangle should not intersect an island by more than 12 inches.
If you have only one sink, it should be between or opposite the refrigerator, cooking surface or preparation area. This is so you won't waste steps, be interrupted by foot traffic or be cramped.
Some people feel that the work triangle is too restraining for some kitchens. If there is going to be more than one person cooking, an L-shaped kitchen design might work better.
Kitchen Countertop Heights
You should have 2 heights of kitchen countertop, one between 28 and 36 inches from the floor and one 36 to 45 inches from the floor. This makes the kitchen better for cooks of different heights, cooks who might want to sit down and bakers who want to knead dough at a lower, more comfortable height.
Make sure no appliance, entry or cabinet blocks anything when opened. If you have an island cabinet, nothing should hit it when opened. Between 42 and 48 inches is a good minimum planning distance between cabinets.
How to Plan Kitchen Accessories
You should include at least 5 storage or organizing items. Maybe include pull-out shelves, tall cabinets, raised base cabinets, storage bins, pull-out pantries, roll-out bins and lowered wall cabinets.
Which Windows and Skylights to Plan for Your Kitchen
These should equal a minimum of 10% of the total square footage of the living space including the kitchen or the kitchen itself.
Choosing a Fitted Kitchen
Fitting a kitchen will probably be one of the biggest home improvements you make. Kitchens and bathrooms are key sellers of homes. Style, price, function and versatility are all important to bear in mind when choosing a fitted kitchen.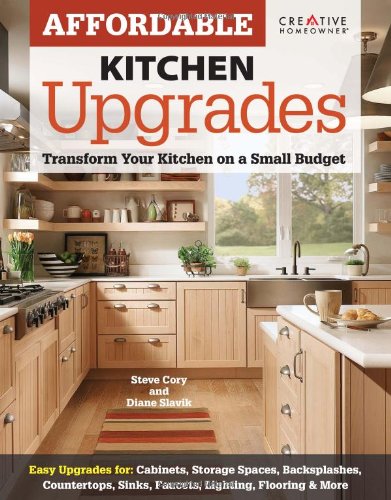 Space is an important factor. If you have a galley kitchen for instance, you will be limited as to what you can do with it if part of the kitchen is already dedicated to certain utilities and waste.
Price is another issue when it comes to choosing fitted kitchens but a lot of major stores, such as MFI, B&Q and Homebase offer cheap kitchen units or packages where you get the appliance too and get a discount off the whole lot. Of course, you get what you pay for and it is important to choose a quality kitchen and have it installed correctly.
Affordable Kitchen Upgrades Book, on Amazon
The kitchen is often the hub of the house and can be a busy place, so you should make your kitchen as versatile as you can, regardless of its size and your cooking abilities! Take your time when learning how to plan kitchen improvements and don't rush.
You should bear the work triangle in mind, the placement of the stove, sink and fridge, because these are the most important items in the kitchen. The style of kitchen you choose must be pleasing and it's a good idea to choose a timeless style. There is a lot of choice in kitchens these days and you can choose from classic, traditional, contemporary, rustic and more.
A kitchen is more than just floor units and a wall. You will have to think about appliances, worktops, lighting, flooring and more. Do you want a range, a freestanding oven, a built-in oven and stove or something else? Do you want a twin sink, a single sink and drainer or a butler-style sink? What type of refrigerator do you want? What kind of washing machine, washer drier, fridge freezer do you want? Do you want a breakfast bar in the room?
How to Plan Kitchen Upgrades: Take Your Time and Get It Right
This might seem like a lot to think about but you don't have to plan everything at once. Take your time, checking out the different options available.
In many showrooms, you can see how your finished kitchen will look before you buy it, thanks to computerized design programs. If you can provide the dimensions of your kitchen and choose what you want in it, you can see if the appliances fit where you want them to and how it will look.
This definitely makes life easier since you can see whether the kitchen you have in mind matches your requirements and kitchen measurements before spending anything. Also, ask how much fitting will cost and take that into the equation too.