Once you know how to use a bamboo steamer you will want to use it often to make all kinds of treats. A bamboo steamer is very simple to use and you can get one online or from your local Asian grocery store.
Before you use it you should wash it in soapy water and let it air-dry. This is very important, especially if you live somewhere humid, so it does not become moldy. Rinse it and let it air-dry after every use. Knowing how to use a bamboo steamer is very simple so read on for some more tips.
These steamers are really cheap to buy, especially when compared to the stainless steel type. This means if you aren't sure whether you will like steaming, you simply want to give it a go, or you don't think you will be steaming often then it makes sense to choose bamboo over stainless steel. It is lighter and more fragile but it is not delicate. It stands up to the job.
Head to any Asian supermarket and you will be able to pick up a steamer, either a single or double layer or one with more layers, depending on how much food you want to steam at once. Knowing how to use a bamboo steamer is very straightforward but you might like to buy some different sizes of bamboo steamers.
Where to Buy a Bamboo Steamer
You can also order bamboo steamers online. Once you have your steamer you will need to decide what you're going to cook in there – dumplings, char siu, fish, chicken, even potatoes or vegetables. A bamboo steamer gives you lots of possibilities and cooking options. It doesn't take up much room so you will be able to store it away once you have finished cooking with it and given it a clean.
Don't put it in the dishwasher but rinse it by hand in warm, soapy water then let it air-dry. If you put lettuce or cabbage leaves between your food to be steamed and the actual bamboo, cleanup will be faster and easier! Just discard the leaves after the food is ready.
How to Use a Bamboo Steamer: Best Bamboo Steamers
The best bamboo steamer for you depends how many people you cook for, what your budget is and what size of steamer you want. Do you want a simple one-layer or one which has a couple of removable layers too?
I suggest you get one with a number of layers so you can steam various items at once, removing layers when you only want to steam a chicken breast, 10 Chinese dumplings or whatever. This would be a great investment for anyone who likes to try new things in the kitchen and discover all the wonderful foods you can steam.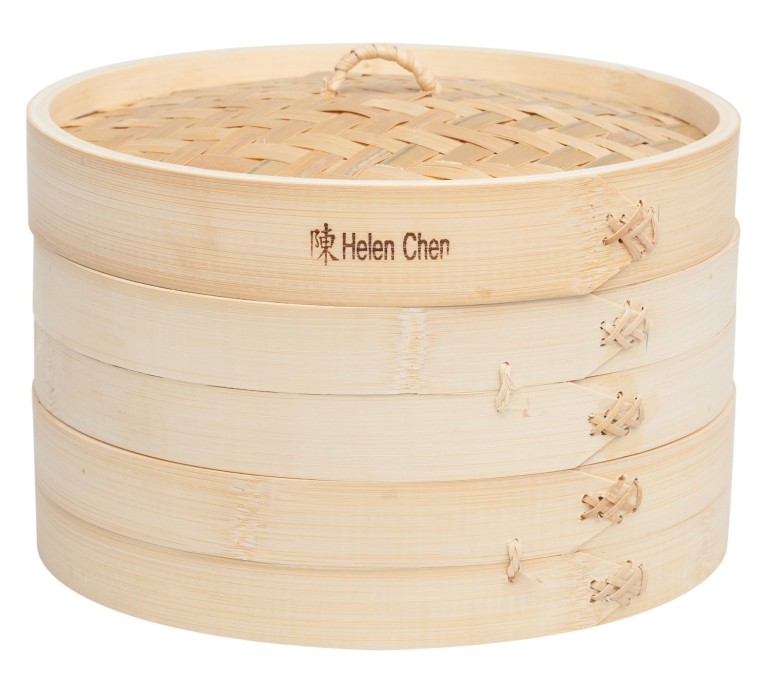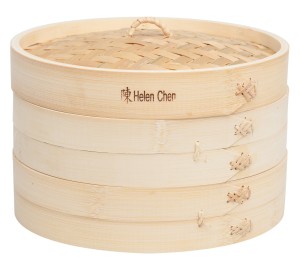 Steaming means you don't have to add fat to your food, so it is healthier than sautéing and definitely lower in fat and calories than deep frying.
I like Helen Chen's Asian Kitchen Bamboo Steamer. You can choose from 4, 6, 10 or 12 inches in diameter depending on your needs.
Use it to cook meats, fish or vegetables, or to reheat dim sum and appetizers. This steamer is made from 100% tightly woven bamboo slats. It has bamboo pegs holding it tightly together rather than wires, plastic or metal.
The lid fits snugly, trapping the steam inside, so your food cooks quickly and evenly.
Best Bamboo Steamer, on Amazon
Why Steaming is Popular
Baking and roasting are not common in the typical Asian kitchen, which is why steaming is so popular, and most kitchens will have a bamboo steamer to hand and use it often. This isn't only for cooking though; use it to reheat leftovers or refresh stale bread. Discovering how to use a bamboo steamer is all about learning the different things you can do in there.
To use this bamboo steamer, rest it over a wok or steaming ring with a little liquid in there and put the food in the steamer. Close the lid and then steam until the food is hot and cooked through. Invest in this easy bamboo steamer and you will be amazed how easy it is to use and how many tasty snacks and meals you can make in it.
Why not try this steamed vegetable wontons recipe to get you started, or try some steamed couscous with fruit for something sweeter? Whatever you choose to make first, there is no doubt your new bamboo steamer will inspire you to seek out more steamed food recipes and make great use of it. This might not look as sturdy or resilient as a metal pan, for example, but I've had mine for years and it's still pristine.