Most people already have basic kitchen appliances such as toasters and kettles but these items do break! That's why it's good that you can pick up replacement kitchen gadgets cheaply.
Other small kitchen appliances include juicers, blenders, mini blenders and coffee machines and you can get tiny kitchen appliances if you have a tiny kitchen.
Others fold up or you can store them in the cupboard on on a wall. Once you have sorted out all your main kitchen appliances, it is time to stock up on handy time-saving tools and labor-saving kitchen gadgets.
Kitchen gadgets do not have to be complicated or expensive. Some of the best and most useful tools and gadgets cost mere cents and make cookery easier and less of a chore.
Most of us already have a kitchen scale, some basic utensils and some pots and pans but what else is handy in the kitchen? Here are some good ideas for the kitchen:
Spatulas
Silicone spatulas cost more than other types but they can tolerate heat up to 500ºF, they last for years and they don't lose their shape, crack or chip. Big silicone spatulas are great for making cookies or cakes.
Kitchen Shears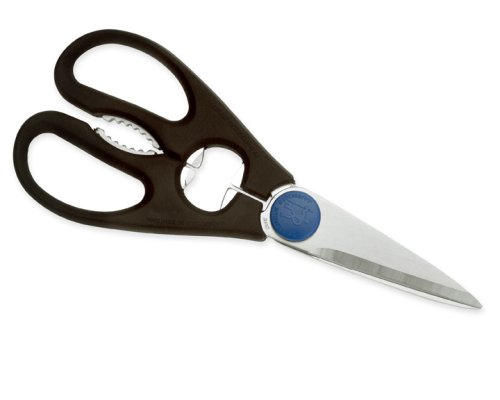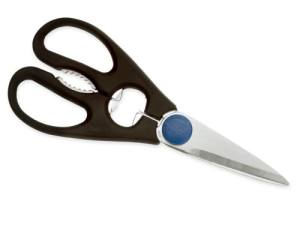 Kitchen shears are great for chopping bacon, dried fruits and snipping herbs, and one of the kitchen gadgets you will certainly need.
The best brand, in my opinion, is Henckels, and these are really sharp and will cut through raw meat quickly and easily – bacon, beef, chicken, anything. You can also stick them in the dishwasher for easy cleanup. They are a great investment.
You can also use them to trim pie crusts. Henckel's is a well respected brand and if you have not used kitchen shears before you will wonder how you ever did without them.
Top Rated Henckels Kitchen Shears, on Amazon
Can Openers
You can choose from cordless can openers, electric ones, manual ones that open the can on the top or on the side and many other easy to handle types.
Zesters
If you want the flavor of onion, ginger or citrus in your recipe, zesters or microplane graters are ideal. They were originally designed to smooth wood until a Canadian woman discovered their usefulness in the kitchen. Some people don't have these as part of their kitchen gadgets collection but perhaps you would find one useful.
Digital Timer
If you are cooking more than one thing at once, a digital timer can help you to keep track of everything. If you are cooking something that you don't need to watch, a digital timer means you can get on with other things while it cooks. Use it to check the doneness of chicken for example.
Nonstick Baking Liners
These are easy to clean and sturdy and nothing sticks to them. Keep the cardboard folder they come in to store them in between uses.
A Meat Thermometer is One of the Must-Have Kitchen Gadgets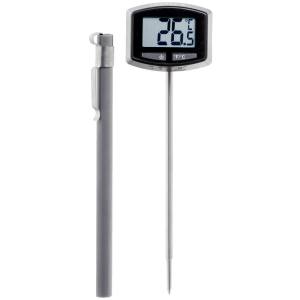 Under-cooked food is a potential safety hazard and a meat thermometer can take the worry out of knowing whether your food is ready or not. That's why this is one of the most useful kitchen gadgets. You can find out within a couple of seconds whether your food is ready or if it needs a few more minutes.
Weber Instant-Read LCD Thermometer, on Amazon
Whisks
Whisks are great for blending ingredients or making sauces super smooth. Nylon whisks are especially good because you can use them in non-stick pans.
Serrated Bread Knife
Bread knives made bread slicing easy. You can use them to cut any type of loaf or bread roll and they come in different sizes.
Mandoline
This is a little kitchen tool that slices food very finely. It can also make crinkle cut food and julienne vegetables. The best mandolines come with a safety catch so you can't cut yourself. How many of these kitchen gadgets do you have?