This is a great pesto spaghetti recipe to make if you are in the mood for Italian but also looking for something you can just throw together and have on the table half an hour after you thought of making it!
Spaghetti and meatballs is a typical Italian dish which combines pasta and meat in a simple way, and although a tomato sauce is often served with such a dish, pesto spaghetti is also nice and it is what we are using here, although you can switch one for the other if you like. If you've never made this  before, give it a whirl – it's great to try new recipes!
We are making baked meatballs and you can prepare the pesto spaghetti while the meatballs are baking, then have everything together at once. Make sure you have some extra fresh basil sprigs for an attractive garnish and consider what you want to serve on the side, or whether you want to omit a side dish and instead serve a tasty side dish such as this delicious Italian bruschetta recipe.
Pesto Spaghetti & Meatballs: Which Meat to Use
Here in Holland you can't get ground pork for whatever reason (don't ask me, I only live here!) so we use half and half (which is half beef and half pork) and that seems to work just fine, but you can use beef or pork if you prefer, or even ground turkey if that is what you like.
I like to serve this pesto spaghetti with some kind of Italian side dish depending on my mood, so that might be tomato, mozzarella and fresh basil (insalata tricolore) or perhaps some buttered asparagus spears. This is quite a hearty dish so you do not need a huge side dish or even more than one. In fact, if you are serving a salad as your appetizer you can forgo the side dish altogether here.
How Do You Eat Spaghetti Like an Italian?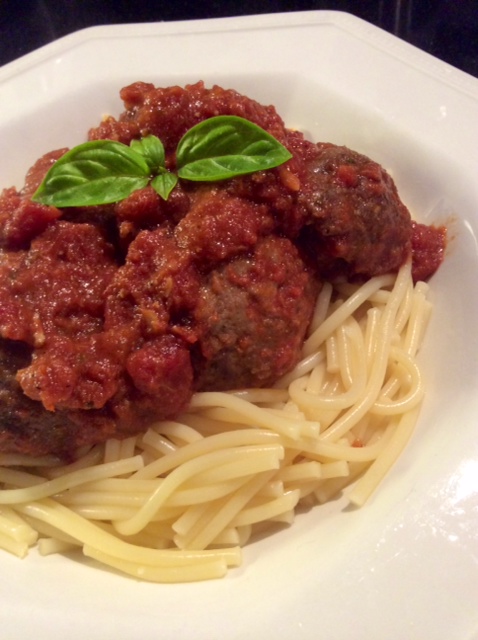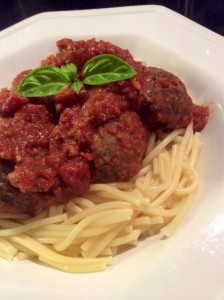 Spaghetti is probably the best-known, or at least most recognized Italian food, but it has also caused plenty of disagreements about the 'proper' way of eating it. People tend to avoid spaghetti in restaurants if they are in any doubt about how to eat it or if they are scared about making a mess, but it is a pity to miss out on it just because of this.
The best way to eat pesto spaghetti is how an Italian would eat it, so first of all keep your hands (but not elbows) on the table and ensure everyone has their food in front of them before you start eating.
It is bad form to use a spoon in Italy while eating spaghetti, and it is also a mistake to cut the spaghetti shorter. Any sounds you make while eating pesto spaghetti, such as sucking or slurping, are seen as rude.
So how do you eat it?
Well, push the spaghetti to the middle of your rimmed bowl and then pull a little to the side of the plate. Hold the fork vertically and turn it clockwise, keeping the prongs on the rim.
Lift up your fork and see whether you have twirled them enough to put the fork in your mouth, or keep rotating the fork a bit more.
If you do need to repeat the process, put the fork down and take fewer noodles then twist again until they are wrapped around the fork and you can get it into your mouth neatly.
Print
Pesto Spaghetti with Easy Baked Meatballs
Baked meatballs are healthier than fried ones, and these are delicious. Served on a bed of pesto-coated spaghetti, this makes a delicious and authentic Italian dinner which the whole family will love.
Author:
Prep Time:

20 mins

Cook Time:

20 mins

Total Time:

40 mins

Yield:

4

1

x
Category:

Entree

Cuisine:

Italian
8 oz

(

230g

) dried spaghetti

2 tablespoons

prepared pesto sauce

4

sprigs of fresh basil, for garnish (optional)
For the Meatballs
1

lb (450g) ground beef or pork

1

lightly beaten large egg

2

minced garlic cloves

½

minced small onion

2 tablespoons

marinara or tomato sauce

1 tablespoon

each chopped fresh rosemary, chopped fresh parsley and chopped fresh basil

½ cup

(

65g

) regular or Italian breadcrumbs

¼ cup

(

25g

) shredded fresh Parmesan cheese

½ teaspoon

salt

¼ teaspoon

ground black pepper
Instructions
Preheat the oven to 375 degrees F (190 degrees C).
Line a baking sheet with parchment paper.
Combine all the meatball ingredients in a bowl and mix.
Take care not to over-mix unless you like tough meatballs.
Divide the mixture in half then repeat until you have 16 equal-sized meatballs.
It is best to do this with wet hands so you can shape them better without having them cracking.
Bake for 20 minutes or until cooked through.
While they are baking, cook the spaghetti following the instructions on the package.
Drain off the water then toss the hot cooked spaghetti with the pesto sauce.
You might want to add a little more pesto sauce – just use your judgement.
Divide the pesto spaghetti between 4 warmed serving plates.
Add 4 meatballs to each one and garnish with fresh basil.
Serve right away.
Notes
Feel free to make any changes you like to the meatballs recipe, perhaps swapping the herbs for others or even adding some red pepper for spice.
Some people like to toss the meatballs with the spaghetti while others serve the meatballs on top – this is up to you of course.
Serve some shredded parmesan cheese on the side if you like – fresh parmesan of course, to keep it authentic and delicious!
Keywords: pesto spaghetti, pesto spaghetti with meatballs, meatballs for pesto spaghetti