This pico de gallo recipe is the same dish that is made in thousands of Mexican households every day. It's a beautiful and aromatic Mexican condiment, which is served with fajitas or tacos, as well as with nachos, tortillas or tortilla chips and even with Mexican salad recipes.
This is the basic pico de gallo recipe but you can adjust the chili level if you want to. Serrano chilies go particularly well here. This condiment can be compared to fresh salsa but it is less liquid, which means you, can eat it with a toothpick, small fork or with your fingers. And you can create it in about 10 minutes from scratch.
It is made with salad vegetables such as juicy fresh Roma tomatoes, chilies and fresh lime juice for a fresh flavor. The white onion and tomatoes form the base of this recipe and the other ingredients add flavor to it. Choose from red onion, green onions or another kind, to personalize this salsa fresca perfectly to your palate.
Homemade Pico de Gallo Recipe Ingredients
This salsa cruda condiment is just as versatile as salsa fresca and you might prefer this on sandwiches because it will not make them soggy like salsa will if you make the sandwiches in advance. An easy pico de gallo recipe with fresh tomatoes and red onion is beautiful with tortilla tips for dipping and scooping it up. I like to use plum tomatoes in tomato season (cherry tomatoes would also work) and fresh cilantro is a must-have in this easy recipe. Oh, and I also like to remove the tomato seeds and pulp.
Pico de gallo (rooster's beak in English) is Mexican food that's best eaten the same day but it does keep for a day in the refrigerator if you have any left over. Feel free to use more cilantro if you like the flavor because it goes so nicely with the fresh-flavored ingredients in this south of the border recipe. If you're using serrano peppers you might find the best pico de gallo you ever made seems to get spicier overnight!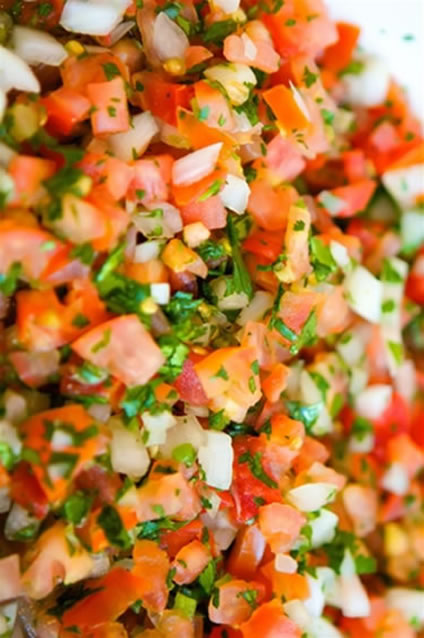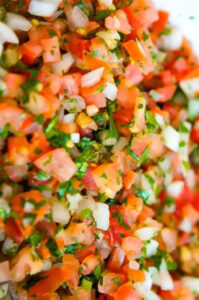 What to Serve with It
You are sure to find a lot of dishes to serve this with, and not just Mexican ones either. Because this is basically a combination of very fresh ingredients, spiced with lime and jalapeño, you will find it goes nicely with pretty much everything.
This includes snacks from a cheese salad sandwich to a deli meat platter or you could even serve some alongside a baked potato or some grilled fish. My favorite way to enjoy it is as a dip for chips. There is just something about those ripe red tomatoes that makes this a great recipe for stimulating the appetite – not that mine needs much of that! I can devour a medium bowl of this in record time.
It's also a perfect dish for guests and a bowl of this sensational Mexican dip on the table is sure to attract everyone's eye. Everything from its colorful appearance and fresh aroma to the incredible flavor will keep everyone wanting more.
A food processor is very useful for your homemade pico de gallo. Even though you can finely dice the ingredients by hand, using a food processor takes a few seconds rather than a few minutes, and saves lots of time, especially if you plan on making lots of it at once.
Make sure you don't over-mix the ingredients in this, the best pico de gallo recipe, though. Otherwise you'll end up with smooth salsa, instead of this chunky salsa cruda dip! And remember, this is a great recipe for any time, not just for Cinco de Mayo. Here is the recipe card to print out or follow on screen:
Print
Pico de Gallo Recipe | Tasty Pico de Gallo Salsa
Freshness is the word that springs to mind when you taste this tomato, onion, cilantro, lime, and jalapeño dish. This colorful recipe goes perfectly with pretty much any Mexican food.
Author:
Prep Time:

15 minutes

Total Time:

15 minutes

Yield:

4

1

x
Category:

Side Dish

Cuisine:

Mexican
1

white onion, finely chopped

4

ripe plum tomatoes, seeded and finely chopped

2

or

3

jalapeño peppers, seeded and finely chopped

½ cup

chopped fresh cilantro (fresh coriander) leaves

1 tablespoon

fresh lime juice
Salt to taste
Instructions
Combine all the ingredients in a bowl.
Cover and refrigerate for an hour before serving.
Notes
This appetizing and colorful Mexican food recipe looks really good in the picture and you can see how the colors and textures go together.
Use good quality onions, ripe tomatoes, and this pico de gallo will have a perfect flavor. This pico de gallo is similar to the dip you sometimes get with poppadoms in Indian restaurants, although that would not have the lime juice or cilantro in it, which are so typically Mexican.
Pico de gallo is very popular in Mexico because it goes with so many dishes and because it is so quick and easy to put together.
Keywords: pico de gallo salsa, chunky homemade salsa, pickle de gallo, pico recipe