What's a Texas ranch water recipe, you might be wondering. Well, ranch water is the unofficial drink of West Texas. It's apparently quite refreshing after a long day of working on the ranch in the hot sun, hence the name! This ranch water cocktail comes in a can or you can make your own ranch water recipe with just a few ingredients.
What's in It?
You need tequila, lime and Topo Chico to make this cocktail. It's like a lighter version of a margarita and similar to a Tom Collins.
Some recipes use sugar syrup or agave syrup. You can make a low-carb keto ranch water version using liquid sweetener or just leave it out. This drink is crisper and more refreshing without any sweetener I find.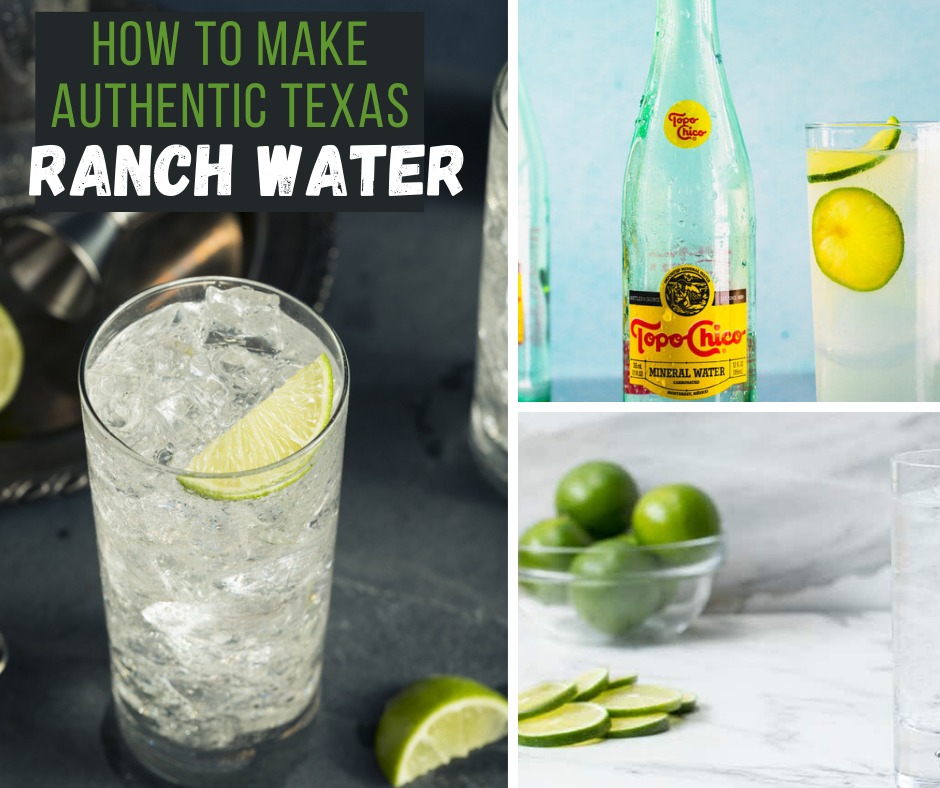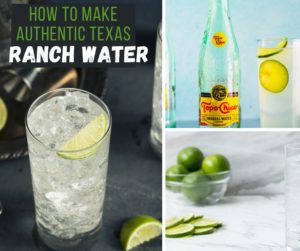 Purists claim Topo Chico has to be used in ranch water – no other sparkling water will do!
Topo Chico is a Mexican mineral water brand. It's been produced since 1895 and comes from an inactive volcano in the north of Mexico.
I love this sparkling water. It's naturally carbonated and has a gentle fizz. It's subtly citrusy and has a touch of salinity.
Don't confuse the mineral water with Topo Chico Hard Seltzers, which are an alcoholic beverage in a can. For ranch water you need plain Topo Chico.
What's the History of Ranch Water?
Ranch water is basically tequila soda with more lime. It's apparently been around for half a century west of the Pecos River, but appearing in print on bar menus is relatively new.
If you're making it yourself you have a free hand with the ingredients. Prefer a stronger drink? Extra lime juice? Different brand of water? It's your call!
The original drink is believed to date back to a rancher in Fort Davis in 1960. But just like many cocktails, the exact history isn't clear.
What's the Best Tequila for Ranch Water?
Unlike the mineral water brand, the tequila brand used to make a ranch water drink varies. A mid-price tequila, either blanco (not aged) or reposado (aged) will be fine.
You don't need to use top shelf tequila in Texas ranch water. Reposado has more flavor but try both and see which you prefer.
Is Canned Ranch Water Good?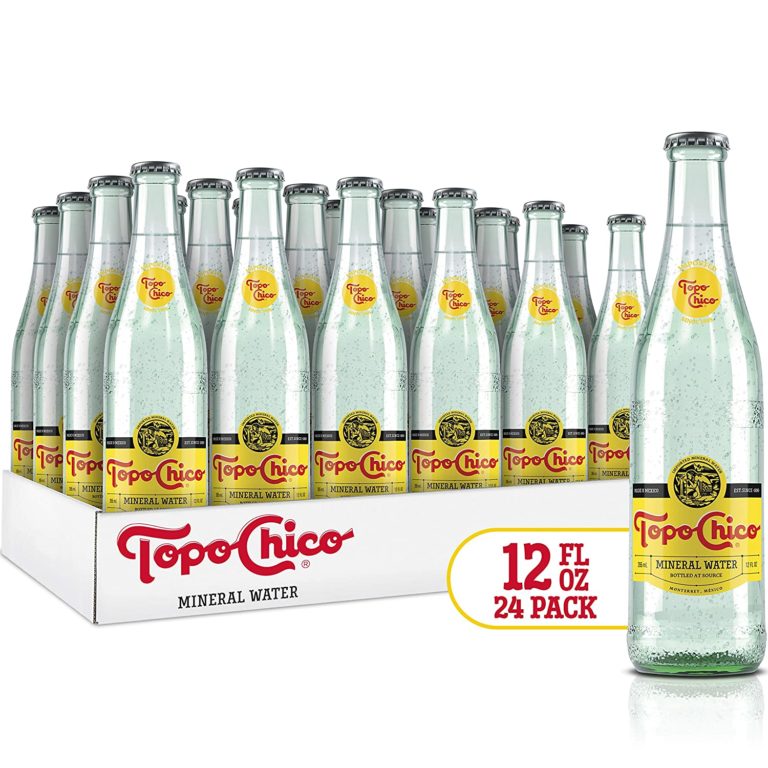 One reason why this is poised to be 'the' 2021 summer cocktail is it's low in calories, can be made carb-free and it's oh-so-refreshing.
Hard seltzers have been around for a while (in fact, the Topo Chico brand makes several flavors of their own).
Is White Claw losing traction in the popularity battles? It was certainly one of last summer's big trends along with other RTD (ready to drink) canned adult beverages. This remains to be seen!
These are the top 3 brands of canned Ranch water:
Lone River Ranch (West Texas)
Lone River Ranch makes this drink in a can. It weighs in at 80 calories per can and is sweetened with agave nectar. It's 4% alcohol. Lone River Ranch uses natural lime juice too. This retails for $9 for a 6-pack. It's very light in flavor, perhaps because it doesn't include real tequila. If you are looking for a very light tasting ranch water can cocktail, you might like this.
RancH20 (Dallas)
RancH20 costs $13 for a 4-pack. The higher price is because real tequila is used here. It is 7% alcohol and has a stronger flavor than Lone River Ranch's offering. It's tasty and light. This would be refreshing to sip by the pool.
Ranch Rider (Austin)
Ranch Rider uses premium reposado tequila from Jalisco. It's priced at $13 for a 4-pack, the same price point as RancH20. It only has ½ gram of sugar per can and the subtle reposado taste is really good.
Texas ranch water is always good, whether you're a West Texan cowboy cooling off after a long day or just lounging at the pool.
Ranch Water Ingredients
Let's take a closer look the key ranch water ingredients so you can make your own:
Topo Chico
This is the main ingredient in ranch water and it's been bottled in Mexico since the late 1800s. Apparently it once cured an Aztec princess of an illness. Diehard ranch water fans insist there is no replacement for this brand in the cocktail. No other brand has the same light fizzy carbonation or subtle flavors.
Tequila
Choose a mid-range tequila for making ranch water. Cheap tequila would work at a pinch but you might end up with a sore head and you'll know why! Choose your favorite blanco or reposado.
Lime Juice
You can add as much lime as you like. Always use fresh lime juice for the best flavor! Half a lime is about the most you should add else you risk it overtaking the tequila flavor.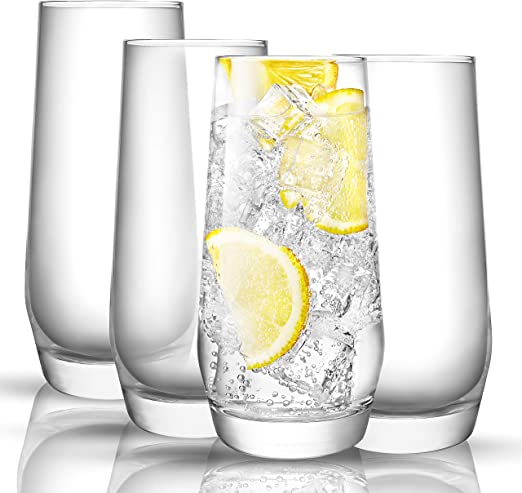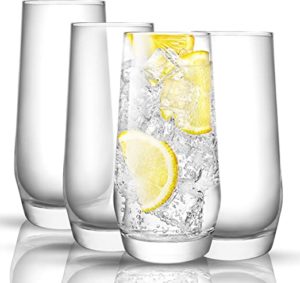 Salt
This is an optional ingredient, but you might like to salt the rim of the glass like you would with a margarita. Salt and lime were originally used to counter the bad taste of cheap tequila but they pair so well they're still served.
Also, if you're sipping Texas ranch water to counter the heat, a little salt is always a good idea (since you lose it when you sweat). Not sure whether or not you want salt (or making these for others)? Salt half the rim only to offer a choice.
Jalapeno
Another optional ingredient. Some folks love adding a very thin slice or two of hot chile pepper to their ranch water to add a kick. Another option is to add Aleppo pepper flakes to the salt you dip the rim in to make a Marfa ranch water recipe.
Ranch Water Variations
Can you make ranch water with vodka? Can you make it with gin? Of course you can use your favorite clear liquor to make a ranch water drink recipe. It just won't be as authentic.
So now you know the answer to 'what is ranch water' you can either grab the ingredients and make your own or pick up some cans! One thing is certain – you will love it!
Print
Texas Ranch Water Recipe
This classic West Texan ranch water recipe makes such a refreshing summer drink. All you need is tequila, Topo Chico and fresh lime juice to make it.
Author:
Prep Time:

3 Minutes

Total Time:

3 minutes

Yield:

1

1

x
Category:

Drink

Cuisine:

American
2–3 ounces (60–90 ml) tequila (blanco or reposado)
Juice from 1/2 a lime
½ cup (125ml) Topo Chico carbonated water
Ice, as needed
Optional Extras:
Salt
Thin jalapeno slices
Instructions
Salt the rim of a highball (or Tom Collins) glass if liked.
Add as much ice as you like.
Next add the tequila and the lime juice.
Top the ranch water off with Topo Chico.
You can add jalapeno slices if you want.
Decorate with lime slices if liked.
Notes
Experiment with the water, lime and tequila ratios to discover your ideal mix.
Add some simple syrup (sugar water) or agave syrup if you want to sweeten it.
For a keto ranch water drink, omit sweeteners or use your favorite liquid sweetener.
Keywords: cocktail, drink, texas, ranch water