Sauerkraut and pork are the perfect pair. Add in some beer and you have all the makings of a Bavarian classic. You can make pork and sauerkraut in the crockpot with a great result, or try pork and sauerkraut in the oven.
Some people like to make pork hock or pork chops with sauerkraut while others will use a pork loin or pork knuckle. You can use a shoulder roast too although along with butt roast that can be a bit fatty. Just don't use tenderloin for this recipe – loin yes, tenderloin no!
You might think a pork hock is all bones and fat, and yes there is quite a bit. However the meat is super-tender and worth slow cooking. You can discard the fat just before serving, although some people like it dipped in mustard.
Look for the meatiest hocks you can find. One or two will feed three or four people depending on the size of the hocks (and the people!) Get fresh hocks, not smoked ones.
Pork and sauerkraut is known as 'eisbein und sauerkraut' in the North of Germany, and nearly every German grandmother knows how to make this delicious dish! In the South of Germany it's known as 'schweinshaxe' and the pork is roasted instead of being boiled. Both ways are good.
German Sauerkraut and Pork Traditions
Germans have been eating sauerkraut and pork for generations on New Year's Day. They believe it brings luck for the year ahead. Germans who migrated to the Midwest brought their kraut-eating traditions along.
Pennsylvania and Ohio are especially fond of this dish on New Year's Day and also during Oktoberfest. Those states had a lot of immigrants from Germany in the 1600s and 1700s.
According to legend, pigs look forward when rooting for food. Chicken on the other hand scratch backwards. The Germans associate the looking forward with looking ahead to whatever the New Year brings.
Then they will make a wish that everyone gets as many riches as there are cabbage shreds in the sauerkraut.
Why Sauerkraut is Good for You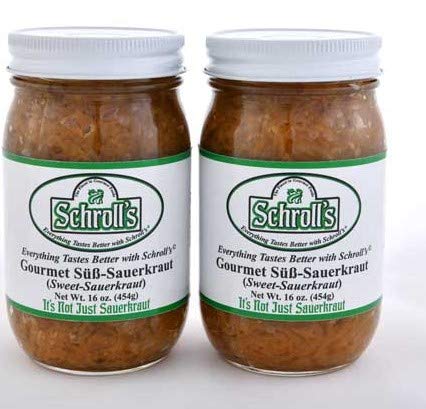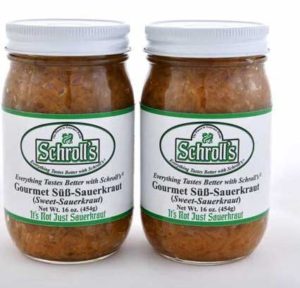 Hundreds of years ago the Germans not only enjoyed the flavor of sauerkraut and pork but they would have enjoyed the immune-boosting and digestive qualities this fermented cabbage offers.
It boasts fast-absorbing minerals and vitamins which might make your 'sore head' feel a little better after the night before! Some people eat a tablespoon of sauerkraut every day to help with digestion.
If you can't get unsmoked pork hocks at your local grocery store or butcher, try an Asian butcher.
What to Serve on the Side
This German sauerkraut and pork recipe with beer is good served with a simple side dish like mashed or roasted potatoes. Spaetzle (German pasta) is another popular side for pork and sauerkraut.
Omit the sugar from the recipe if you're using sweet rather than tart sauerkraut. If you're using sugar you can use white or brown – your choice.
Print
Sauerkraut and Pork Recipe with Beer
It doesn't have to be New Year's Day or Oktoberfest season to enjoy a delicious sauerkraut and pork recipe! This one is super easy to make and after tasting it, you'll want to make sauerkraut and pork again – and soon!
Author:
Prep Time:

15 Minutes

Cook Time:

2 Hours 30 Minutes

Total Time:

2 hours 45 minutes

Yield:

4

1

x
Category:

Main Dish

Method:

Stove

Cuisine:

German
4

fresh pork hocks

6

fl oz (180ml) light beer

2

quartered yellow onions

12

slightly crushed peppercorns

1½ tablespoons

sugar

2

bay leaves

28 oz

(

800g

) canned sauerkraut

1 teaspoon

caraway seeds
Instructions
Put the hocks in a large pot with the onion, peppercorns, sugar, and bayleaf.
Add the beer.
Add enough hot water to cover and bring the mixture to a simmer.
Cover and simmer gently for 2 hours.
Drain off most of the liquid.
Drain the sauerkraut and add it to the pot.
Sprinkle over the caraway seeds.
Simmer for 30 minutes.
Discard the bay leaves and adjust the seasoning if need be.
You can crisp the top of the pork under the broiler at this point if you like.
Serve hot.
Keywords: sauerkraut, pork, Bavarian, German