Healthy garden salad recipes are very popular but what is a garden salad exactly? This type of salad mainly consists of fresh vegetables. The base is usually mesclun, lettuce or another kind of greens. Other names for this recipe include tossed salad and green salad.
Dressings like Thousand Island, blue cheese dressing, honey mustard, ranch dressing, Italian dressing, or citrus dressing are often served with garden salad recipes. A big garden salad will work as an entrée and a smaller one will work as an appetizer or side dish.
Garden Salad Recipes: Popular Ingredients
Typical garden salad ingredients include tomatoes, which might be cut into wedges, chopped, sliced or small varieties like cherry tomatoes, carrots, cucumber, onion, mushrooms, olives, hard-boiled egg, cheese, bacon bits, broccoli or cauliflower florets and radishes.
Cheese, bell peppers, celery and croutons are other possible ingredients for such a salad. Some of these recipes are topped with tuna, chicken, deli meats (using deli meats makes it a chef salad), chicken or other kinds of meat or seafood. You can be creative when making garden salad recipes.
Garden Salad Recipes:
How Many Calories in a Garden Salad?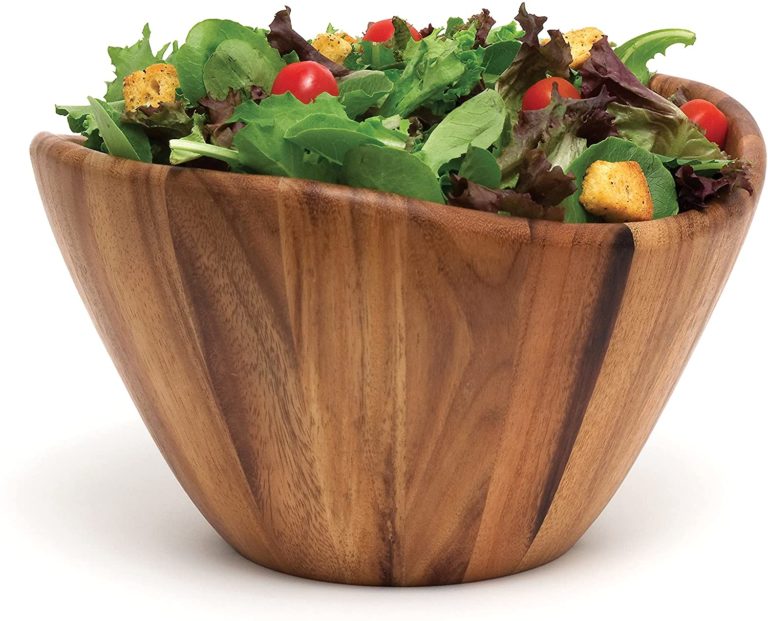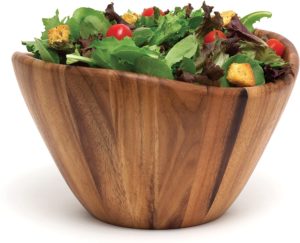 This would depend what is in the salad, but as a rule they're a low calorie option. Around 100 calories is a good estimate, as long as you count the dressing separately.
A good garden salad recipe deserves to be served in a gorgeous salad bowl!
The following recipe contains lettuce, red cabbage, tomatoes, red onion, carrot and cucumber, to keep the salad crispy, colorful and healthy.
The dressing is made with mustard, extra-virgin olive oil and raspberry vinegar, for a piquant finish. It really suits the plain flavor of the salad ingredients and really brings the salad to life. This is a great dressing for many of the easiest garden salad recipes.
This recipe will serve six as a lunch or hearty appetizer or four as an entrée. You can make the dressing in advance if you like but the salad is best prepared fresh. Toss everything together just before serving or serve the dressing on the side to allow people to serve themselves.
Print
Tossed Garden Salad with Carrot and Red Cabbage
One of the best things about garden salad recipes is how wonderfully crunchy they are. Using crisp ingredients like onion, lettuce, carrots and red cabbage gives the garden salads a wonderful texture.
Also, because of the typical ingredients in them, garden salads tend to be really colorful. You can usually tailor the ingredients in a garden salad recipe to suit your own taste.
Author:
Prep Time:

10 minutes

Total Time:

10 minutes

Yield:

6

1

x
1 chopped iceberg lettuce
1/2 shredded red cabbage
10 cherry tomatoes
1/2 thinly sliced red onion
1/2 grated carrot
1/4 sliced cucumber
For the Dressing:
1 tablespoon Dijon mustard
2 tablespoons raspberry vinegar
1/3 cup (85ml) extra-virgin olive oil
1/2 teaspoon salt
1/4 teaspoon black pepper
Instructions
Toss the lettuce, red cabbage, tomatoes, red onion, carrot and cucumber together to make the garden salad.
Whisk the mustard, raspberry vinegar, extra-virgin olive oil, salt and pepper together to make the dressing.
Toss the salad and dressing together or serve the garden salad with the dressing on the side.
Notes
If you want to make substitutions that is fine.
Not everything has to be crunchy either.
Soft ingredients like boiled egg, olives or mushrooms can also work well and you can switch the suggested dressing for one you prefer if you want to.
Print
Fresh Garden Salad with Lime and Beets
This delicious garden salad is very simple, featuring lettuce, tomatoes, beets, walnut halves, bell pepper and cucumber. The lime dressing is delicious with it. In fact this is one of my favorite garden salad recipes. I really love the beets in there.
The salad itself is easy to put together and we recommend arranging the ingredients on top of the lettuce but if you prefer you can toss the lettuce with everything else. The dressing can be modified for a hotter taste (more chili powder and hot sauce) or a milder one (just use less of the hot stuff) but it is also very good the way it is.
If you wish to serve this fresh garden salad recipe as an entrée you might wish to add some chicken to it. You can chop some cooked chicken and toss it with the other salad ingredients or even use a whole poached or pan-fried chicken breast. The dressing is especially good with poultry so this would work out well in more ways than one.
Feel free to modify the ingredients if you want to. If you like the idea of using nuts but you do not have walnut halves or you are not so keen on them, you can try peanuts, cashews or almonds instead. The nuts add a crunch which goes well with the crispness of the lettuce and bell pepper.
The beets are good in this garden salad because they are an unusual ingredient and offer a good contrast. You can get vacuum-packed cooked beets. Make sure all the skin has been scrubbed off because sometimes a little of it is missed before it is vacuum-packed.
Other possible ingredients that you could include in the garden salad are chopped hard-boiled eggs, grated cheese, and black or green olives.
Author:
Prep Time:

15 Minutes

Total Time:

15 minutes

Yield:

4

1

x
Category:

Salad
1/2 shredded iceberg lettuce
1/4 thinly sliced cucumber
1/2 cup chopped cooked beets
2 chopped tomatoes
4 lime wedges
Small handful walnut halves
1/2 sliced green bell pepper
Chopped feta cheese (optional)
For the Dressing:
2 tablespoons extra-virgin olive oil
1/4 cup lime juice
1/4 teaspoon salt
1/2 teaspoon chili powder
2 drops of hot sauce
1 tablespoon honey
Instructions
Whisk the extra-virgin olive oil with the lime juice, salt, chili powder, hot sauce and honey to make the dressing.
Divide the iceberg lettuce between 4 serving plates.
Top it with the cucumber, tomatoes, walnut halves and bell pepper strips.
Add the feta if using.
Arrange the beets around the outside and garnish with the lime wedges.
Serve the dressing on the side.
Notes
This colorful salad might look mild but the dressing gives it a real kick. This delicious garden salad recipe boasts beets, walnut halves, bell pepper, tomatoes and more and if you fancy something a bit more spicy than a traditional garden salad, this recipe might be exactly what you are looking for.
Contrasting soft ingredients like the juicy beets with crisp ones such as the bell pepper and iceberg lettuce, this is a salad of contrasts. The spicy lime dressing is unusual and you might want to warn people it is spicy before serving it, and offer a milder dressing too for those who prefer it.
Print
Super Crunchy Garden Salad with Radish
Use your favorite kind of lettuce in this garden salad recipe. Romaine, green leaf or a bag of mixed baby leaves would all work well.
You can decide how you want to serve it too, whether you just want to toss the whole lot together or whether you prefer to divide the lettuce between the plates and then arrange the toppings on it.
One key rule though is not to add the dressing until just before serving else your crispy garden salad recipe might become a soggy one instead.
There are lots of garden salad recipes to choose from but this one is extra crunchy and extra colorful, so you could do a lot worse. The dressing contains garlic, herbs, mustard, apple juice and more, so it has plenty of dimension. If you like your salad swimming in dressing (some people do) you can double the dressing recipe.
Else you can just make the stated amount and it should be sufficient for most people's needs.
This fresh garden salad really looks the part; if you are making this for a potluck supper or buffet you can count on it being an eye-catching dish. If you do want to take this to a potluck event, by the way, you can toss the salad ingredients together and put them in a tightly-sealed container. Keep the dressing in another container and combine the two just before serving.
The salad ingredients are best served chilled but the dressing can be served at room temperature and it is more fragrant and aromatic that way anyway.
Author:
Prep Time:

15 Minutes

Total Time:

15 minutes

Yield:

4

1

x
5 cups shredded lettuce
10 baby carrots
12 cucumber slices
10 cherry tomatoes
2 chopped green onions
1/2 chopped red bell pepper
1/2 chopped yellow bell pepper
1 cup sliced radishes
For the Dressing:
1 teaspoon white sugar
2 teaspoons extra-virgin olive oil
1 minced garlic clove
1/2 teaspoon dried oregano
3 tablespoons red wine vinegar
1/8 teaspoon black pepper
3 tablespoons apple juice
1/2 teaspoon Dijon mustard
Instructions
Divide the shredded lettuce between 4 serving plates.
Arrange the carrots, cucumber slices, cherry tomatoes, green onions, bell pepper and radishes on top.
Whisk the sugar, extra-virgin olive oil, garlic, oregano, vinegar, black pepper, apple juice and mustard together to make the dressing.
Drizzle the dressing over the garden salad and serve the dressed salad right away.
Alternatively you can serve the dressing on the side.
Notes
Most garden salad recipes are colorful but this one is really colorful, blending red, orange, yellow and various shades of green.
It is a very appetizing recipe for garden salad which would be great at lunchtime or dinnertime, and as a snack, appetizer, side dish or even as the main event if you add some chicken or shrimp perhaps.
It is handy to see photos when choosing which salad recipe to make because some salads look boring (but might taste good!)
If you are having a dinner party or another event, you will want to present something which looks good as well as tasting good.
Print
Summer Garden Salad with Cilantro
This unique and delicious summer garden salad recipe makes its own juices from the salad ingredients, with the sugar, salt, pepper and vinegar helping out a little. The marinating time is important because this is when the magic happens and the flavors blend and the salad gets more juicy, so allow one or two hours for a great result.
Don't add the lettuce to the marinating mixture because we all know what happens when lettuce is combined with liquid; it gets soggy and that would ruin your entire garden salad, so it is best to add the lettuce at the end. You can either serve the marinated mixture on top of the lettuce or toss the lettuce with it.
A hint of Mexico comes from the tomatoes, avocado and cilantro, and you can play up this south of the border touch even more by adding a squeeze of lime juice to the dressing or by adding some corn kernels (drained canned corn or drained thawed corn kernels) to the salad before marinating it. This is only an idea of course and you can make the salad as it is and still expect great results.
This is a great make-ahead garden salad recipe which can save you time if you are catering for an event or making the food for a buffet and you do not want to be rushed at the last minute, putting the finishing touches to everything. Simply make this one or two hours ahead and let it steep in the refrigerator until you are ready to serve it.
Since you can make it ahead it is also a good side dish if you are unsure exactly what time you will be serving dinner. Some salads are not good if they are left to sit around for hours but this one is actually better that way. Leave out the black olives if you aren't keen.
Author:
Prep Time:

15 Minutes

Total Time:

15 minutes

Yield:

6

1

x
Category:

Salad
1 shredded lettuce
18 cherry tomatoes
½ diced avocado
4 teaspoons vinegar
4 tablespoons white sugar
¼ teaspoon black pepper
¾ teaspoon salt
1 sliced red bell pepper
Small handful pitted black olives
2 sliced cucumbers
1 chopped red onion
Small handful fresh cilantro leaves
Instructions
Toss the cherry tomatoes, bell pepper, avocado, cucumber, red onion and cilantro together.
Stir the vinegar sugar, salt and pepper together and pour this mixture over the cherry tomato mixture.
Toss briefly, then refrigerate for about 1 1/2 hours to allow the flavors to blend.
Serve on a bed of shredded lettuce.
Notes
This delightfully crunchy garden salad recipe is just right for enjoying al fresco.
Allowing the ingredients to marinate in the refrigerator for a couple of hours not only means you can make this recipe ahead but it also means the end flavor will be superior to salads where you just throw everything together.
Print
Garden Salad with Parmesan and Black Olives
This is one of the most simple garden salad recipes. It combines colorful ingredients like salad leaves, onion, black olives and tomatoes with a Dijon, parmesan and parsley dressing for a mouthwatering flavor and plenty of texture.
The parsley, mustard and Dijon work nicely together in the extra-virgin olive oil and white wine vinegar dressing and the result is piquant and very tasty.
The salad itself is simple to prepare and all you need to do is toss everything together. Make sure the salad ingredients are sliced or chopped up quite small. A good salad should be in bite-size pieces so you only need a fork to enjoy it, not a knife too.
Most garden salad recipes are very healthy and they are attractive too with their riot of colors. If you want to get extra vitamin C from your garden salad, include plenty of cucumber, sprouted beans and tomatoes.
To make this garden salad more filling you can add some croutons or a protein source like chicken, shrimp or turkey. Smoked poultry is nice here or you can add some cubes of cheddar.
Pick out sharp cheddar for mouthwatering results. The parmesan in the dressing will be nice with the cheddar cheese in the salad.
You could even leave the parmesan out of the dressing and serve the salad with shaved parmesan curls on it instead; that would also be a good serving suggestion. Make this salad your own by adding whatever salad ingredients you fancy.
Author:
Prep Time:

15 Minutes

Total Time:

15 minutes

Yield:

4

1

x
Category:

Salad
¼ cup (60ml) white wine vinegar
¾ cup (180ml) extra-virgin olive oil
1½ teaspoons Dijon mustard
¼ cup (60g) grated parmesan
¼ cup (15g) chopped fresh parsley
½ head romaine or another type of salad leaf, torn into bite-size pieces
½ head iceberg lettuce, torn into bite-size pieces
½ finely sliced white onion
½ cup (90g) pitted black olives
3 sliced medium tomatoes
Salt and black pepper, to taste
Instructions
Put the vinegar, extra-virgin olive oil, parsley, mustard and parmesan in a glass jar and seal it tightly.
Shake well to combine and season with salt and pepper to taste.
Combine the romaine, lettuce, onion, olives and tomatoes in a big bowl and toss a few times.
Season with salt and pepper and set to one side.
Add the dressing to the salad and toss again.
Notes
This might look like a very basic garden salad recipe but using two kinds of salad leaves (or more if you like) as well as tomatoes, onion, olives and more means this garden salad recipe really does pack a flavor punch.
You can serve this as an appetizer, side dish or healthy lunch, perhaps with some poached chicken on the side.
If you want to liven up the salad you can add some chopped anchovies and shrimp for a seafood touch or some smoked salmon and capers for a different result. Chicken or turkey also goes well and can be tossed with the salad or served on top.
Print
Baby Leaf Garden Salad with Crispy Rosemary Croutons
Although the rosemary croutons are delicious, you can swap the rosemary bread for olive bread or a plain rustic loaf for a different flavor if you choose to. Perhaps rosemary bread is not available where you are, so just pick out something you like.
If you like the idea of rosemary, you can use a plain rustic loaf and sprinkle dried rosemary over it before baking the croutons for a similar result. You can also use dried oregano, dried basil or another herb or combination of herbs.
Garden Salad Recipes: Get Creative!
The sky is the limit when it comes to inventing your own salad recipes and if you want to make a garden salad there is only one rule – the majority of the ingredients must be fresh.
They do not necessarily have to come from your own garden (although that would be great!) But you should include plenty of fresh ingredients and preferably some crunchy or crispy ones to contrast with the softer ones.
Some ingredients come in crispy and soft forms and that includes lettuce. Round lettuce is soft but iceberg lettuce is crispy. Other crispy or crunchy ingredients that you could add are carrot, bell pepper, celery, bacon bits and nuts.
If you want to adapt this recipe, go for it. You might like to keep all the original ingredients and throw in some dried fruits or nuts, or a handful of crumbled bacon or even some crumbled feta or blue cheese.
The basic garden salad recipe is simple enough to accommodate most other flavors and textures. You might like to swap the cherry tomatoes for sliced big tomatoes or use spinach instead of the mixed baby salad leaves. Any of these changes would be fine.
Author:
Prep Time:

15 Minutes

Cook Time:

13 Minutes

Total Time:

28 minutes

Yield:

4

1

x
Category:

Salad
8 oz rosemary bread, cut into 1/2 inch cubes
8 halved cherry tomatoes
1/2 chopped white onion
3 cups (225g) mixed baby salad leaves
Olive oil, as needed
Salt and black pepper, to taste
For the Dressing:
½ tablespoon chopped fresh thyme
½ teaspoon Dijon mustard
1/8 teaspoon black pepper
1½ tablespoons fresh orange juice
1 tablespoon fresh lemon juice
1½ tablespoons chopped fresh basil
1/8 teaspoon salt
Instructions
Preheat the oven to 350 degrees F (180 degrees C).
Put the bread cubes on a baking sheet and drizzle the olive oil over them.
Bake for 13 minutes or until toasted, then set to one side to cool.
Toss the mixed salad leaves with the cherry tomatoes, onion and croutons.
Whisk the thyme, mustard, pepper, orange juice, lemon juice, basil and salt together to make the dressing.
Toss the dressing with the salad until everything is coated.
Season with salt and pepper to taste and serve right away.
Notes
This garden salad is a riot of color with the vibrant hues of the cherry tomatoes, salad leaves, toasted bread cubes and more.
This is a wonderful side dish for a plain grilled fish or chicken breast or you can serve it alone for lunch or supper, or as an appetizer.
In fact this delicious crunchy garden salad recipe is very versatile. Make sure everything is cut into bite-size pieces so you can enjoy it with a fork.
The rosemary croutons make this salad extra-special and give it a gourmet touch. If you are looking for the best garden salad recipes, this would certainly be a strong contender.
Print
Fresh Garden Salad with Quail Eggs
For the greens you might like to use a variety of different leaves, including Bibb or Boston lettuce or Romaine.
Boston lettuce, which is also known as butter lettuce, is originally from the Mediterranean although other varieties developed in North America. Bibb and Boston lettuce are two of the most popular types of lettuce in the United States and they are similar although Boston lettuce has wider, paler leaves than Bibb.
Butter lettuce is tender and mild in flavor, which means it pairs well with all kinds of other ingredients and is often used in garden salad recipes. This type of lettuce goes especially well with fruity or creamy ingredients, as well as with honey.
Lactucarium is found in butter lettuce and it might interest you to know that this compound has sedative effects similar to opium. It is recommended for treating intestinal spasms, palpitations and insomnia although a few leaves should not have any effect at all.
Rumor has it that the emperor Domitian used to serve a whole head of butter lettuce to his guests at the beginning of their meal, forcing them to fight their sleepiness for hours, since falling asleep in front of the emperor would have been a big no-no.
Wash and dry your lettuce well before using it in the garden salad recipe. Use a canned jalapeno for less heat or a fresh one for more. Take out the seeds and stem before using it. If you really don't like the idea of adding heat to your garden salad recipe, you can leave the jalapeno out altogether.
The salad will still be flavorful and have a nice texture without it. The lemon juice in the dressing should be fresh for the best flavor but you can use bottled lemon juice at a pinch; it does not make too much difference.
Author:
Prep Time:

10 Minutes

Cook Time:

4 Minutes

Total Time:

14 minutes

Yield:

4

1

x
3 cups (225g) torn mixed greens
2 chopped green onions (spring onions)
1 cup (75g) baby spinach leaves
1 sliced fresh tomato
½ thinly sliced carrot
Salt and black pepper, to taste
Lemon wedges, for garnish
8 quail eggs
For the Dressing:
¼ cup (60ml) lemon juice
1 teaspoon chopped jalapeno
2 tablespoons finely chopped fresh cilantro
2 tablespoons honey
¼ cup (60ml) extra-virgin olive oil
1 minced fresh garlic clove
Instructions
Boil the eggs for 3½ minutes then cool in ice water, peel and halve.
Toss the mixed greens with the green onions, spinach, tomato slices and carrot.
Add the quail egg halves on top.
Whisk the lemon juice, jalapeno, cilantro, honey, extra-virgin olive oil and garlic together to make the dressing.
Lightly toss the salad with the dressing and garnish with lemon wedges.
Notes
This colorful and appealing garden salad recipe can be made with whatever salad leaves or greens you fancy.
Baby salad leaves are always nice in a garden salad and you might like to choose a couple of different kinds of lettuce which are in different shades of green for an even more colorful result.
You can see how the dressing gives this salad a glossy finish.
The lemon wedges are decorative but they can also be squeezed over the garden salad if anyone wants a more citrusy taste than the honey lemon dressing offers.