Retro bathroom ideas can be a huge amount of fun, and ensure that you create the ultimate design in your bathroom. People have begun to experiment far more with vibrant colors and exciting features which can help to give you the ultimate bathroom.
There are several different retro ideas to look into, which can help you to design the room to your taste, so take your time browsing what is available.
A retro bathroom can include a variety of factors to ensure you create the ultimate space to relax and unwind in. However, you need to ensure that you don't go too far, producing an overboard, kitsch bathroom which lacks taste.
Small amounts of retro work far better, and will ensure that your bathroom is perfect – subtle and beautiful.
What to Include in Your Retro Bathroom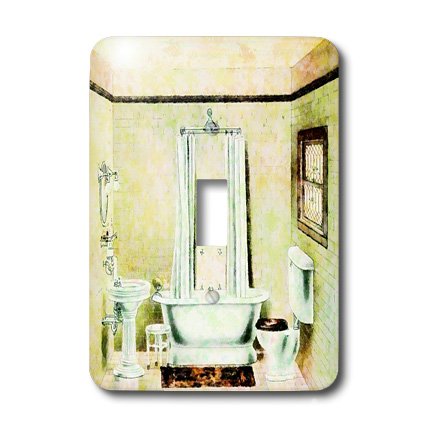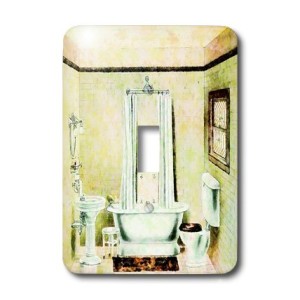 A few retro items can make a huge impact on the room, and will ensure that attention is drawn to this area. The fixtures should be neutral, as they will last for many years and ensure that remodeling your bathroom does not cost a fortune.
Accessories are perfect to create the retro bathroom feel, and these can include antique bowls, old-style glass bottles and old shaving brushes. Perhaps you can think of even more retro bathroom ideas.
Vintage Light Switch, from Amazon
Choose Your Own Retro Style
Retro styles vary. So which one is for you? You need to decide on the era for your retro bathroom, as this will determine the style that you choose to follow. Some people prefer romantic retro but others prefer edgier styles, therefore deciding this factor first is essential.
Once you have decided on the retro bathroom ideas and style that you prefer you can go ahead and create the ultimate retro bathroom.
Retro accessories can be expensive as more people are beginning to use this style for their bathrooms. However, if you search well and use online auction sites, you will be amazed at what you can find for your retro style.
You have to remember that you are not recreating that era, but simply complementing your bathroom with accessories.
Retro Bathroom Ideas: Think Outside the Box
You need to search in the correct places for the retro accessories for your bathroom, and be aware that many stores will not have what you need. You should search in unusual places and stores which might not at first strike you as ideal.
You need to consider what your style is in the rest of your house, and decide if retro bathroom ideas will fit in with your taste.
Art w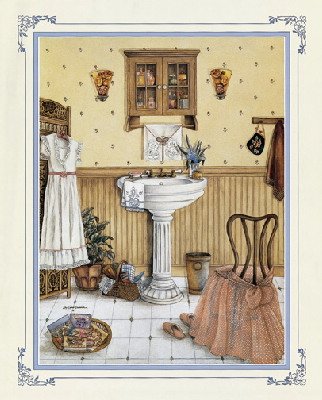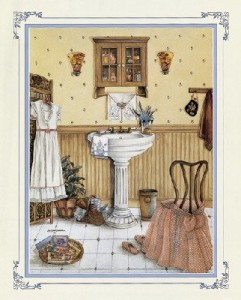 ork in the bathroom is incredibly retro, and there are various pieces to choose from to enhance the area.
However, you need to ensure that the art is moisture-proof, or it will be ruined very quickly. Excess moisture is common in your bathroom so the art needs to be designed for this room of your house.
Vintage bathrooms have become incredibly popular, with more people than ever before choosing this style for their homes.
However, retro items can be expensive, which is why you need to be a careful shopper, and learn how to make a vintage bathroom on a budget.
There are several different things that you can do to save money, and still achieve the look that you want. Consider a range of retro bathroom ideas and come up with the perfect solution.
His and Hers Art Prints – 10 x  8 Inches
Experimenting with the Retro Style
Retro is a style that some people are afraid of, which is why you need to be bold and step out of your comfort zone. There are several different elements that create the overall vintage look which can be included in your bathroom. However, you do not want to take the retro look too far or the bathroom may become cluttered and tasteless.
Small Touches Help Stretch Your Budget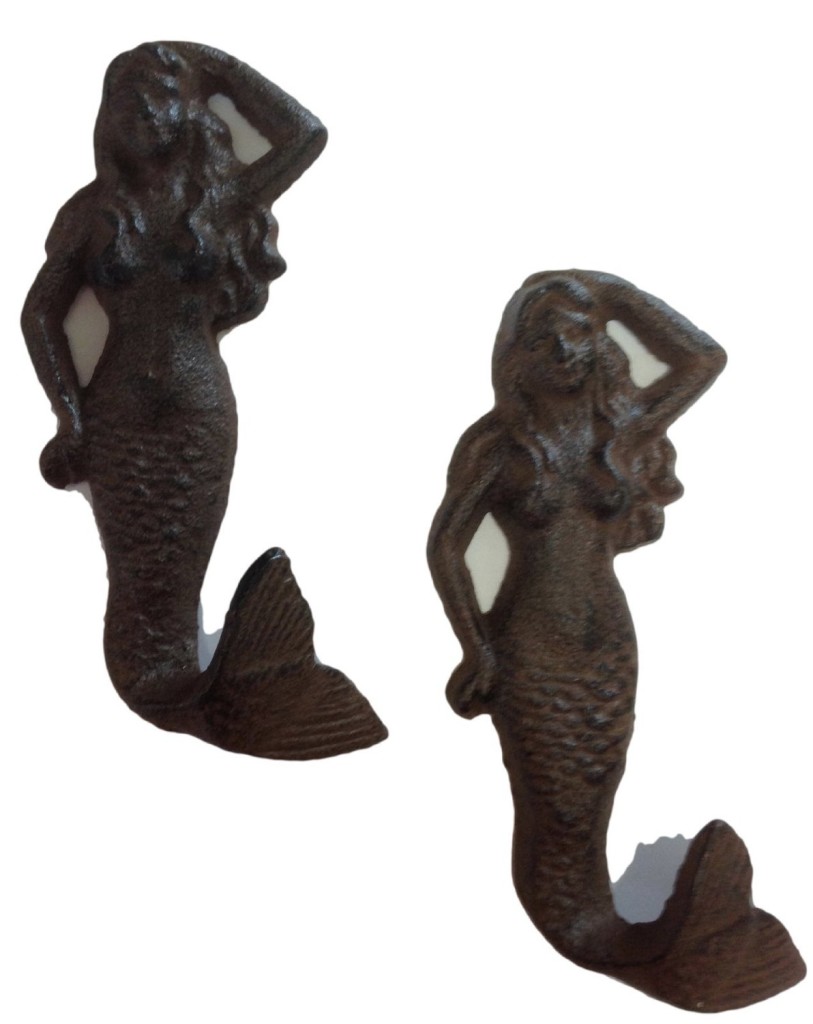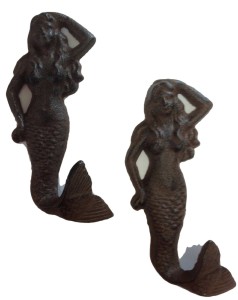 If your budget is smaller and you want to create the ultimate vintage look for the bathroom, you can select specific objects when considering retro bathroom ideas.
These will ensure that people are drawn to the vintage features, even if the rest of the bathroom is traditional. Small accessories can make a huge difference, and these include old shaving brushes, vintage sinks, and small perfume bottles.
What Does Retro Mean to You?
Vintage and retro can mean a huge number of different things, and the era that they are from can span widely. This means that you can save money by purchasing cheaper vintage items from unknown collections. Whether you want edgy retro or romantic vintage, there are possibilities with both styles.
Mermaid Wall Hooks, from Amazon
Take your pick from many different retro pieces, and choose what appeals to you for your bathroom. Whether you prefer Art Deco, 1950s style, kitsch 80s, then it is all your choice. Browse different retro bathroom ideas and decide what would look good.
Using Online Tools and Websites
Auction sites have become the best way to find bargains, and you will be amazed at what people want to sell, for a low price. If you are prepared to spend hours on the Internet searching for the perfect retro accessories, you will be delighted at the money that you can save.
So many people consider retro items to be worthless, which makes them the perfect item to pick up at an affordable price. Take a look at Amazon.com if you're in the US.
Searching in Stores
Stores may not offer what you are searching for in terms of retro bathroom ideas for a good price. This is when you need to dig deeper, and look in antique shops and secondhand stores. You will be surprised where retro items are hidden, and how much you need to search. However, when the bathroom looks amazing, you will know that all of the effort was worth it, and the money you saved was fantastic.