I spotted some ground veal in the grocery store last week and, since I had never tried it before, decided to use it to make veal crackslaw. I am always looking for new ideas. Crackslaw is always good but I can get bored with beef at times.
You can use any kind of ground meat to make crackslaw and I like veal escalope, so I thought why not see how ground veal works out? I combined the veal with mushrooms and other veggies, as well as all the Asian seasonings crackslaw is famed for, and the results were impressive. I really liked it!
As well as the veal, I used a package of sliced veggies including mushrooms and leeks, to make this veal crackslaw,  and you can either do similar or prepare vegetables from fresh.
I usually use shredded cabbage or a coleslaw mix but the mushroom mix also works well with the Asian flavors. In my local supermarket you can grab these on offer sometimes.
What Type of Veggies to Add
They might have a 35% off or they will do 2 for the price of 1 or whatever, and it makes sense. Even though I like to use fresh veggies, sometimes using bagged sliced veggies is also OK, especially if you are in a rush, since veggies (bagged or otherwise) are better than no veggies at all, right? Throw them all into this veal crackslaw and enjoy the variety.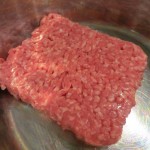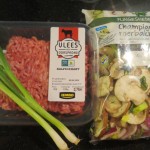 I also had a block of ground veal which I spotted in the Jumbo FoodMarkt (apparently the biggest supermarket in the Netherlands, although they don't seem to sell canned green chilies or corn tortillas, or at least they didn't have them on Saturday when I was making chicken enchiladas for my stepson!)
Anyway they did have this veal mince so I grabbed it and briefly considered meatballs before I thought… crackslaw!!! Perfect idea.
Any kind of ground meat can be used so why not make veal crackslaw? I assumed it would just taste like the veal escalopes I cook sometimes and yes it did.
So I had my veal and I had my mushroom mix and those of course are the staple ingredients in crackslaw. You need some kind of protein and some kind of veggies, and then it is just a case of gathering the typical crackslaw flavorings or, at least, some of them.
Go Ahead and Adapt the Veal Crackslaw
Veal crackslaw, and actually any variety, is very much about adaptation so if you are missing an ingredient or two, you can substitute other ingredients and still end up making something delicious.
Green onions are lovely in veal crackslaw and although I have used yellow, white, red and even sweet onions to make it, I do like green onions instead and if I have them then I use them. I like the color they give and the flavor too.
I also prefer fresh garlic over the powdered kind (although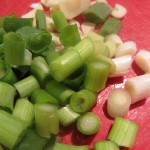 that does make a mean ranch dressing!) and I usually cut mine finely rather than crushing or pressing it. Just personal preference again but I like to cut garlic into very fine slivers. Yum yum!
As for flavoring this tasty dish, I enjoy using hot sauce, soy sauce, ginger (fresh grated is good but I'm happy with the ground kind and I love it so I use extra), a splash of white wine vinegar, sesame oil, some salt and black pepper, and of course Splenda.
I also have Erithrytol but Splenda adds a nice sweetness and the taste doesn't cook out, so I usually just add about a teaspoon of that, since it works nicely and is pretty much calorie and carb free. I also have liquid Splenda which is totally calorie and carb free (the carbs come from the agents which keep the granules separated in the powdered kind).
If I am in dire need of a carb-free meal then the liquid stuff gets used, else I am trying to use up the powders since I have so much of them.
Veal Crackslaw: What's Next?
Right, back on topic….so once you have browned your veal, you need to drain the fat off in a sieve. Fat is fine if you're watching carbs but I prefer to drain it off, so use a sieve or colander if that sounds like you too. Drain off that fat, then add some salt and pepper.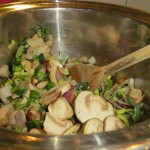 Then you can saute your garlic, onion and vegetables in some oil (leave the meat in the sieve) and then add back the meat as well as your seasonings.
Use a wooden spoon to stir the veal crackslaw mixture and keep the heat medium. Keep everything moving.
You don't want anything to stick. When the veggies are tender (or al dente if you'd rather) and everything is hot and the flavor is good, it's time to serve this feast. Bon appetit!
Print
Veal Crackslaw
This recipe combines ground veal with mushrooms, leeks, garlic, ginger and more, to result in the dish you know only too well as crackslaw. Veal is lighter in flavor than beef and offers a slightly different flavor in this low carb dinner.
Author:
Prep Time:

10 mins

Cook Time:

15 mins

Total Time:

25 mins

Yield:

2

1

x
Category:

Low Carb

Cuisine:

Chinese
1/2

lb (225g) ground veal

1 tablespoon

sesame oil

1 tablespoon

olive or peanut oil

2

finely sliced garlic clove

2

sliced green onions

1/4 teaspoon

Splenda

7 oz

(

200g

) bagged prepared mixed veg (I used mushrooms, red onion and leek)

2 tablespoons

soy sauce (Tamari is OK too)
Splash of white wine vinegar

1/2 teaspoon

ground ginger
Salt and black pepper, to taste

1/4 teaspoon

hot sauce
Instructions
Brown the veal in a skillet.
Remove the meat from the skillet and drain it then set it to one side, grinding in some salt and pepper.
Heat the sesame oil and olive or peanut oil in the same skillet, and sauté the vegetables with the garlic and green onions until the veggies are cooked to al dente (cooked but with a bit of crunch still).
Stir in the vinegar, soy sauce, Splenda, hot sauce and ginger. Also add any other seasonings you want to add at this point.
Add the cooked veal back in and mix well to combine.
Taste and add more Tabasco, vinegar, soy sauce, sweetener or anything else you think it lacks.
Serve hot and enjoy the lovely flavor!
Notes
Carbs: …. well about 4.5g but it really depends which veggies you use! I'd prefer you to work it out yourself than give you the wrong figure.