This lovely recipe blends Quorn (a vegetarian alternative to ground meat) with vegetables, peanut butter and other Asian seasonings to make the most delicious quorn crackslaw stir fry you can imagine. Make it as simple or as spicy as you wish.
Whether quorn crackslaw is a new concept to you or you are just seeking other recipes for this dish, this one is worthy of your consideration. Also known as veggie crack, this vegetable crack slaw recipe is addictive because of the wonderful flavors, but feel free to indulge because it's super low in carbs!
Szechuan Crack Slaw Stir Fry
It is your choice how to prepare the vegetables for this dish and also which veggies to use because pretty much anything goes in this wonderful low carb recipe.
Some people like to matchstick-cut (julienne) them while others usually opt for chopping or slicing.
I often use the food processor to cut thin lengths, or a julienne peeler to get little strips which require very little cooking.
You can see how colorful this dish is and how the addition of cilantro adds a colorful garnish and makes it look all the more appetizing.
This quorn crackslaw is really filling but don't worry because it keeps well in the refrigerator overnight and can be gently warmed back up on the stove or in the microwave the following day.
Quorn Crackslaw: Let Asia Inspire You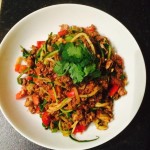 This quorn crackslaw is not an authentic Szechuan recipe. Rather it is inspired by Szechuan cuisine and features a number of seasonings from this cuisine. If you like Asian flavors you will like this. Feel free to experiment with the ingredients, perhaps swapping some of the vegetables for others.
You can also choose any kind of peanut butter – whole nut, crunchy, smooth or another kind. You can even leave it out if you do not want to use it, perhaps swapping the vegetable oil for sesame oil if you do that, so the dish remains full-flavored.
I like to encourage people to make this quorn crackslaw their own way and swap some of the ingredients for others if they so wish. It is too easy to get stuck in the rhythm of sticking to the letter on every single recipe and refusing to make anything unless you measure out all the ingredients.
I usually make a recipe the first time according to how it is presented in a cookbook or on a cooking website, but the next time I will tweak it, adding my own touches.
There are some things you can do to ensure you get the flavor right, and the most important is tasting as you go, so if it's too spicy add more sweetener.
If it's too sweet add more spice. If it is too flat you can add more vinegar or some citrus juice. Keep tasting and balancing out the flavors and you will end up with something harmonious.
Make Quorn Crackslaw Like the Pro's
Professional chefs, if you watch them in the kitchen, do not use spoons for measuring and they rarely use measuring cups and the like. Instead they have a special 'feel' for how much of X, Y and Z to add, and they can taste a dish and know instinctively what it needs. What you need to be able to do that is both a good palate, so you can identify what flavors you are tasting, and experience.
Plus a little bit of bravery if you tend to follow cookbooks because this way of cooking is very different, yet yields better results plus makes cooking more fun! So without further ado here is our easy quorn crackslaw recipe.
Print
Vegetarian Szechuan Peanut Butter Crackslaw
Quorn, or another kind of meat alternative, stars in this dish, along with peanut butter, Szechuan seasonings, chili and more, for an exciting meal to suit a low carb diet.
Author:
Prep Time:

10 mins

Cook Time:

10 mins

Total Time:

20 mins

Yield:

4

1

x
Category:

Low Carb

Cuisine:

Chinese
1/2

pound (225g) Quorn, TVP or similar meat alternative

1 teaspoon

white wine vinegar

1/2

chopped red bell pepper

1

inch ( 2 1/2 cm) chopped zucchini (courgette)

1 teaspoon

garlic powder

1/2 teaspoon

ground ginger

5

chopped mushrooms

1/2

chopped red onion

7 oz

(

200g

) shredded cabbage

7 oz

(

200g

) chopped carrot

1/4 teaspoon

Szechuan pepper

1 tablespoon

peanut butter

2 tablespoons

vegetable oil

2 tablespoons

soy sauce
Chili sauce, to taste
Salt and black pepper, to taste
Cilantro, for garnish (optional)
Instructions
Heat the oil and stir fry the vegetables until they are tender.
Stir in everything else except the Quorn and cilantro.
Cook for 2 minutes.
Add the quorn and stir well to mix it in.
Cook for 3 minutes, stirring all the time.
Taste the crackslaw again and season again if necessary.
Serve garnished with cilantro if liked.
Keywords: quorn crackslaw, keto vegetarian crackslaw, tvp crackslaw, quorn stir fry