Stackers are the ideal way to store your precious trinkets and the best thing about these is you get to choose which trays you want to have. I have a stacking jewelry tray system and really love it.
Got a lot of earrings but not many rings? Then pick some of the earring trays and don't get a ring tray. Got lots of chunky bracelets? Then get a tray divided into 3 or not divided at all. You can see how this works now!
You can personalize your own stacking jewelry tray system and make it as tall as you wish. Choose from the small or large width/depth depending how big you want it and how many trinkets you have to store. A stacking jewelry organizer is always a smart buy and it makes a fantastic gift too.
Stacking Jewelry Tray System: Perfect for Christmas or Birthdays
I am sure you can think of someone who would like this for Christmas or for their birthday. Most women like jewelry and some have quite a mixture of expensive gift pieces and cheaper dress items, so it is nice to be able to use a stacking jewelry tray system and immediately find what you are looking for.
Nothing is worse than a tangled bunch of necklaces! ugh! Before I had my stacking jewelry tray system I had necklaces hanging on the wall and over mirrors and lots of earrings in various boxes so it was a nightmare trying to find anything.
Now I can divide my jewelry between the different trays, keeping the most-worn items in the top tray so I just have have to lift the lid, earrings on the 2nd and 3rd layers, then bracelets under that and bulkier items, such as enamel hair clips, on the lowest one. Of course it's up to you to decide what to keep where. I still hang some necklaces on the wall on nails though, just so I can see them, not the expensive ones but the costume pieces.
This is My Stacking Jewelry Tray System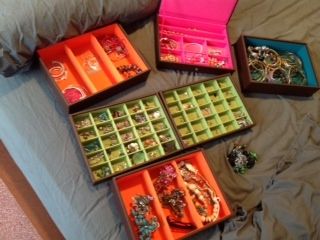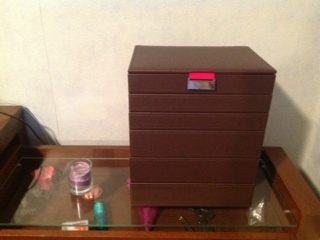 Tips for Storing Your Trinkets
Pretty much every woman has more jewelry and bits and bobs than she knows what to do with, and not many of us want to wear it all at the same time, so how do you keep these items tidy, organized and out of the way? The answer is a stacking jewelry tray system.
For that you will need some kind of jewelry organization system. Whether you opt for a basic box, a tray system or something for hanging your pieces is up to you, and there are certainly plenty of different options for you.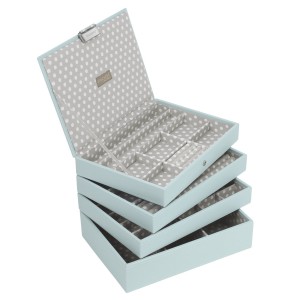 Personally I prefer to keep all mine in one large box which is made up of an assortment of trays.
I keep bracelets in one, necklaces in another, small earrings in one, large earrings in another, and other items such as brooches, pins and bangles in there too, so I can find whatever I need in a few seconds.
I am quite organized anyway and I like to be able to find things. Yup, it's true, I love my stacking jewelry tray system.
Besides, isn't it just infuriating when you discover your 2 favorite necklaces are hopelessly entwined? Using such an organized system means this doesn't happen.
Stackers Duck Egg Blue Set of 4 Trays, on Amazon
Other Stacking Jewelry Tray System Ideas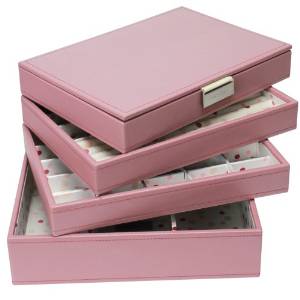 As well as the tray idea, how about banging a few nails into your wall and hanging the necklaces you wear the most often there?
I have the cheap ones (beads etc) hanging on the wall, along with my straw hat and a couple small purses, but keep the expensive ones safely in the jewelry box.
Pink Stackers, on Amazon
If you have a fair amount of dangly earrings you might like to hang those up and keep the smaller ones and studs in your jewelry box.
You can get various jewelry 'trees' especially for this purpose, and spin them around to see your complete collection. Of course if you do prefer to keep everything out of the way you can put all kinds of trinkets in the tray system out of sight. Choose your favorite color and choose whether you want all the trays the same color or if you prefer to mix and match. You can do either, considering what color your bedroom is and deciding whether to match the jewelry box or contrast it.