Everyone needs one of the best julienne peelers in their kitchen drawer in 2017! One of these little gadgets will glide effortlessly over your vegetables to peel them or give you matchstick-thin pieces or little strips.
Use these for making coleslaw, for prepping veggies for a salad or for making matching shapes for another use. You can also stir-fry or saute them and they cook very quickly when they are cut so finely.
When reading reviews for these the main thing is how well the device in question works, and also how easy it is to use. There are different ones to choose from and whichever one you choose depends how often you plan to use it and your budget.
You should compare a few different ones before you make your final choice as to which of the best julienne peelers are for you, and bear in mind shopping online for such a gadget is cheaper than buying from a kitchen store. Once you have a great julienne peeler you will find yourself using it all the time to cut perfect julienne veggies for all kinds of recipes.
Perfect Peeler Ideas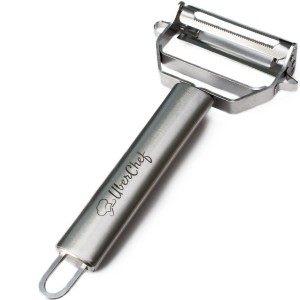 Forgot time-consuming, fiddly cutting with a knife. You need the best julienne peelers. Although you can use a knife to cut your veggies it takes so long, and it is almost impossible to get the strips the same thickness and width.
Well it is impossible to get them absolutely identical of course.
If you want matchstick lengths of zucchini or carrot to make coleslaw, thin strips of vegetables for a stir-fry or 'vegetable' spaghetti strips, all you need is one of these little gadgets because you will have your vegetable strips in next to no time. Just whip the gadget across the surface and shred in record time.
If you're making food for a crowd this is exactly the speedy kind of prep time you will want to have, especially if you have a number of things to make at the same time.
Best Rated Julienne Peeler, on Amazon
Try mixing these veggie matchsticks to make a stir-fry or even a healthy crackslaw recipe – yummy!
Try it for making Parmesan strips and curls, or even make chocolate curls to add a homemade touch to your favorite dessert. This nifty little gadget is small, economical and very versatile. All of them are good and you can get a great one for under $10. No need to spend a fortune!
How to Make Carrot Matchsticks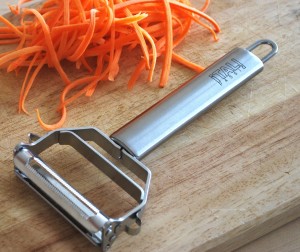 So if you don't have one of these little gadgets what are you going to do?
Don't worry – if you need to slice your carrots into matchsticks for a recipe (also known as a 'Frenched' cut) you can do it with just a knife instead of one of the best julienne peelers.
Ensure your knife is perfectly sharp. If in doubt then sharpen it using some kind of knife sharpener.
This basic knife cut is 1/8 by 1/8 by 2 1/2 inches so that is the shape you need to get your vegetable pieces.
First cut off the ends off the carrot then cut it into 1 to 2 inch sections. Slice one side lengthwise and put the cut side face-down so it won't slide when you slice it.
Ultra-Sharp Julienne Peeler, on Amazon
Cut the carrot into thin slices lengthwise then stack a few on top of one another and slice again lengthwise.
You will get thin matchstick shapes. OK so they might not be as perfect as if you were using a cutter, but the result will be pretty good and you will get better at this the more you do.
Print
Best Easy Homemade Coleslaw
Delicious coleslaw is worth making yourself, and using a julienne peeler means it is even easier to cut those fresh veggies into perfect julienne strips. Add the dressing and the finished coleslaw is so good.
Author:
Prep Time:

20 mins

Total Time:

20 mins

Yield:

1

4

1

x
Category:

Side Dish

Cuisine:

American
1

lb 10 oz (

725g

) green cabbage

2.5 oz

(

70g

) yellow peppers

2.5 oz

(

70g

) red onions

1/2

lb (225g) red cabbage

2.5 oz

(

70g

) carrots
For the Dressing
1.5 oz

(

40g

) white sugar

2.5 oz

(

70g

) cider vinegar

1/2 oz

(

15g

) horseradish

1 tablespoon

dry mustard

1/2 teaspoon

celery seed

5 oz

(

140g

) mayonnaise

1/4 oz

brown mustard

5 oz

sour cream or creme fraiche
Salt and black pepper, to taste
Tabasco, to taste
Instructions
Julienne cut all the veggies using a gadget or by hand.
Combine the carrots, cabbage, onion and peppers.
Combine the sugar, celery seed and mustard.
Add the remaining dressing ingredients.
Gently stir the cabbage mix into the dressing, then chill until required.
This will keep for several days in the refrigerator.
Notes
This fantastic side dish is deliciously easy to make. Serve it alongside barbecued chicken or steak, or enjoy it in the summertime when you don't want to have the oven one, perhaps with some deli meat or seafood. This tasty recipe enhances every entree and once you make it you will never want to substitute the homemade kind for the grocery store kind ever again. Did you know the first people to enjoy coleslaw were the ancient Romans? 'Cole' comes from 'colis' which is the ancient Roman word for cabbage. Fabulous Side Dish Are you having a party? If so, coleslaw is mandatory! It is quick and simple to make, it keeps well for a few days and it tastes nicer the next day after making it because all the flavors blend beautifully. Make this once and you will fall in love with it.
Photo courtesy of RF Duck, on Flickr
How to Make "Spaghetti" out of Zucchini
Yes, zucchini spaghetti – low calorie and yummy! This is why you need one of the best julienne peelers in your kitchen! Wash a zucchini (courgette in GB English) and then cut a thin slide off the side, so it sits flat on the cutting board. Hold it with one hand and have the peeler in the other hand.
Scrape the peeler lengthwise up the zucchini and repeat until you have used it all. You will end up with a bowl of zucchini strips.
Stir-fry them, boil them for a couple of minutes or microwave on HIGH for 2 minutes. You want them to be tender but still with a little bit of bite. Don't let them get too soft.
Finishing Them Off
Drain the "spaghetti" (or voodles as they are also known) and toss with salt and pepper, then you can top them with your favorite spaghetti sauce, perhaps adding some meatballs too. This makes a wonderful low-calorie spaghetti alternative, and believe me you won't miss the pasta! Look at the best julienne peelers and choose one you'll want to use all the time.
Why not take a look at: