International dishes have taken off recently in a big way. It is not unusual at all these days to see international starter recipes on a restaurant menu or to be given them at a dinner party. This obviously applies to main courses and desserts as well as starter recipes.
Chicken sate, prawn toast, Asian soup recipes, Greek dips, Spanish tapas and more are popular as well as common these days and many people even prefer international starter recipes over traditional British ones. There are more ingredients available in modern supermarkets than ever before and you can use these ingredients to make exotic recipes and fusion-style snacks.
Recipes for international starter recipes vary between countries and it can be fun to make international dishes or make your own starter recipes combining two different cuisines. What about Greek pita bread with a Mexican dip or Chinese spring rolls with an Indonesian satay sauce?
Asian Appetizers
Asian snacks and dim sum are some of the most popular international starter recipes of all. Japanese, Chinese and Thai starters and more are easy to make, since the ingredients are so widely available these days, and these cuisines offer mouth-watering flavour combinations. If you enjoy Asian food you're going to love Asian snacks.
Starters from Europe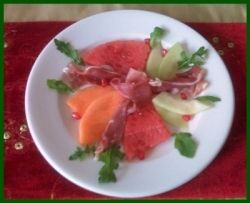 European appetizers seem to have merged with the ones we serve in the UK. Spanish tapas aren't out of place at a dinner party and nor are Italian antipasti like cheese, cold meats, olives and sun-dried tomatoes.
Swedish pre-dinner snacks are known as a smorgasbord and this word means a buffet. French starter recipes are known as canapés, amuse-bouche or hors d'oeuvres and these are popular at cocktail parties as well as dinner parties and buffet style events.
In a lot of Arabic countries, as well as Greece or Turkey, you might hear the word meze used to describe them. This might be deep fried dishes with dips like yogurt and mint or taramasalata served alongside for dunking. Dishes like these are just as delicious at a buffet as at a dinner party.
Italian and Spanish starter recipes are probably the most common in the UK, apart from British dishes, and this is partly because they are so simple to make. A tray of cheese, olives and cold meats makes a great appetizer and you can rustle this up in under a minute. Serve bread on the side, as well as herb butter or aioli for dipping, and you have a wonderful and simple recipe.
Starters (Appetizers) in the Americas
There are some exciting international starter recipes from this region. In Central American and South America, you will find fish appetizers to be very popular although this varies with your proximity to the coast.
Prawn appetizers are well loved in a lot of South American regions and you might find avocadoes, chilies, tortillas and tomatoes to be other ingredients in popular starter recipes. Some Central and South American starter recipes are spicy and others are mild.
More Ideas for International Starter Recipes
Every country has its own ideas about what makes a delicious snack. What about serving some Indian pakoras or samosas for example? Deep fry some fresh coconut slices for Caribbean style coconut chips or make a spicy Mexican salsa recipe.
International starters can really unleash your creativity, both when choosing which dishes to make and making the actual recipes. You can use shop-bought bread, poppadums or crisps with a tasty international homemade dip recipe or make everything from scratch if you want to.