This stuffed calamari recipe makes a wonderful dinner. Learning how to stuff squid is very easy, and although calamari is also nice cut into rings, breaded and deep fried, it is especially good stuffed.
You can choose from a wide range of stuffed squid recipes and use whichever ingredients you happen to like. Knowing how to stuff calamari tubes is useful to know, just because there are so many great recipes for stuffed calamari out there.
You can buy the bodies (tubes) already cleaned or you can clean them out yourself. I usually buy the frozen tubes because they are very cheap where we live, but if you have a whole squid you also get the lovely tentacles which are nice to use in your stuffed squid recipe, both in the stuffing and also in the sauce.
How to Stuff Calamari Tubes: Do You Need the Tentacles Too?
The tentacles are optional, so just get the ready-cleaned tubes if you prefer. If you are using tentacles, they are nice mixed with breadcrumbs, cheese, eggs and seasonings to make a flavorful stuffing, but if you don't have any tentacles then don't worry about it.
Stuffed Calamari Recipe Tips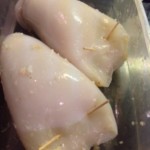 A lot of people assume that stuffing calamari is difficult but honestly it is very easy. Learning how to stuff calamari tubes is pretty easy. All you need to do is make a stuffing and then poke it into the tube, and that's it. Your squid can be considered stuffed!
Just familiarize yourself with these instructions, get some squid bodies and stuff them. If you are using frozen ones, let them thaw overnight in the refrigerator and then rinse them and pat dry with paper towels.
Sometimes I thaw them during the daytime on the counter top. Don't leave them sitting out if it's very hot in your kitchen but otherwise it should be OK. If you are in a rush, you can submerge them in a pot of cold water and they will be thawed in several hours. Change the water often. Use cold water, not warm or hot. They will only take a few hours to thaw this way. I've used this thawing method a few times.
Add the Filling Like a Pro
Next step in a stuffed calamari recipe is stuffing the squid tube (body)! Filling the squid's cavity is very simple. Just transfer the filling into the squid tube using your fingers or a metal tablespoon.
Don't fill them more than 2/3 full else they might explode during cooking. Well, not explode but make a bit of a mess! Close the ends using a couple of toothpicks to stop the filling leaking out.
How to Stuff Calamari Tubes: Stuffed Squid Cooking
The next thing to do is sauté the stuffed squid in a pan in olive oil for a minute per side or so. Next, add your sauce and simmer the squid gently for half an hour or until it is tender. Then it is ready to serve. That is how easy it is to make stuffed calamari.
Although there are lots of different squid recipes and if you compare an Asian squid recipe to a Western one, you will find them very different, there are some factors stuffed squid always has in common, and that is the squid is allowed time to become tender. This is not a dish you should rush.
Squid can be cooked in about 45 seconds if you cook it over a very high heat but when making stuffed squid you will usually be cooking it for longer. This means the squid will tenderize then toughen up, then gently relax again. So it offers a lovely tender consistency which is what you always want when making such a dish.
About half an hour of cooking is a good estimate but there is no exact cooking time for every squid because it depends on the exact heat in the pan plus the size of your squid. When a sharp knife slips through the squid easily, it's tender enough to serve. You might also like to try this Greek style stuffed squid.
Print
Stuffed Calamari Recipe
This delicious basic stuffed calamari recipe, or stuffed squid recipe, is so easy to put together and the results are fantastic. You will be so impressed with the authentic Mediterranean flavor.
Author:
Prep Time:

20 mins

Cook Time:

40 mins

Total Time:

1 hour

Yield:

8

1

x
Category:

Seafood

Cuisine:

Italian
8

cleaned squid tubes (about the size of your hand including fingers)

2

large eggs

2 tablespoons

chopped fresh parsley
Tentacles from the squid or small handful raw shrimp (optional)

1 cup

(

60g

) fresh breadcrumbs

2 tablespoons

grated romano or parmesan cheese

1/2 cup

(

125

ml) water

1

minced garlic clove
Salt and black pepper, to taste
Marinara sauce or your favorite tomato sauce, to poach the stuffed squid in

2

chopped canned anchovies (optional)
Instructions
Combine all the ingredients except the squid and tentacles/shrimp and marinara sauce in a mixing bowl.
Chop some of the tentacles (if using) and add them to the mixture, putting the rest of them aside.
Scoop a couple of spoonfuls of the stuffing into the cavity of a squid, then seal it using 2 toothpicks.
Repeat this process with the remaining squid.
Saute the stuffed squid in hot olive oil for 5 minutes per side.
As each squid is done drop it into a simmering pot of marinara sauce (or passata, sieved tomatoes or canned chopped tomatoes with basil).
Add the rest of the tentacles (if using) to the sauce and any unfilled bits of squid you have left over.
Cook for 30 minutes or until the squid is tender.
If you have shrimp or anchovies, add them to the sauce 5 minutes before the end.
Remove the toothpicks and slice the squid to serve.
I served mine with sautéed potatoes and salad leaves.
Notes
Sometimes I swap the squid tentacles for chopped shrimp.
You can use passata, which is simply sieved tomatoes, for the sauce instead of using a bottled tomato sauce.
Keywords: stuffed calamari recipe, stuffed squid recipe, how to stuff calamari, how do you stuff squid, squid stuffing recipe
Stuffed Calamari Recipe: The Most Important Things
Something you need to remember about how to stuff calamari tubes is never to overfill them. The filling, whatever you are using, should be like a coarse paste although it doesn't have to be smooth or pureed. Last time I made this I put the filling ingredients in a food processor because I was in a rush, but that's optional.
So if your filling is that kind of texture and you only stuff the squid tubes half full or 2 thirds full, then simmer them in liquid for half an hour, your reward should be perfectly flavored, perfectly cooked stuffed calamari.
You'll be so glad you found out how to stuff calamari tubes. This stuffed calamari recipe is a keeper!