Japanese toilets have become a popular addition to many bathrooms all over the world, as people are realizing these top-quality additions are perfect in every way. Unusual Japanese toilets are something worth finding out more about. They're just intriguing!
The toilets which you can find in Japan are typically more advanced than toilets which are manufactured anywhere else in the world. There are two main designs of the toilet commonly found in Japan – the squat toilet and the bidet toilet.
The older style squat toilet is often seen in public toilets but this is not a style that appeals to average households who are more included to invest in unusual Japanese toilets.
After World War II, the modern flush toilet was introduced, and now over 72% of households in Japan have the bidet toilet installed in their homes. This style of toilet, often referred to as the washlet, has several advanced features.
The standard features included on the washlet are deodorization, anus washing, seat-warming and bidet washing. These features are rarely seen outside of Asia, making these toilets incredibly sought-after in Western homes.
The "super toilets" as they are named have some amazing features that make visiting the bathroom an enjoyable experience.
How to Use a Japanese Toilet
Fascinating Features of Unusual Japanese Toilets
The washlet has been featured in the Guinness World Records as the most sophisticated toilet in the world.
There are seven distinctive features that allow the user to choose the massage options, heated seat, blow dry feature, water jets, automatic lid opening, and automatic flushing. Alongside the features for the toilet, the wireless control panel can also set the air conditioning in the room and switch on the heating.
If you prefer the basic model, you can buy a Japanese toilet that has the basic features including the small nozzle that appears and squirts water.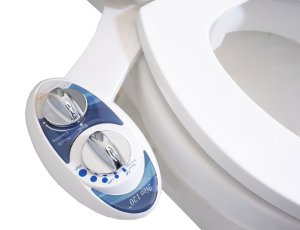 This has two different options – either to clean your butt or for feminine cleaning, or both if you want.
Another basic feature of unusual Japanese toilets which is popular is the heated seat, which can be found on every toilet in Japan.
This is due to the fact that many homes have no heating, and temperatures in winter can be literally freezing cold, so having somewhere warm to park your butt is a very inviting prospect indeed!
Bidet Toilet Attachment, on Amazon
Customizing Unusual Japanese Toilets
If you want an entirely unique Japanese toilet, you may want to customize the design of the toilet to create your own supertoilet. Nozzle position, water temperature and pulsating options are always popular. You will soon discover that the washlet design can be beneficial for hemorrhoids and constipation.
Some users also find they do not need toilet paper at all when using this style of toilet but of course if you want you can continue to use both.
With so many incredible features available, it is no surprise that this toilet is becoming a fashionable addition to bathrooms everywhere. If you want to enhance your bathroom and have a unique style, a Japanese toilet may be just what you are searching for to create the perfect room.