Modern kitchen trends can be daunting and many homeowners are concerned that they will dominate the house or not look right, or they find another reason to stick with the old stuff. However, if you research the different trends correctly, and ensure that you choose wisely, your kitchen will look and feel fantastic.
You can include as many or as few of the modern kitchen trends as you want, and they can enhance your kitchen ensuring that you add personality to the room.
Deciding Which Modern Kitchen Trends to Choose
There are many different ways that you can enhance your kitchen and ensure that you include modern trends which will not cost you a fortune. Whether you want to restyle the whole kitchen or add modern touches to the design, there is plenty of choice. You will need to consider the style of your home, the size of your kitchen and your overall budget.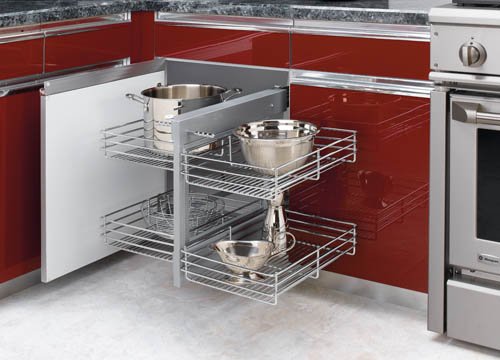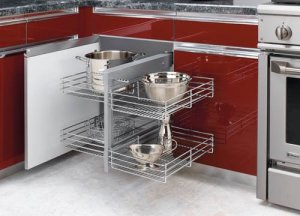 Eco-friendly kitchens are becoming a huge hit and more people than ever before are searching for environmentally-friendly alternatives. Greener modern kitchen trends may suit your style, so this is perhaps an option to consider.
You will be surprised how attractive these kitchens are and they can include several interesting features. You will be pleased you chose to find out  more about modern kitchen trends.
Choose bamboo flooring, recycled paper countertops and energy-efficient appliances if you are green-minded. This will make your new kitchen gorgeous and keep it eco-friendly at the same time.
Pull-Out Cabinet Organizer for Blind Corner Cupboards, on Amazon
Modern kitchens also tend to be minimalistic, and you will find that less certainly is more. A modern painting, very few shelves, and certainly no clutter will create the perfect space.
Modern Kitchen Trends: Colors and Materials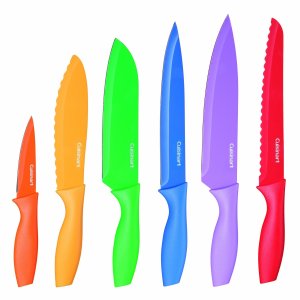 Colors play a huge part in the way that your kitchen feels, and you need to choose these wisely to ensure that your kitchen feels modern. Finding modern kitchen trends which work well aren't only about color but that is a huge factor.
Neutral tones with a splash of color are advised, and will ensure that your choice is bold but not too over-the-top.
One or two bold shades are enough, as more than this can be overwhelming.
The materials that you choose for the flooring, appliances and accessories should be clean, stylish and provide the ultimate finish.
Stainless steel remains one of the popular modern kitchen trends, and it looks clean and gorgeous. This material is easy to clean, and can be used for several different items including toasters, ovens, worktops and sinks.
Top-Rated Cuisinart 12-Piece Knife Set, on Amazon
Pink Kitchen Accessories
Alongside the accessories, you need to consider the layout of your kitchen, and you will discover that the majority of modern kitchens are open-plan these days. This creates the ideal space to entertain friends and family and ensure that cooking is a social event. Regardless of your budget or taste, there are elements of a modern kitchen that you can include in your space.
There was a time when kitchen equipment was white or chrome. These colors are still popular these days but there is also a lot more choice now. Pink kitchen equipment is popular for more than one reason. It is fun, it is girly, you can color coordinate the whole room in pink if you like or you can use the pink to accent a primarily white or other color of room.
Types of Pink Kitchen Equipment
If you are thinking about introducing a girly look and feel to your kitchen, you might not necessarily want to paint the walls cerise and get a matching floor.
What about a few little touches, such as a matching pink kettle and toaster set or a trio of pink canisters? If the room is quite clinical looking, a couple of pink items can really brighten it up. If your kitchen is already colorful and bright, these items will just add to the charm even more.
New or Second Hand Items
You might want to get pale pink accessories or bright fuchsia ones. This is one of the most popular modern kitchen trends .You can get pink equipment new or second hand.
For the best second hand pink kitchen equipment it is normally best to look online because you will find a lot of things in one place. If you trawl second hand shops you might have to visit a lot before you find even one item that is the right color or that you like or need.
For new pink accessories you can shop in department stores but the drawback is that these items tend to be quite expensive. A lot of the pink items you find on websites are sold as second hand but are actually new and never used. Not everyone likes this color of toasters, kettles or canisters so they might recycle these gifts without even opening the box!
This of course also relates to other colors. What about some red kitchen accessories, green accessories or blue ones to give a colorful accent to your chosen decor? A lot of people these days want to recreate a retro kitchen or 1950s style room or home and you can cleverly use useful or decorative second hand items to give the room the feel you want. For a fabulous kitchen, add a few pink kitchen accessories and you can really liven the room up.