airbag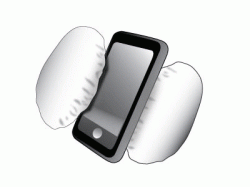 Have you heard about these useful little things which attach to the cell and open out in the case of a fall? Although iPhone airbags are still a concept rather than a reality, if these can be concealed and not add bulk to the handset this could well become a reality soon.
One drop on a hard floor can crack your screen or break it altogether, so this concept might not be as far-out as it sounds when you consider it like that. Now are iPhone airbags making a little more sense?
This continues to be one of the most popular cells on the market, and with the latest apps and accessories, it is no surprise that it remains one of the market leaders.
There are a number of quirky accessories that you can download but some may be a step too far. Whether you want mini windshield wipers or something else, anything is possible these days and new additions are being launched all the time, both the useful and handy, and the futuristic and bizarre. Whereabouts on that scale do you think iPhone airbags fall? Continue reading →
Other Posts You Might Like