beer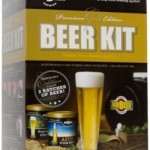 Brewing systems come in different shapes and sizes, so you can choose whatever of the best beer brewing systems is best for you. This device will allow you to make your own beer or other drinks at home without having to lift heavy brew kettles.
You can choose from beer, wine, cider, mead, and other drinks using the process of fermentation. You can make non-alcoholic or alcoholic drinks with these systems.
It's Legal, Right?
Well, the legality of home brewing does vary from place to place, although it has been done in various places all over the globe for over 7000 years.
If you fancy making your own beer, why not have a look at some of the best beer brewing systems for sale on places like Amazon or eBay? Making your own drinks from scratch is fun and your friends will be sure to visit you to test out your delicious homemade produce. Continue reading →
Other Posts You Might Like