how to stuff peppers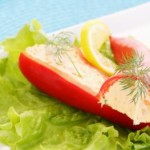 These cream cheese stuffed sweet peppers are gorgeous and I often make them as a side dish. I like to use the long pointy red peppers, both because of their nice, sweet flavor, and also because of how they lie flat on the plate and don't fall over. You can use bell peppers if you want, or even chilies if you have a taste for them. Roast these in the oven or broil them if you prefer. Keep an eye on them. You will be able to see when they are done.
Tweak if You Wish
It is perfectly possible to tweak this cream cheese stuffed sweet peppers recipe based on what you have. I have made these with just the peppers and the cream cheese before because I didn't have any sour cream. You can also add minced garlic, minced green onion or anything else you fancy. If you are making these as an accompaniment for Mexican food, perhaps add some chopped cilantro or a pinch of chili powder to the filling mixture.
Other Posts You Might Like