pandora charm bracelet ideas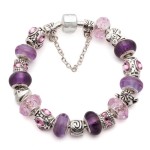 Pretty much every girl and woman knows about Pandora charm bracelets, and there is no doubt these are an exciting piece of jewelry. You can choose from silver or gold, pick out the charms that mean something special to you, and change them whenever you like, perhaps considering green and red charms around Christmas time, romantic pink ones for Valentine's, fun summer ones for the summer, and so on. There are lots of Pandora charm bracelet ideas regardless of your personal style.
Perhaps you want to buy a baby-related charm when you have a child or another one. Let your Pandora charm bracelet tell the story of your life and give it plenty of meaning by selecting your charms with care.
Why These Bracelets are So Popular
Like many other women I have one and I love it and wear it often. I think the main reason for their popularity is how much you can personalize them, picking out charms which resonate with you and have a special meaning to you.
My husband has bought me most of my charms, picking out the ones he knows I will like, so they all have extra-special appeal and meaning to be, because they were bought with love. Most of my Pandora charm bracelet ideas were his ideas but I love them too! Continue reading →
Other Posts You Might Like