peeler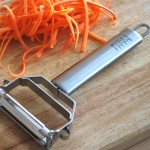 Everyone needs one of the best julienne peelers in their kitchen drawer in 2017! One of these little gadgets will glide effortlessly over your vegetables to peel them or give you matchstick-thin pieces or little strips.
Use these for making coleslaw, for prepping veggies for a salad or for making matching shapes for another use. You can also stir-fry or saute them and they cook very quickly when they are cut so finely.
When reading reviews for these the main thing is how well the device in question works, and also how easy it is to use. There are different ones to choose from and whichever one you choose depends how often you plan to use it and your budget.
You should compare a few different ones before you make your final choice as to which of the best julienne peelers are for you, and bear in mind shopping online for such a gadget is cheaper than buying from a kitchen store. Once you have a great julienne peeler you will find yourself using it all the time to cut perfect julienne veggies for all kinds of recipes. Continue reading →
Other Posts You Might Like