the best creative wonton ideas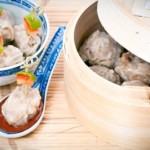 So you have made beef wontons, cheese wontons, seafood wontons, dessert wontons, several types of wonton soup and dumplings. Now what? There are plenty more ideas for wontons that you can consider. How about a filling of minced caramelized walnuts with toasted sesame seeds, or jelly and peanut butter? Those would be quirky yet delicious creative wonton ideas which would work beautifully.
Fresh cottage cheese with smoked paprika would work, as would an Indian style wonton made with potatoes, peas, biryani spices, ginger and cumin. Dip these spicy wontons in a cool yogurt sauce.
Chinese sausage meat could work, or make buffalo chicken purses with chicken, cream cheese, onion, hot sauce and bacon. Collard greens with vinegar and chopped pork loin wontons would be mouthwatering with a mustard dipping sauce, or you could try sautéed shiitake mushrooms with some garlic and cream. How are these creative wonton ideas sounding so far? Continue reading →
Other Posts You Might Like