If you've been camping before, you will already know about camping chairs. They fold up and are easy to carry around with you. They are handy not only for camping trips but also fishing, a day trip to the beach, or any other activity where you will want to sit down without having to carry an unwieldy chair.
All camping chairs are designed to be portable and not too heavy, but these days there are many other optional features. You can have both great features and comfort for an affordable price. A great chair will be comfortable and allow you to sit back and relax.
It can be hard to pick which camping chair is the best for your needs, so read on and find out which camping chairs are perfect for you.
Different Kinds of Camping Chairs
These chairs come in a wide range of styles and shapes. Some might be more like simple stools while others can double up as recliners or loungers. You can also get camp chair hammocks or even two- or three-seaters.
Here we are going to be looking at the following types of chairs:
Classic camping chairs
Moon chairs
Director's chair
Single or double camping seats
Folding camping chairs
Backpacking/hiking chairs and stools
The Classic Camping Chair
Everyone has sat in one of these, or owned one, at least once before. They are easy to assemble and compact to carry. These classic chairs come with a flat seat and straight back.
The sturdy four-leg construction and lightweight, fold-up design means you can easily carry this with you or throw it in the back of the car. These might look like deckchairs or they might resemble a folding garden chair or beach chair. This is the kind you'll probably throw in the car to take to the beach.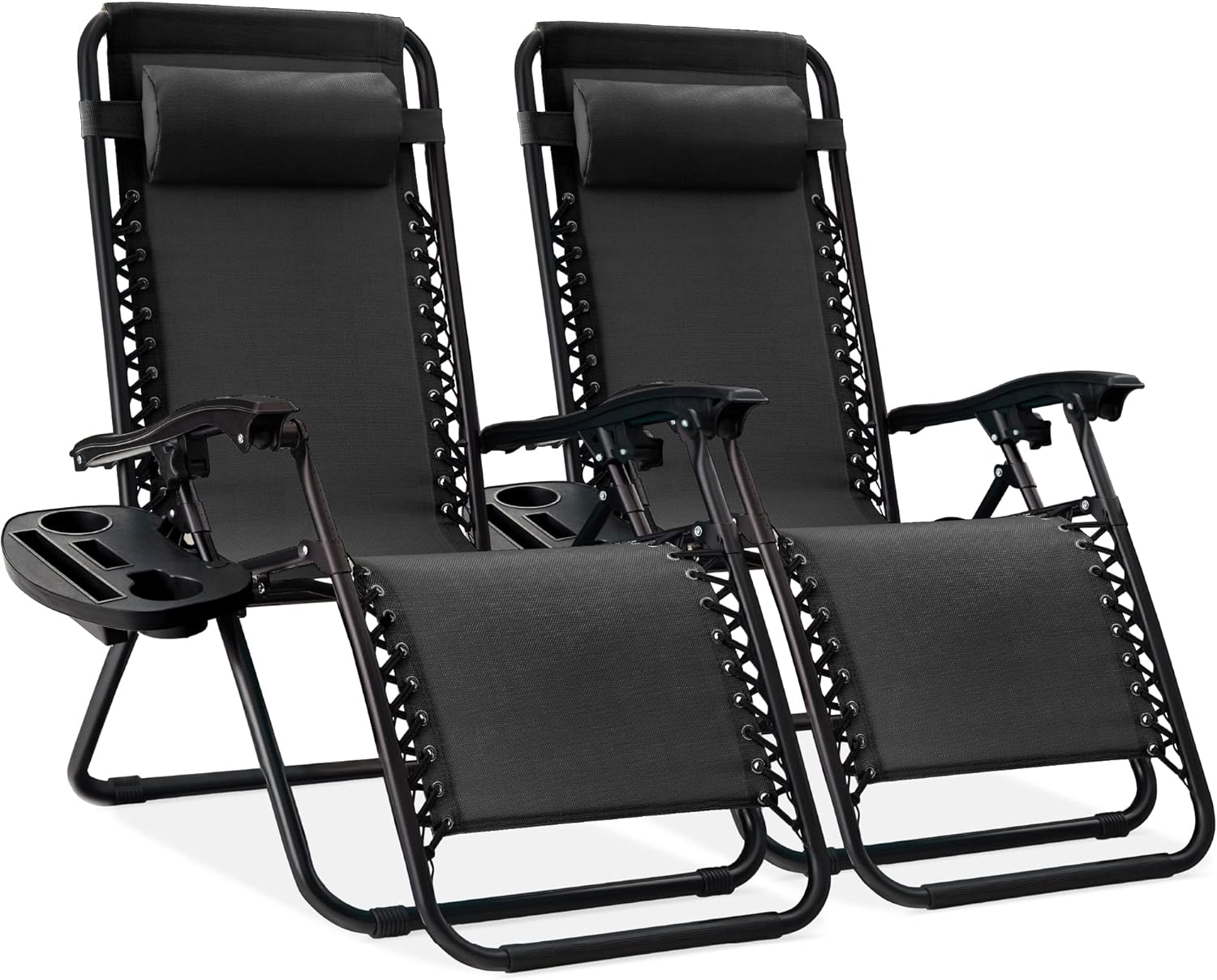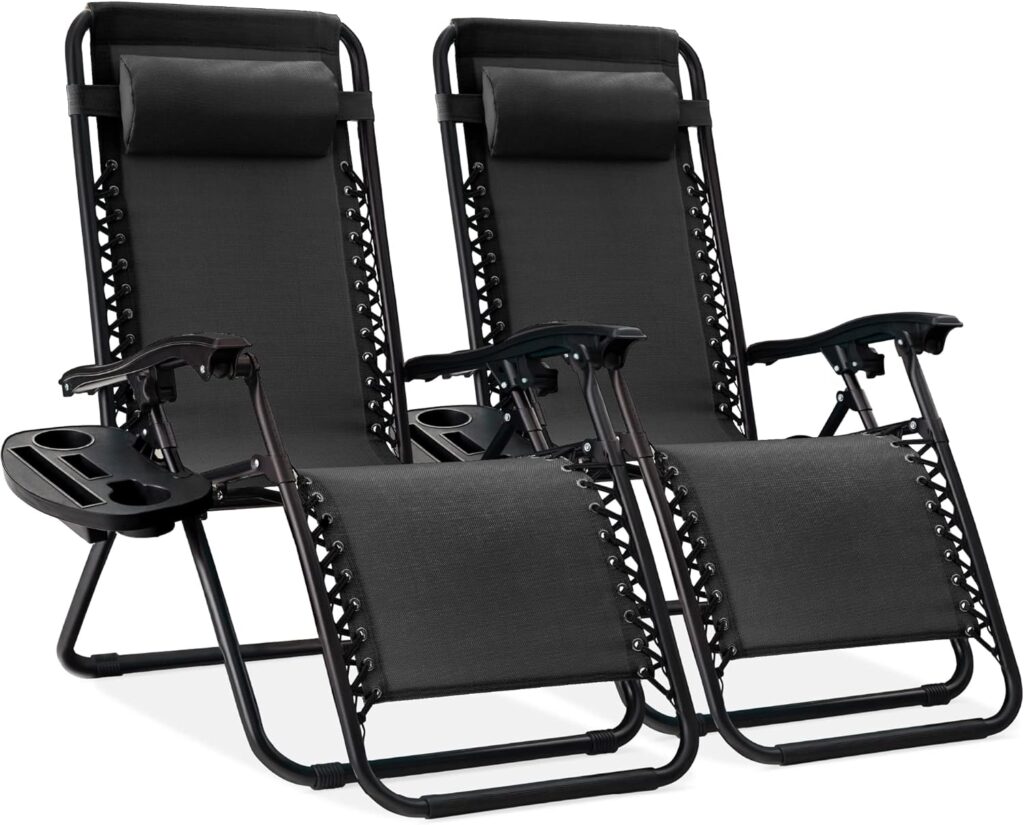 The Moon Chair
What's a moon chair, you might be wondering. This is a stylish, cozy chair which is perfect for camping, relaxing by the pool or sea, or taking an al fresco nap. This chair has a cushioned, round seat to support the back and head, and is designed for comfort. It isn't easy to carry around because of its bulk but it's comfortable and will fit into a caravan or RV.
The Director's Style Camping Chairs
This type of camp chair is really comfy for sitting upright. You can use a director's chair whether you are eating around the campfire or sitting up to the table. Some come with a drink holder and/or side table, so you can relax with a drink and not need an additional table. The fabric for the back and the piece you sit on are separate, unlike with a basic chair when it's one piece of fabric.
Single or Double Camping Seats
Couples might like a double camping chair. These typically come with a pair of armrests and a double-width seat. Some might look more like two chairs fused together with cup holders or a little storage compartment in between them.
Before you choose a double chair though, bear in mind they are heavier than single ones. They can weigh around 15 pounds or 7 kilos, which is the size of a small dog, so you won't want to carry them very far. It also usually costs more to buy one double chair than two singles.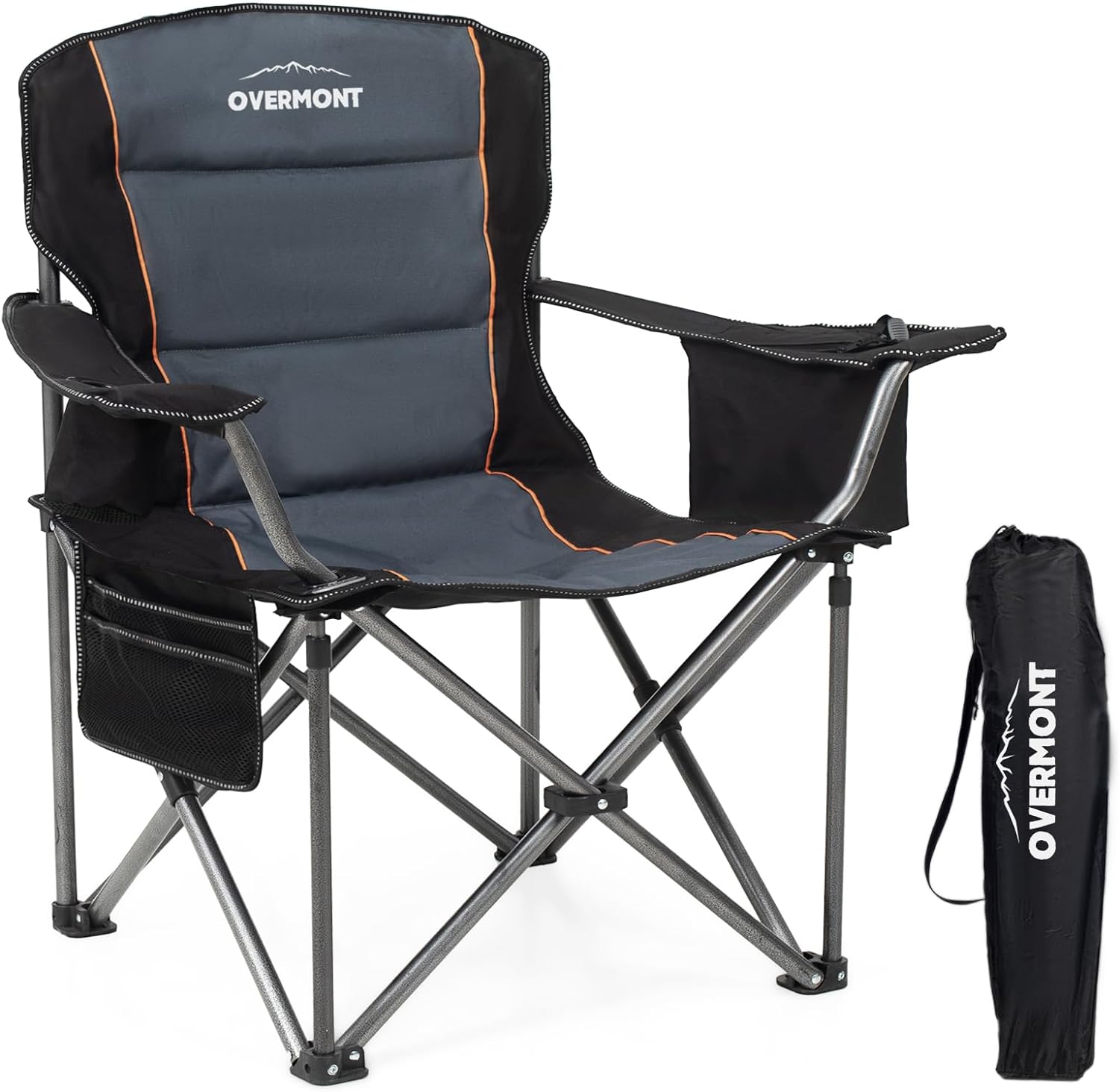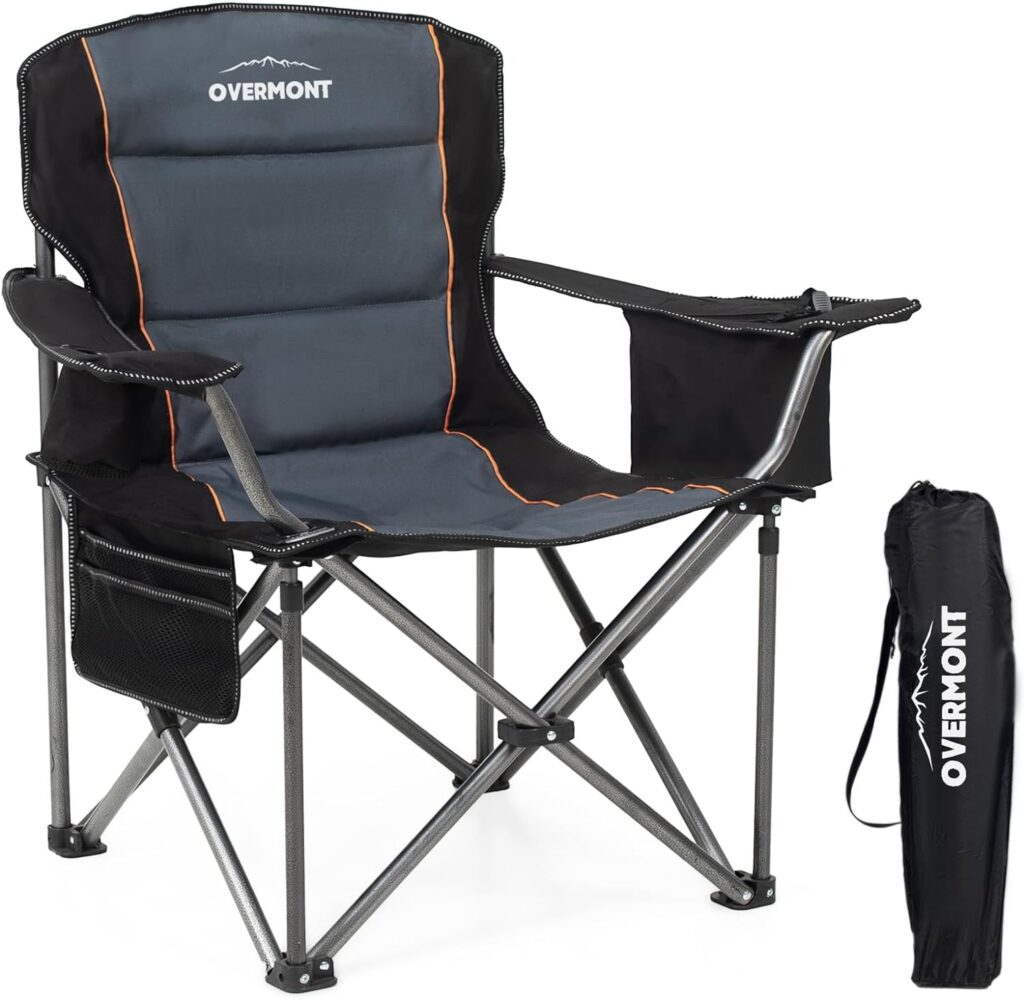 Folding Camping Chairs
This type of chair has padding. Think about the seat as being a pair of cushions attached together so you can sit on one and rest your back against the other when the chair is opened up. These differ in weight according to the thickness of the padding, and usually have aluminum frames which are strong but also not too heavy.
Backpacking Chairs and Stools
If you want to go even simpler, what about a camping stool? These will keep you off the ground, which is important if it's wet or muddy, and you can tie one to your backpack if you're hiking or travelling. A backpacking chair is something of a luxury, so you might like to go as small and light as you can. Also consider whether you will have space in your pack or whether you will need to attach it to the outside of the bag.
Top Tips for the Perfect Camping Chairs
Because there are so many types of camping chair around these days, it's worth taking some time to see how the different types compare, and figuring out which one is best for your needs. You will be pleased to find out a lot of these are competitively priced too, so you might want to grab more than one.
The first thing to take into account is weight. A chunkier chair which weighs more will be more durable and comfy but they take up more space in the car and cost more than lightweight ones.
If you aren't going to use the chairs much apart from the odd barbecue and camping trip, lightweight ones might be fine. However, if you have plenty of space to keep these and you don't have to carry them far from the car to wherever you're using them, you might prefer something more substantial than a basic deckchair.
Some of these chairs have headrests or cup holders, and some are made of totally waterproof material. Some are cushioned while others aren't. You can of course add your own cushion.
You can also choose from two, three or four legs, gliders, rocking chairs, and so much more. It's best to choose chairs that come with their own carry bags so you can carry the chair over a shoulder and still have both hands free.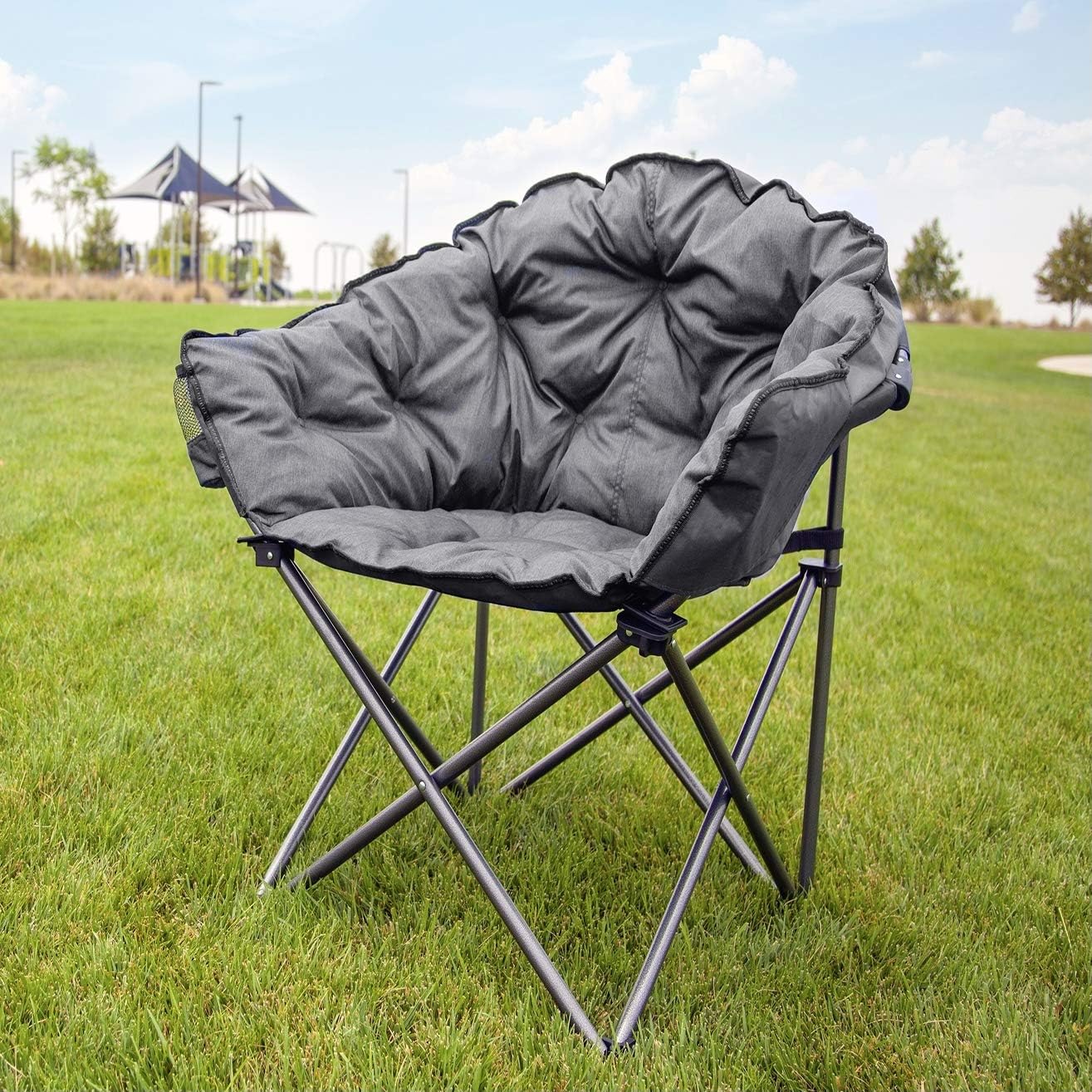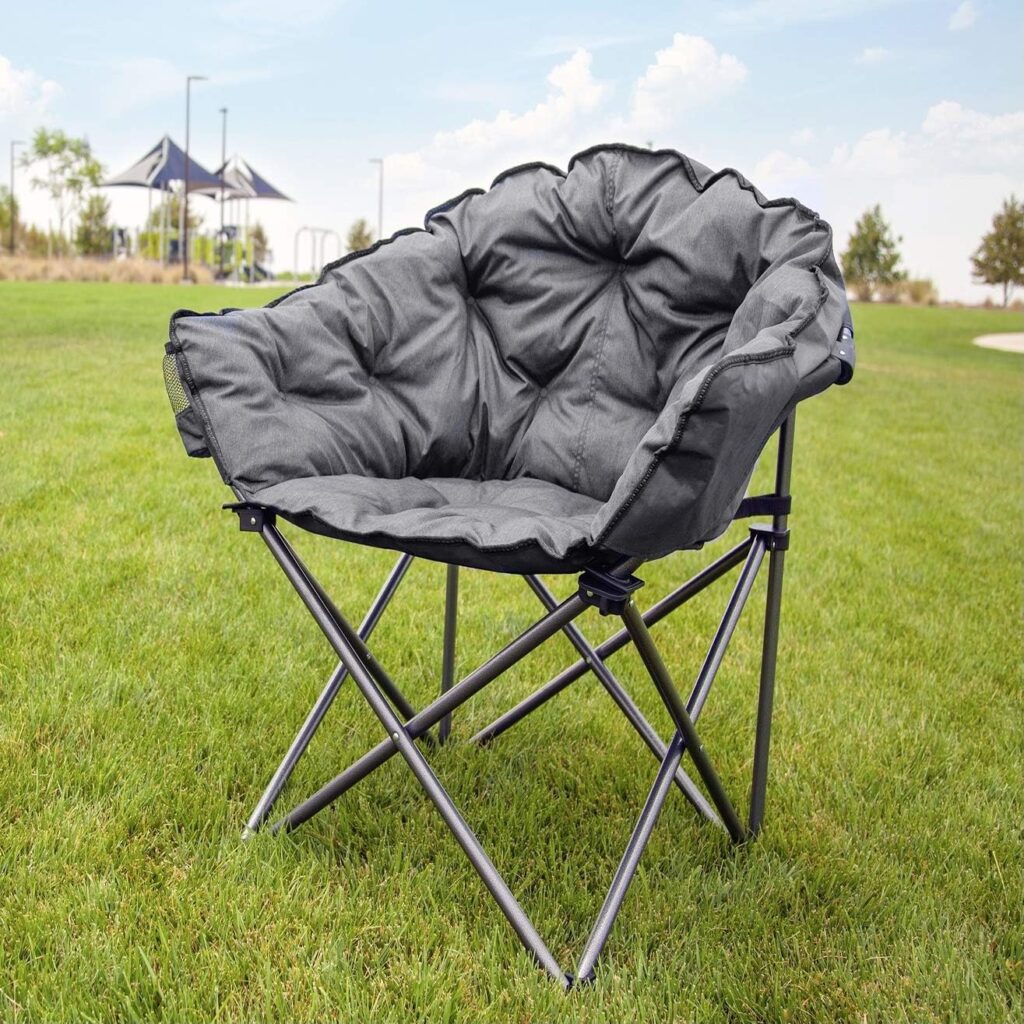 Camp Chair Height Guidelines
It's important to remember camp chairs sit lower than standard household chairs. If you're tall or not very mobile, you will want a slightly higher one. Bigger is better if you want a roomy chair or if you have a large build.
Low chairs can be good for the beach, for concerts or anywhere with uneven terrain so they don't wobble around so much. High chairs are easier to get in and to get out of.
Camping Chair Stability
Although a backpacking stool is lighter to carry around and easier to pack than a conventional camping chair, they don't have the same stability as a standard chair.
You should think about when you will use your chair. If you need to carry a chair around with you, you will probably prize lightness over stability, but if not you should probably go for a conventional chair. Unless you need an ultra-light one for backpacking or hiking, a standard camping chair will probably be more versatile.
What's the Best Material for a Camping Chair?
There are all kinds of materials used these days to make camping chairs, and each one has its own pros and cons. Nylon is the most common camp chair fabric because it's light and resilient.
Nylon is water-resistant, sturdy and easy to maintain. It's important to consider the material used for your chair if you're camping in hot weather, based near a beach, or for water activities when you'll sometimes be sitting on the chair wet.
If you're going to be wet, nylon is good because it can be wiped dry, whereas something like a padded cushion would stay wet and need to be thoroughly aired out to stop mildew.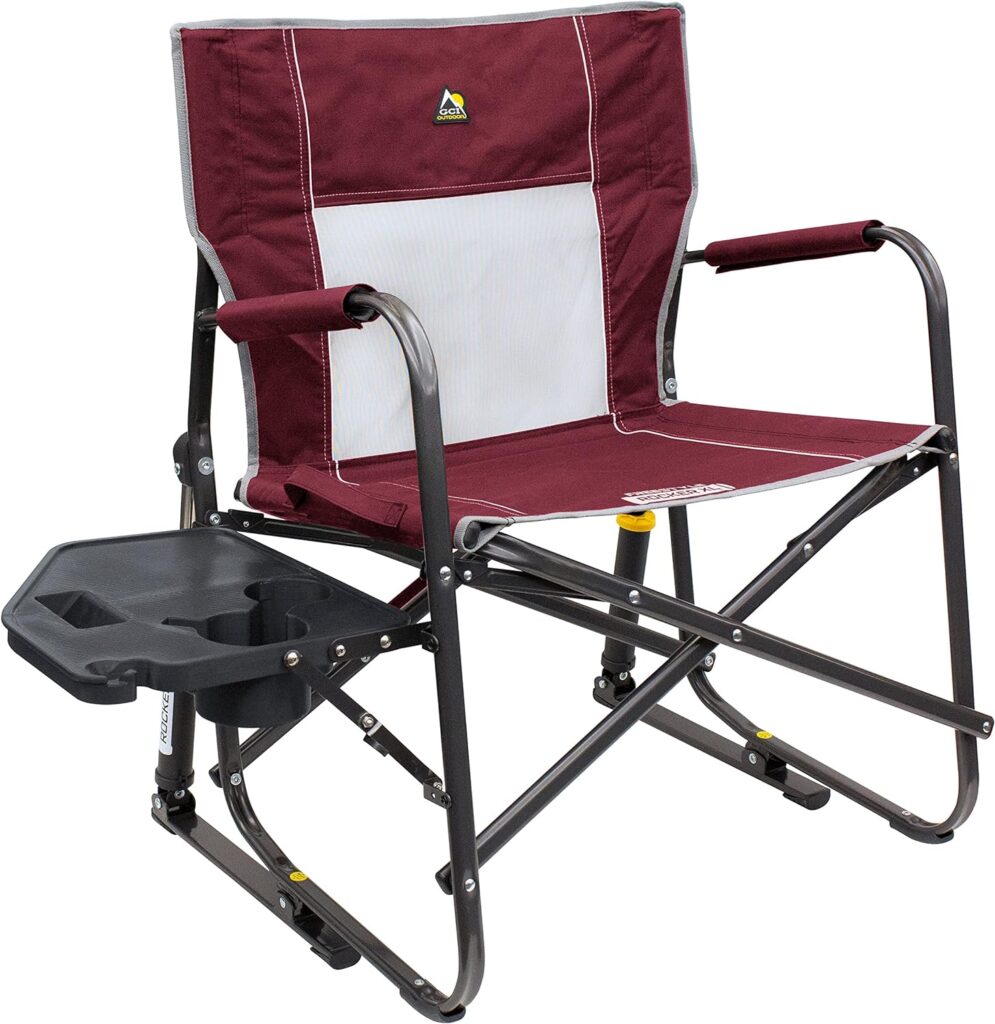 Where Will You Be Using It?
A nylon, low-height chair will be your best choice for relaxing and sunbathing on the beach. You can pick one with aluminium legs so it's light and durable. For camping on the beach, you might like to go for one with a canopy attached, so you can keep the sun out of your face.
What Size to Get
Minimal camping seats are the lightest and smallest, since they come with basic features, while elaborate ones weight more and can be more bulky. You need to choose the right chair for your purpose.
If you are going camping in a caravan, for instance, it won't matter if you take a lightweight chair or a big, bulky one. A lot of chairs have relative weight to their size, so a chair designed for larger people will probably be bulkier and weigh more.
Choose a chair based on the weight of whoever is going to sit in it. You might be light but if you're buying a set of camping chairs for your next barbecue, will your choice also support a large-framed friend? Remember higher chairs are better for taller people or those with knee or back problems. Also check if it's the right height to fit under a camping table if you have one.
It's important to know the weight of the chair as well as the size and height, since you are going to have to carry it sometimes. Whether you are carrying it from the garden shed a few paces into the garden, half a mile from the car to the beach, or simply a few feet from your RV, remember a bulky chair can feel pretty heavy after 10 minutes of lugging it uphill on a hot day.
Fortunately there are plenty of lightweight chairs on the market, some weighing just 2 pounds or 1 kilo. You will be able to carry that without hurting your back.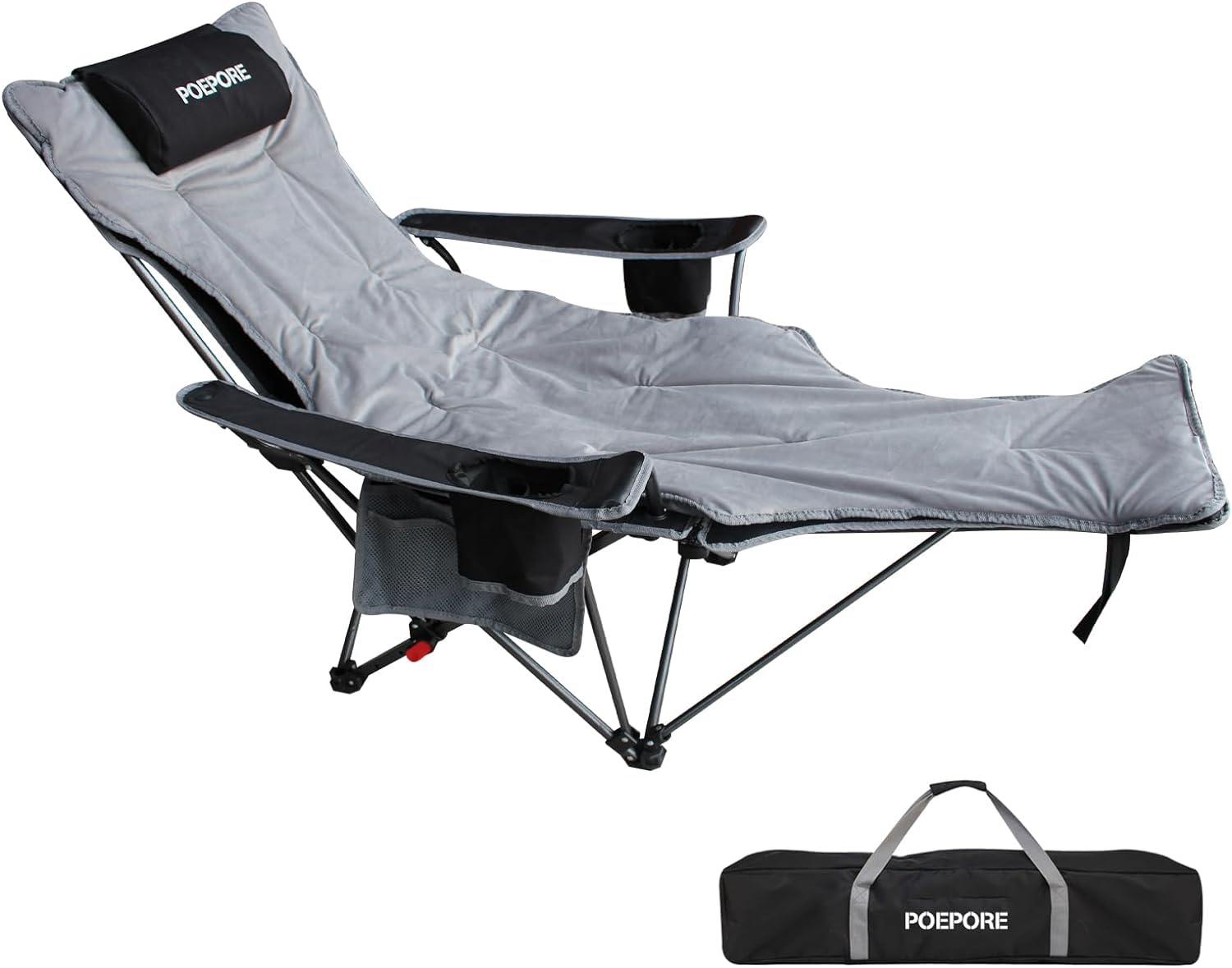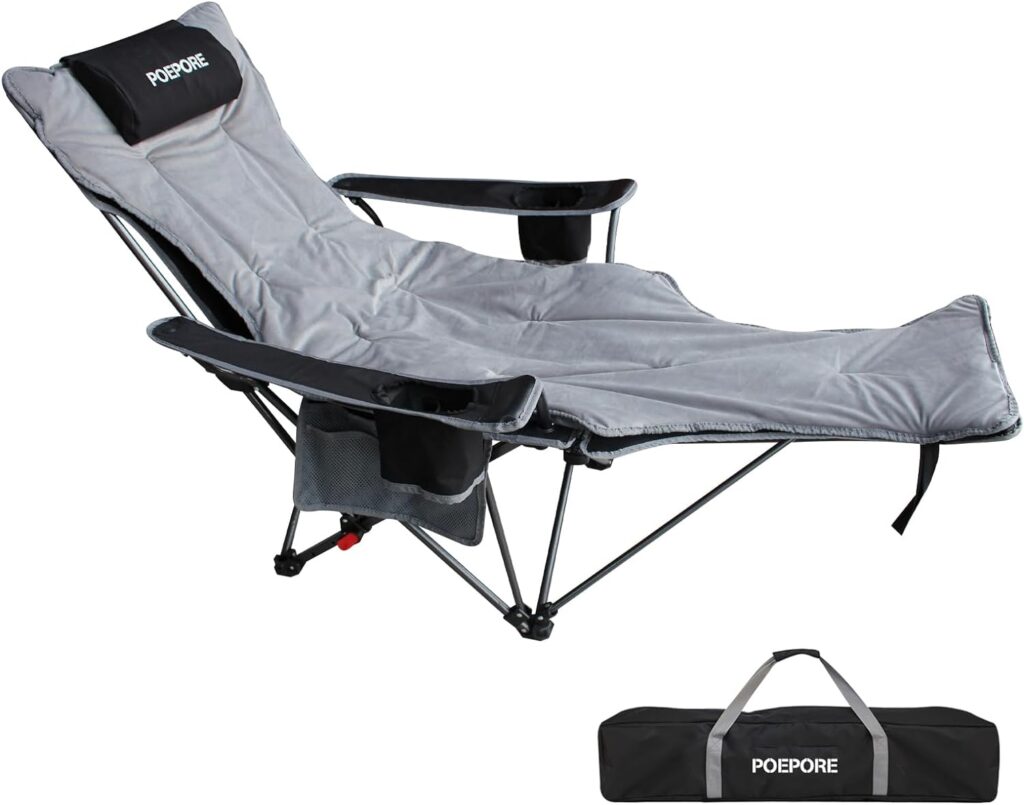 Back Height and Ground Height
Unless you're opting for a camping stool, you will be getting a chair with a back. A higher seat back offers more comfort and support over longer periods of time, so that's good to know if you have back issues.
The ground height is the distance from the ground to the bottom of the seat. Higher ones are more comfortable, as a rule, plus they'll give you a better view for a sports match or outdoor concert.
Optional Features
Choose a minimalist chair if you simply want something basic and lightweight to sit on. However, since some camping chairs come with extra features, it's worth knowing about them so you can make an informed decision.
Some features which are nice to have include:
Extra space
Back support
Cup holders
Armrests'
Storage bags
Extended pads
Let's take a look at each of those in turn, and see which one(s) you want to have on your camp chair.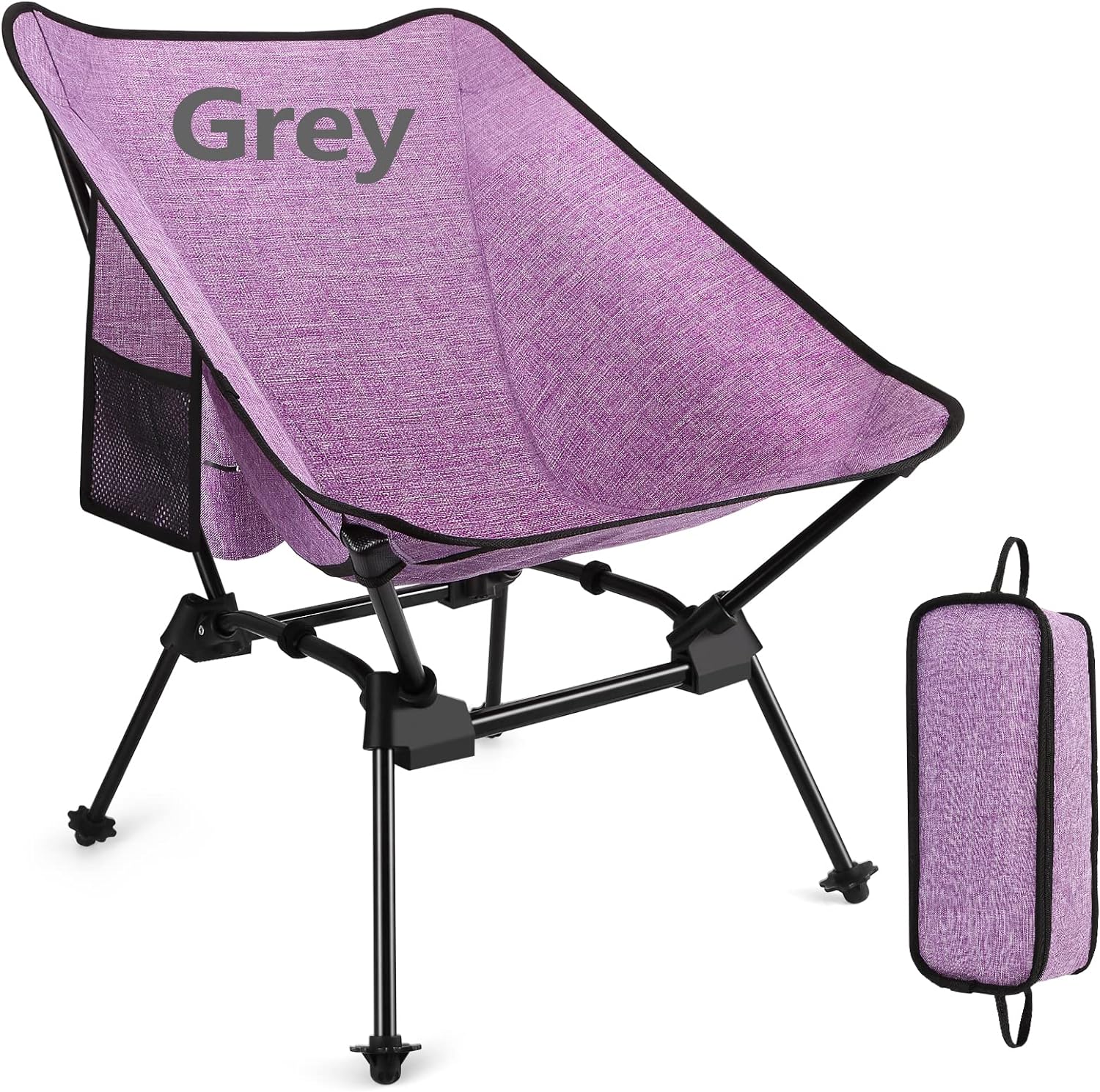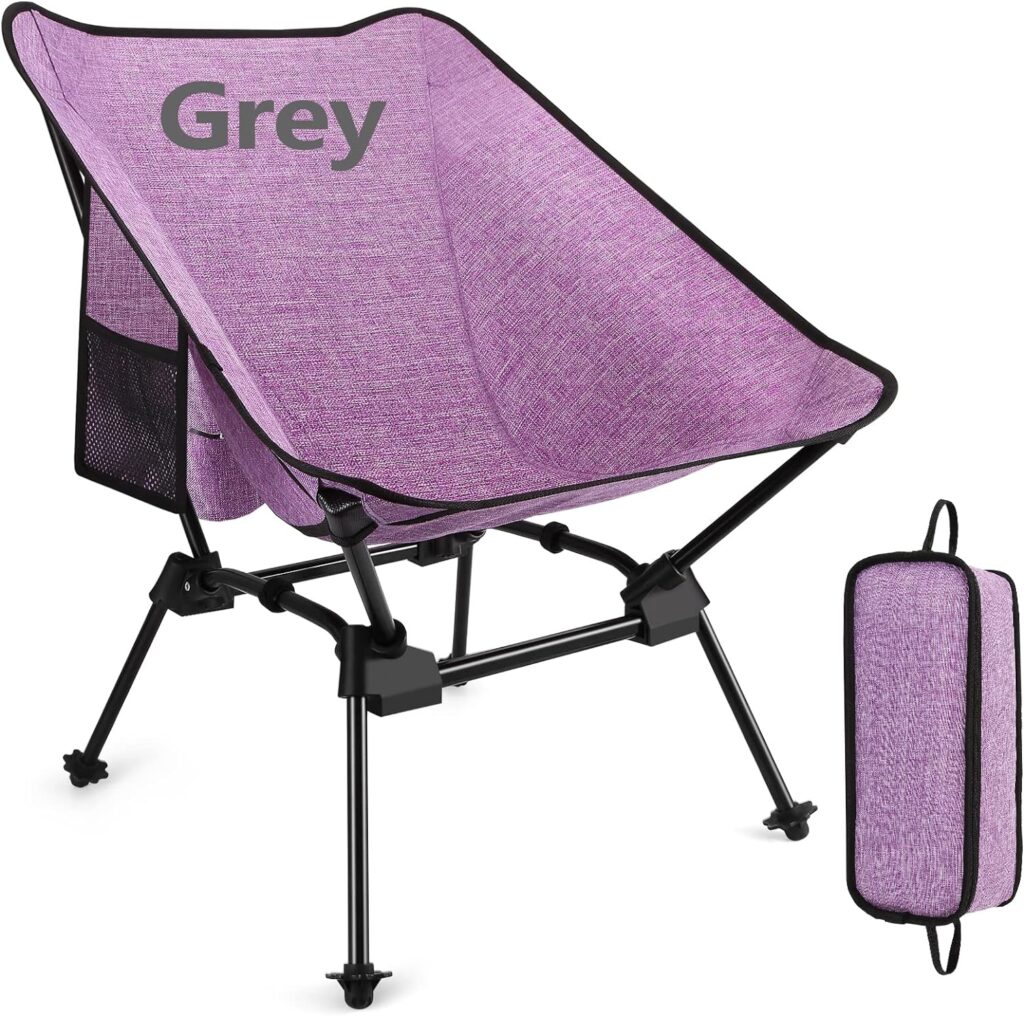 Extra Space
Do you prefer a roomy seat? If so make sure you check the width of the camping chair you're looking at. Some will be say 'oversized' or 'XL' and they're designed with larger users in mind. Don't forget to check the maximum weight rating too.
Back Support
Some camping chairs can recline, which means you can use them for sunbathing, relaxing or taking a nap in the sun. Others have an upright back and don't recline. The type you should get is down to personal preference.
Cup Holders
Not only do some camping chairs come with cup holders, but there are also different kinds to choose from. A basic chair will have mesh cup holders, while the regular kind typically has a cup holder made of whatever the chair is made of. Deluxe camping chairs might even have a cup holder with an attached cooler.
Armrests
You might not have thought about armrests but they can be handy. If you're going to spend a while in the chair, it's more comfortable with armrests. They can add weight but are nice to have. Some chairs have a cup holder built into one or both armrests.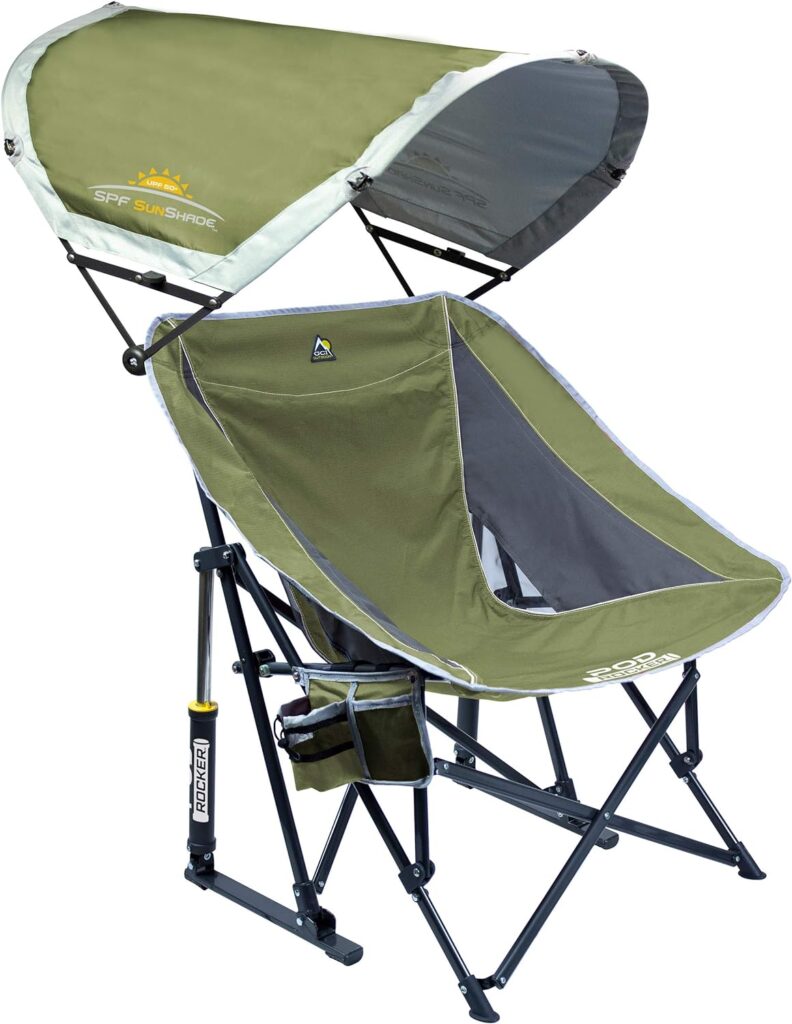 Storage Bags
A lot of modern style camp chairs come with a bag you can keep and transport it in. This makes it easier to keep the chair in a good condition and it's easier to carry over one shoulder in a storage bag. If you like this option, look for bags that have straps or handles.
Extended Pads
Folding seats come with extended pads, so the seat is cushioned. This pad can also be folded out to keep your legs out of the dirt or so you can get comfortable. Finally, a chair with extended pads can double up as a bed in the summer.
Additional features add weight to your chair, so you should choose a chair according to what you plan to do with it. A heavily cushioned chair won't be the best choice for hiking, for instance, while an ultra-lightweight chair isn't the best if it's only going between the garden shed and the garden on summer days.
There are other kinds of camping chairs too, such as kid-sized chairs, ergonomic ones, swivelling and even hanging chairs. Camping chair features escalate as you go from basic to luxurious models.
A good rule of thumb is that short trips, hikes, or long walks from the car require a light chair while RV trips or short trips carrying the chair mean you can go for padding and other additional features.
Click Here to See ALL Camping Chairs on Amazon