When you live somewhere it rains a lot such as the UK where I'm originally from, you will probably always make sure you leave home with the best umbrella. The same is true of the US, where I also lived – you never know if it'll rain or not, and can't trust the weather man 100%! Even if the skies are blue, you never know what will happen in a few hours, and it's best to be prepared whatever the season. Getting soaked will make you regret not taking that brolly with you!
However, if you put off shopping for a good umbrella until it actually rains, there is a good chance you will end up with a badly made one which might blow inside out at the slightest hint of wind or fall apart completely in the rain. And then the next time it rains you'll have to buy another, if you can find one that is. Or worse, you won't be near any shops selling umbrellas and you'll get soaked through.
That's why it's always best to be prepared and choose a nice windproof umbrella which is going to last. A well-made umbrella doesn't have to cost a fortune, and a lot of modern, practical and trendy brollies will keep you dry whatever surprises the British weather has in mind for you.
Umbrellas have been used throughout ancient civilizations including ancient Egypt as well as Greece and China. This classic accessory makes our lives simpler and protects us from bad weather.
Planning ahead is important here. Consider a good umbrella a sensible investment, as well as a fashion accessory and possibly the only thing keeping you from getting drenched!
Different Kinds of Umbrellas
Now, there are two main kinds of umbrellas, and those are folding ones and full-length ones. The folding ones can be small enough to fit into a bag. The full-length ones tend to be stronger against the wind and keep you dry for longer because of their larger surface area.
The biggest type of umbrella is known as a golfing umbrella, and those are big enough to keep two people dry. Let's take a look at the different types of umbrella so you can figure out which is best for you!
Classic Umbrellas
These are what you see most of around today. These retractable umbrellas have handles which can be made from wood, metal, plastic or a combination. The canopy part is usually some kind of water-resistant microfiber. They have a long shaft and the handle can end in a curve or it might be straight.
These can be manual or automatic. With an automatic one, you can press a button and the umbrella will open. This is useful if you are carrying bags in one hand and want to open the brolly one-handed. With a manual one, you have to hold the handle in one hand and push the canopy up with the other.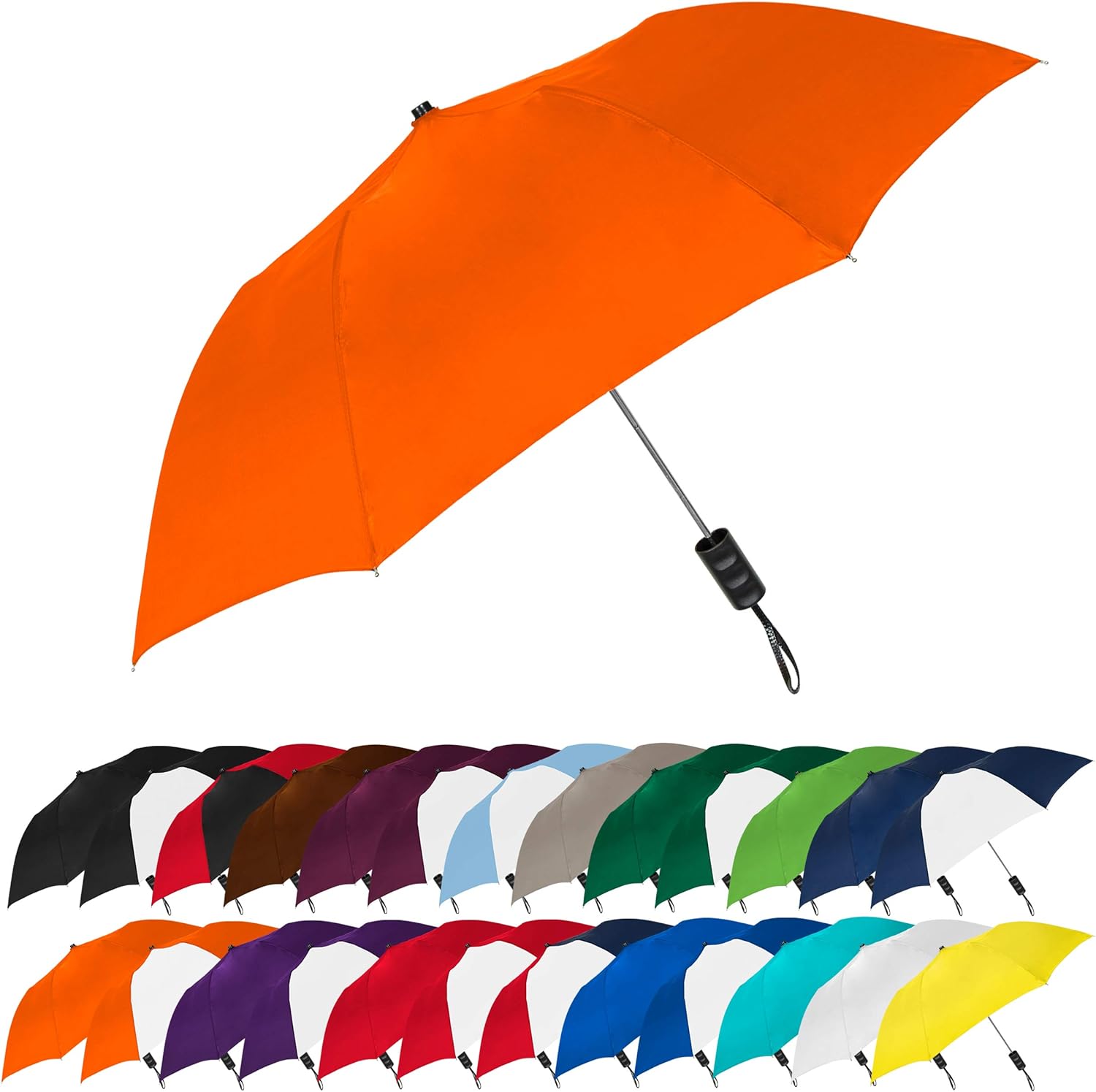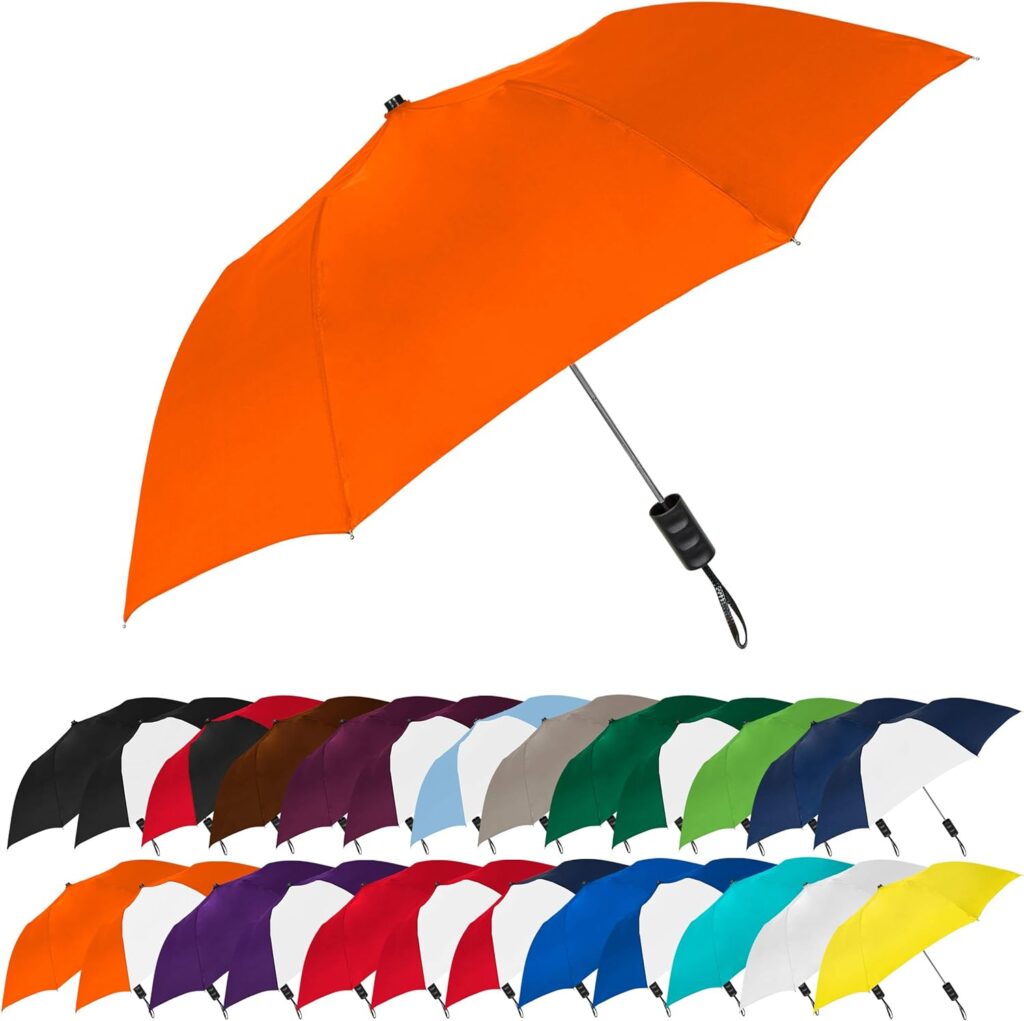 Bubble Umbrellas
These are usually transparent and have a domed design which is quite strong against high winds. News reporters often use this type. You can see through them unlike when you're holding an opaque one in front of your face and can't see where you're walking, which is why this type of umbrella is especially popular.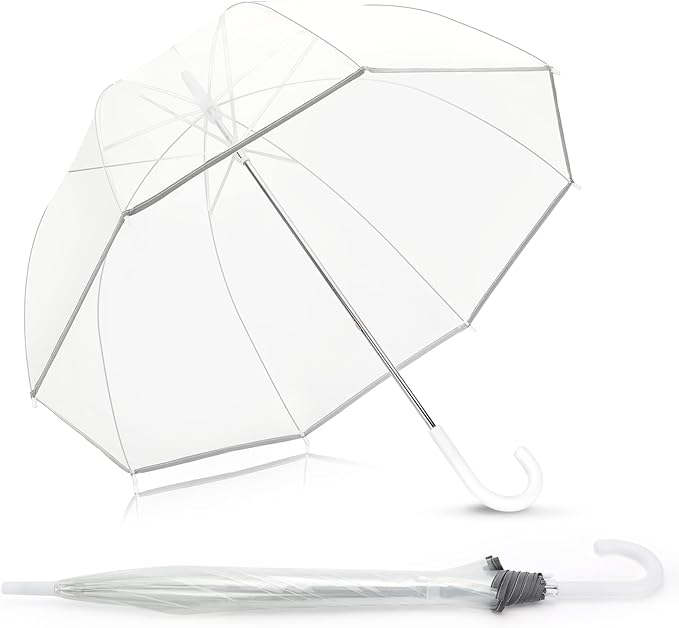 Mini Umbrellas and Micro Umbrellas
Also known as travel umbrellas, these are the second most common style seen these days after classic umbrellas.
A mini umbrella is a popular choice among those who prefer to keep an umbrella in their bag or those on a trip or excursion who don't want the hassle of having to carry a large umbrella. These have a shorter shaft and straight handle.
Some travel umbrellas have extending shafts which can make them small enough to fit in a coat pocket. Although this sounds good, remember these aren't as well-made or as durable as the more traditional types of brolly.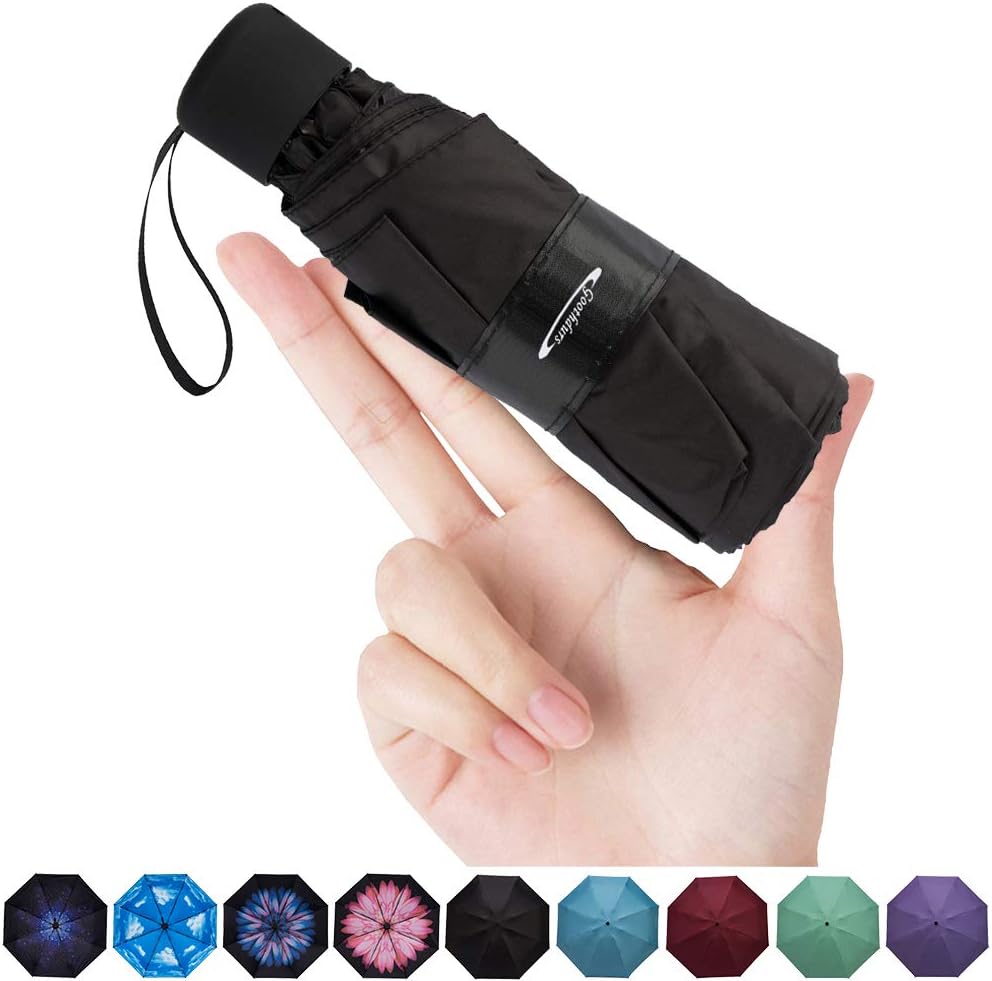 Deluxe Car Umbrellas
Luxury car companies such as Rolls Royce have started to include umbrellas in their cars in recent years. Many of these companies just put the umbrella in the hatch or boot of the car. Some of these pop-out umbrellas will slide into a compartment built into the car door.
These are typically branded with the name of the car company, to serve as a marketing tool in the same way as patio parasols at restaurants and cafes might bear the logo of a soft drink vendor or brewing company.
Doorman Umbrellas and Oversize Umbrellas
These are larger than regular umbrellas and are designed for a doorman to use to keep both himself and a guest dry until they reach their destination. Doorman umbrellas are typically stylish and feature a curved handle.
These can be folded but they tend to be rather expensive, heavy and bulky, and aren't really practical unless you happen to be a doorman or want to keep the whole family dry under just one brolly. Or unless you're Mary Poppins!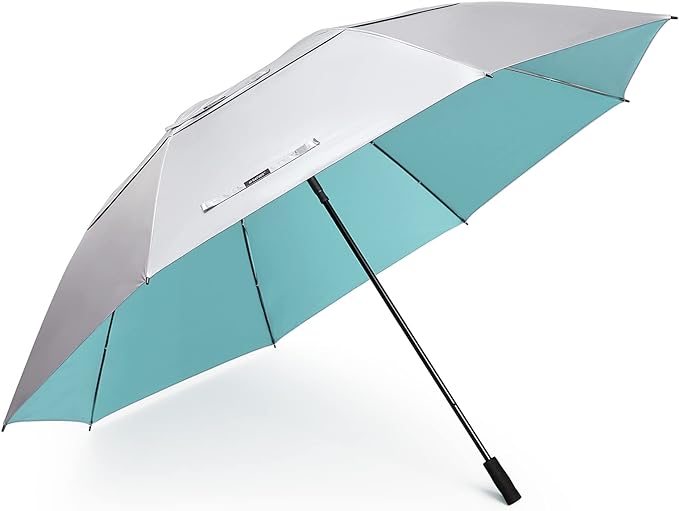 Golf Umbrellas
Golf umbrellas are like a doorman's umbrella, and are usually around 178cm (70 inches) across. They are designed to fit into a golf bag, hence the name, and can be used to keep several golfers dry during a sudden rain shower.
A lot of companies today sell branded golf umbrellas. It's best to buy an after-market canopy from a company specializing in brollies, since many branded ones are made abroad in big factories, using inferior materials.
This is because typically quantity is prized over quality when making large numbers at once for a company ordering lots of umbrellas with its logo printed on.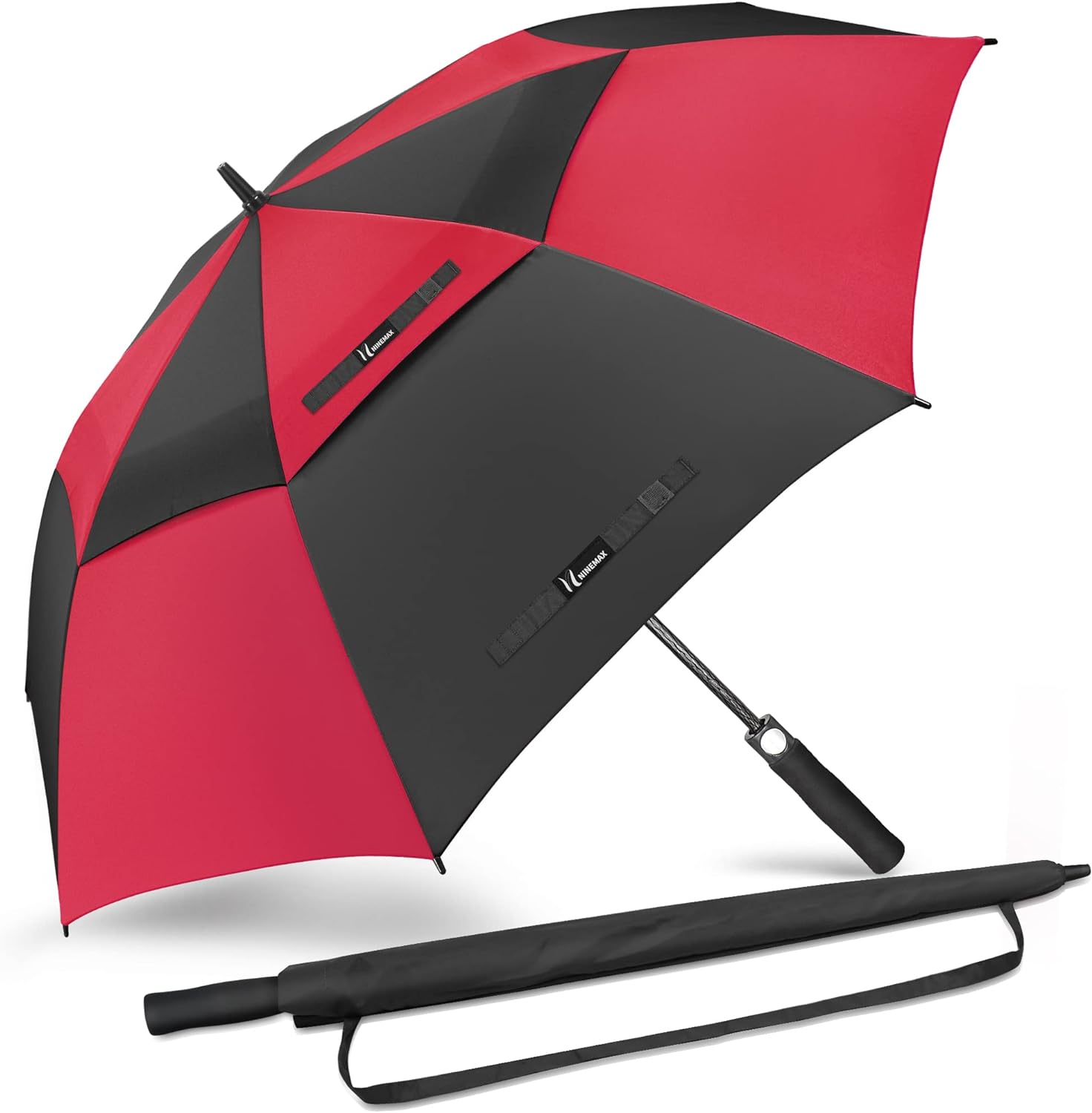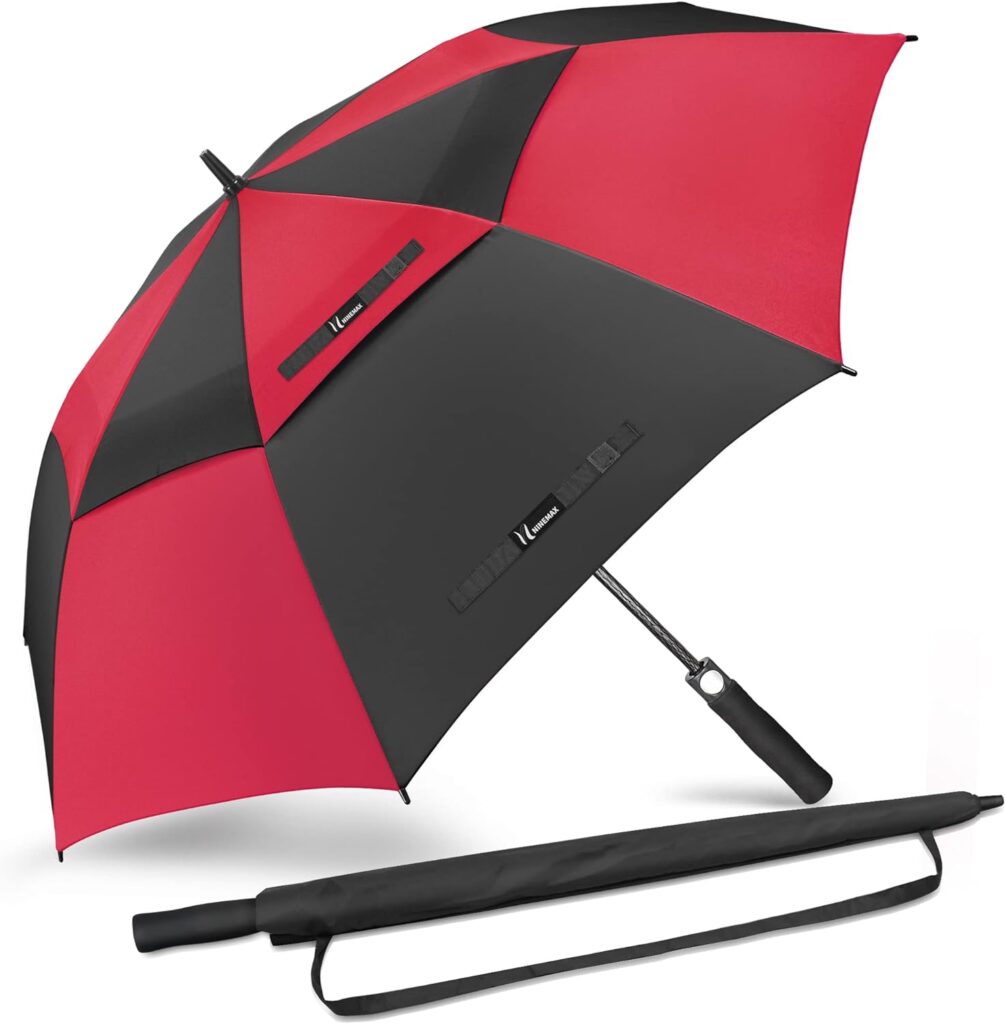 Parasol Umbrellas
Since 'para sol' is Spanish for 'for the sun' it makes sense that these aren't exactly rainproof! A parasol traditionally doesn't provide protection from bad weather, but it does help keep the sun off your face and protect against damaging UV rays.
They are used on patios and the beach, and would be too heavy to carry around even if you do find a waterproof one. These are included here because technically they are a type of brolly and can be used to protect from the heat if you're on vacation somewhere hot.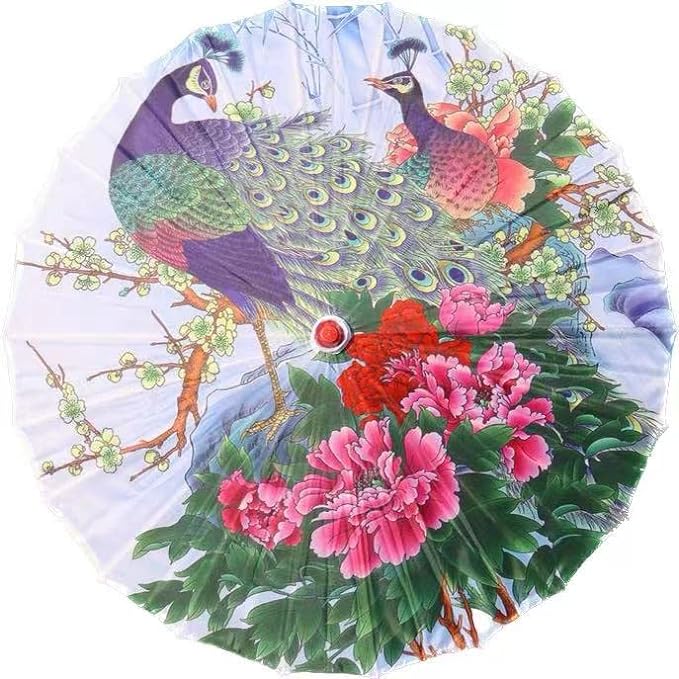 Tips for Choosing a Quality Umbrella
Assuming you want an umbrella which is going to last, rather than having to purchase an emergency one for a couple of quid every time the sky threatens rain, let's take a look at what makes up a great umbrella, and the questions you should ask yourself so you make the best choice.
How many moving parts?
The more parts an umbrella folds into, the more flimsy it is, the harder it can be to open and close, and the more risk you have of pinching your fingers in it! These micro- or mini- umbrellas might be handy to carry around and fit into your jacket pocket, but they aren't without disadvantages.
If you spend a lot of time outdoors (and this includes waiting at bus or train stations, picking the kids up from school, walking to the corner shop, and so on) you will want a windproof umbrella.
How many ribs?
The number of ribs plays a large role in how well the umbrella can protect you from the wind. The absolute minimum you should go for is eight. More than eight will add to the brolly's strength, and you can get an umbrella with up to sixteen ribs. The only drawbacks to this many ribs can be the price as well as weight.
What kind of climate?
A walking umbrella doesn't fold and has a bigger surface area, so this might be a good choice for long periods of time in the rain or windy weather. They are also popular with people who like a traditional or classic look. A foldable umbrella is easier to carry around however.
Automatic or manual opening?
Either type comes with either a manual or automatic opening mechanism. The automatic push-button kind is quicker and easier to operate if you're in a rush, but bear in mind these mechanisms usually have a shorter lifespan. A manually operated brolly takes a bit more effort to open but they will probably last for longer.
Large, medium or compact?
An umbrella's chief purpose is to keep you dry in bad weather, but it's important to think about its main use. A golf umbrella or similar large model has a larger surface area which can keep you drier or keep two people at once dry, but it can be bulky and inconvenient to carry around.
A foldable umbrella might be more suitable for everyday use or if you live somewhere it doesn't rain all that much or you don't want to carry a bigger one.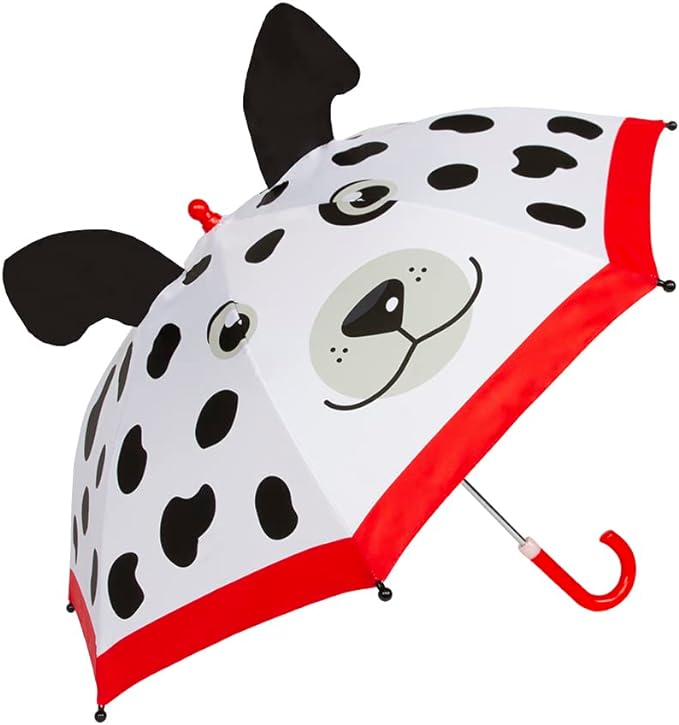 What kind of handle?
Cushioned handles are the most comfortable to grip in your hand, while a good grip is important for windy weather. Wooden curved handles offer the best grip, while the umbrella is up as well as when you're carrying it when it's down. Wooden curved handles also have an appealing vintage look.
It's likely you'll be carrying bags and other things while holding your umbrella, so choose a grip that will work in either hand. A cushioned, slim grip is the most comfortable, while something with a bulky or heavy handle is usually the least.
Vented, double, 2-layer or single layer canopy?
A vented canopy, also known as a double layer or 2-layer canopy, helps stop your brolly turning inside out in the wind.
A single canopy is made out of just one piece of fabric, while a vented or double one has a main canopy as well as a smaller, overlapping one on top, with ventilation between both.
Don't worry about the vents letting water in – that doesn't happen. They give the wind somewhere to blow through, which releases pressure and makes the umbrella much more resistant to blowing inside out.
Some single canopy umbrellas are designed to turn inside out in the wind, in order to release pressure, and these should go back the right way without any damage.
Fiberglass, steel, aluminum… which is best?
Fiberglass ribs flex with the wind, so those are also a feature to look out for. These umbrellas have better water resistance and strength, but do cost more. Bulky, heavy designs should be avoided unless the umbrella is all you're going to be carrying. Steel is heavier than aluminum, but it's also more durable.
What kind of design do you like?
This is largely down to personal preference. Do you prefer a classic black or navy blue, or are you happy to stand out with a bold pattern? There are thousands of different designs, from fun kid patterns to more sophisticated and classic options.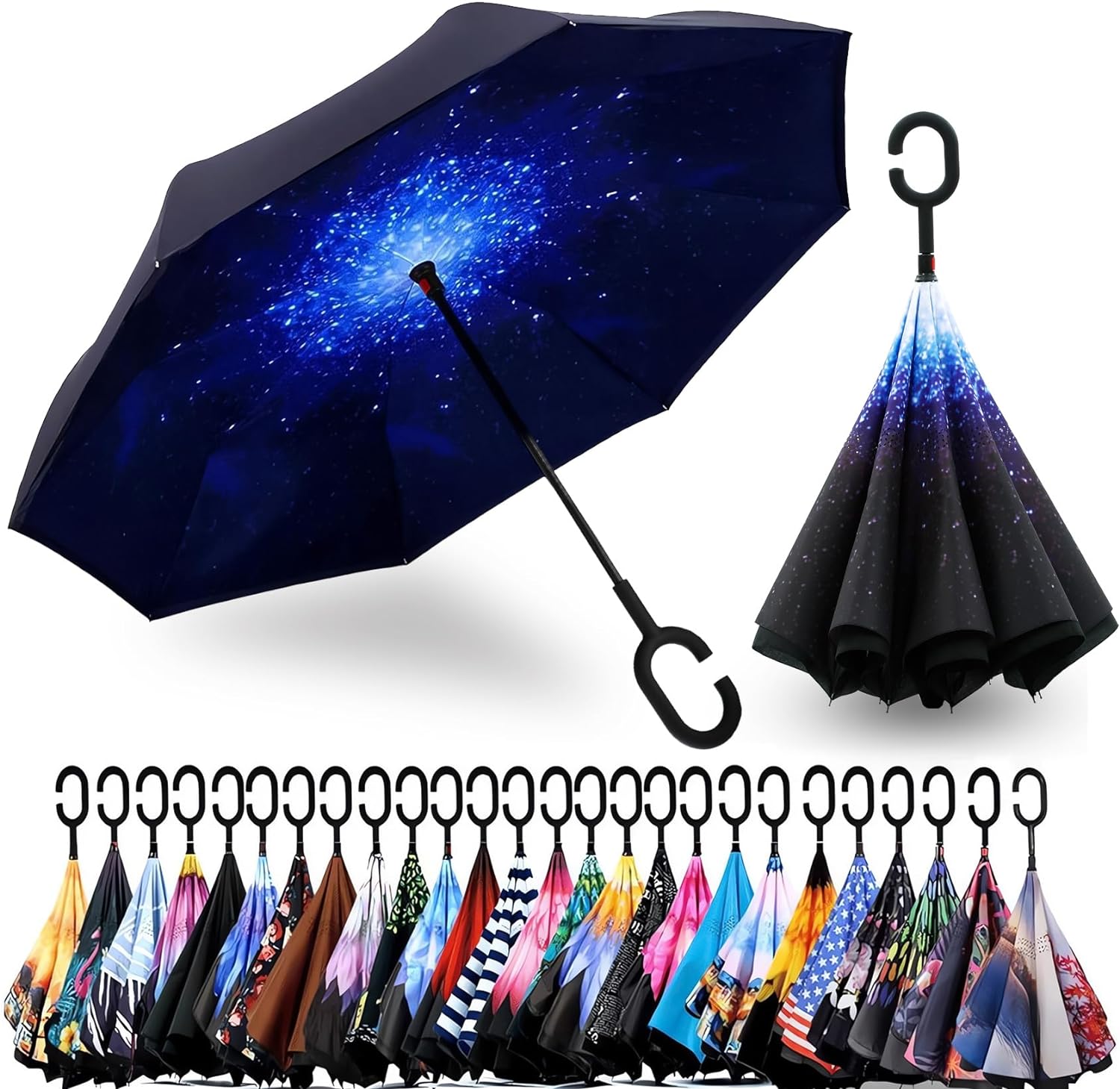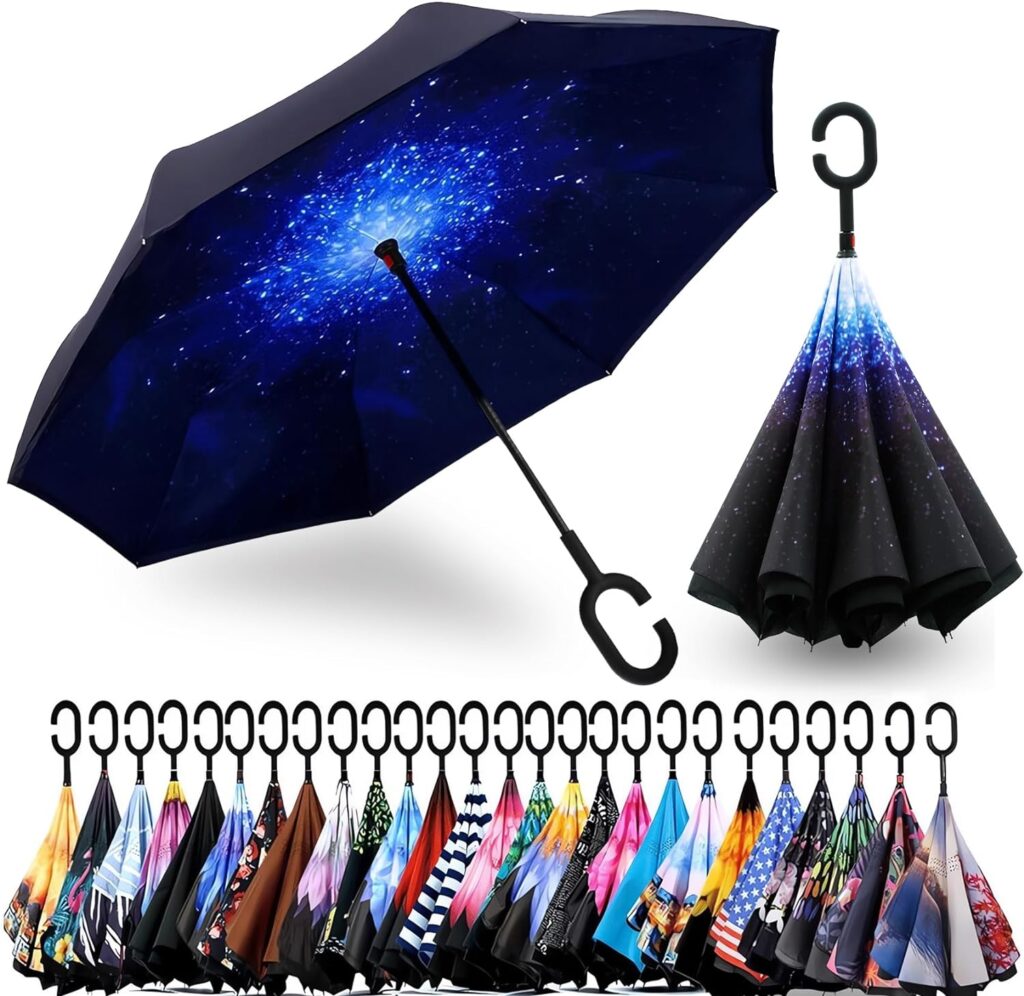 A Final Word – Just So Many to Choose From
If you want to feel like singing in the rain, it's important to choose a great umbrella, rather than something that's going to break and leave you soaked. It's common to see broken brollies stuffed into litter bins on rainy days because there are so many poor quality ones around.
There are so many different kinds to choose from, ranging from the tiniest micro-mini-size brollies you can stash in a pocket or small bag, to huge golf umbrellas. There is something for everybody. It's worth investing in a well-made umbrella so you can rely on it during bad weather.
Ask yourself whether you want a robust umbrella or a lightweight design. A sturdy one can be more of a pain to lug around with you but it does keep you protected from the rain and wind, and is less likely to break.
Consider your lifestyle to help you pick out the best umbrella. Do you commute to work walking, on public transport or on a foldable bike? If so, you will probably want something you can keep in your bag. If you mostly drive, a good-sized brolly you can stash in the trunk (or back seat if you don't have kids in the back) might be your best bet.
A good quality brolly can keep you dry in a downpour. It will also keep its shape even in strong winds. Umbrellas are one of those accessories we don't tend to consider until the skies open – and by then it's often too late!
Be prepared for the next shower before it comes by choosing a great umbrella. Some people even like to invest in several, so they can match it to their outfit or to the occasion. You might even want to match it to your winter dog's jacket if you're into matching accessories for your pooch.
Umbrellas come in many colors from black to white to patterned or branded with a logo. Choose a good quality umbrella today and you can be sure of staying dry whatever the weather!