I love Mexican and Tex-Mex food and enchiladas are right up there with my absolute favorites, so when I first made this simple chicken enchilada recipe, I was hoping for a good result, and I got it! The resulting enchiladas were really good, and the flavors were amazing. I hope you like them as much as we all did.
Enchiladas are made by rolling corn tortillas around your chosen filling and then adding a spicy sauce and usually cheese on top. You can fiddle about with this recipe as much as you want because it would be hard to mess it up. Just add your favorite ingredients to the filling and top with your favorite toppings, using as many or as few ingredients as you want, and altering the spice factor depending whether you prefer a mild, medium or hot finish.
Originating in Mexico, this dish dates back to Mayan times when corn tortillas would be rolled around fish but modern ones might feature meat, cheese, beans, vegetables, seafood, potatoes, or a mixture of any of these. This simple chicken enchilada recipe is one of my favorites.
As far as traditional Mexican street food, enchiladas were just corn tortillas dipped in chili sauce, but today's are different.
This is a recipe worth bookmarking or printing because the resulting dish is just so good. Kids love enchiladas as much as the grownups although smaller kids probably won't want as much chili powder or hot sauce in theirs as some of the more adventurous adults might.
Chicken Enchiladas Before Baking:            Chicken Enchilada After Baking:
Typical Enchilada Varieties
Red chili enchiladas are covered in a red enchilada sauce, and this is the most popular variation. Enchiladas verdes feature a green tomatillo-based sauce. Another kind is enchiladas con mole which are covered in mole sauce, a tasty Mexican sauce which is brown, rich and usually contains quite a few ingredients. I like that as well as this simple chicken enchilada recipe.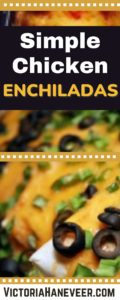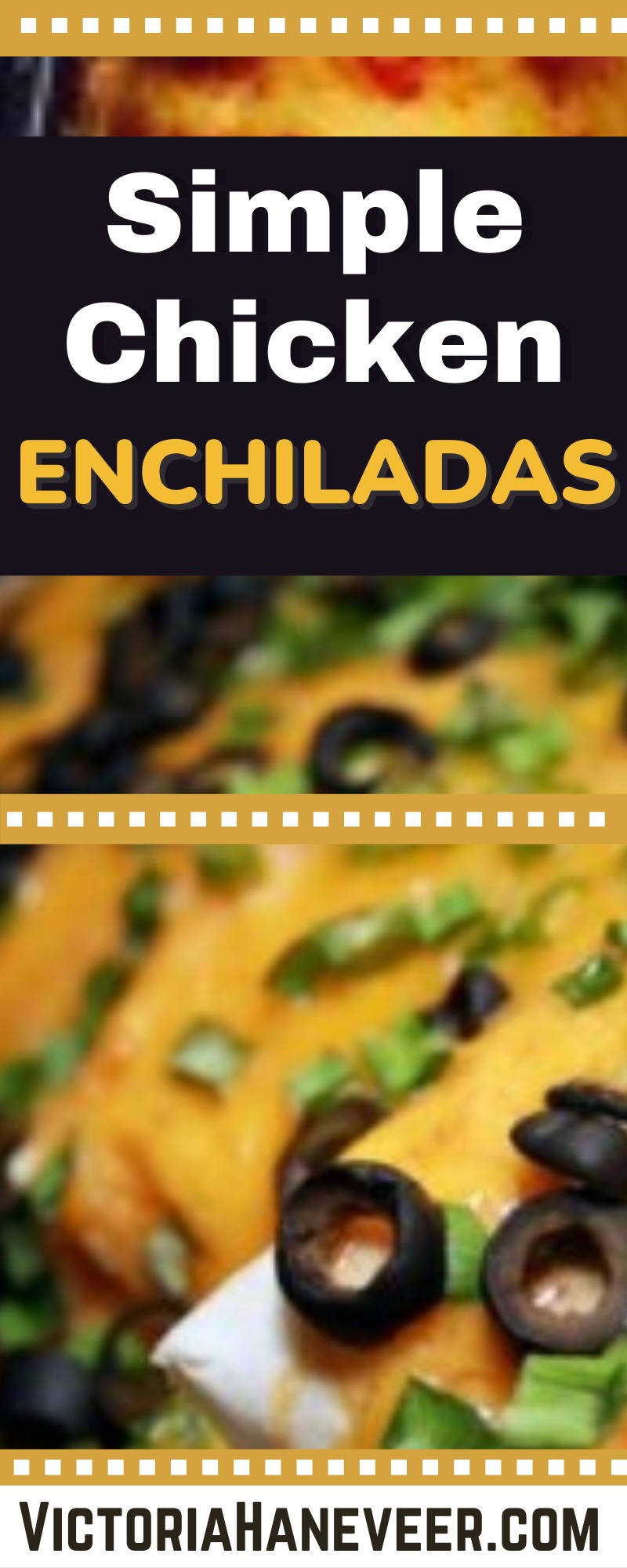 Enchiladas suizas have a creamy sauce on top, bechamel or similar, and these were developed by Swiss immigrants in Mexico. Enchiladas placera contain chicken and vegetables, while enchiladas poblanas are filled with chicken and poblano chilies and they are topped with Oaxaca cheese.
Enfrijoladas have refried beans on top instead of chili sauce. I've tried a lot of these varieties but still fall back on this simple chicken enchilada recipe often because it's easy to make and so tasty.
Simple Chicken Enchilada Recipe Additions
In South and Central Texas you will find gravy-style enchiladas which have a gravy-like chili sauce on top as well as a layer of cheese. These might be beef or cheese filled tortillas.
Enchiladas duranguenos feature red chili sauce and they are filled with minced onions and queso cotija or parmesan (which is cheaper).
Enchiladas montados are popular in New Mexico. These are made with fried corn tortillas which are stacked and covered with chili sauce (either red or green), shredded cheese and topped onion, and these ingredients go between each layer of the stack. They might contain chicken or beef, or neither, and this dish is often topped with a fried egg, black olives and maybe shredded lettuce too.
Enchilada Toppings and Garnishes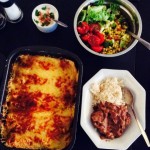 As well as being able to choose your filling, you can choose the toppings when making homemade tortillas. Consider sour cream, cheese, chilies, salsa, cilantro, chopped onions, or black olive slices. These would be great with a simple chicken enchilada recipe.
I like to serve mine with refried beans and beans, corn salad and sour cream, as well as avocado slices, but of course you can take your pick depending on what you have and what you like.
The following recipe is one of these easiest ways to make enchiladas and it really doesn't take too long. As well as your tortillas (and you can swap the traditional corn ones for flour ones if you so wish) you will need cream cheese and salsa for your filling, as well as chicken, chilies, kidney beans and any vegetables you want to use. Some people like to add bell peppers while others like jalapenos or no vegetables whatsoever. Corn is another idea, or even something unusual like mushrooms.
The tortillas are filled with this spicy, creamy mixture, rolled up, covered in cheese and baked until they look like the photo above. Cheese toppings are always good when the cheese not only melts but is allowed to crisp up and get slightly charred in places, or at least that is how I like my simple chicken enchilada recipe!
Print
Best Chicken Enchilada Recipe
Corn tortillas are filled with a spicy, creamy mixture before being topped with plenty of cheese and baked to perfection. The whole family will love this highly tasty dish.
Author:
Prep Time:

20 mins

Cook Time:

40 mins

Total Time:

1 hour

Yield:

4

1

x
Category:

Main Dish

Cuisine:

Mexican
1/2

chopped chicken breast

8 oz

(

250g

) kidney beans, drained

8 oz

(

250g

) cream cheese

8 oz

(

250g

) tomato salsa

8 oz

(

250g

) cooked veggies (corn, bell pepper etc)

4 oz

(

125g

) canned chilies (optional)

6

(6 inch/15cm inch wide) corn tortillas

2 cups

(

110g

) shredded cheese (Mexican blend, mozzarella etc)
Ground cumin, dried oregano, salt and black pepper (to taste)
To Serve (All Optional)
Iceberg lettuce dressed with white wine vinegar and salt
Sour cream
Refried beans
Avocado slices or guacamole
Tomatoes
Green onions
Instructions
Preheat the oven to 350 degrees F (180 degrees C).
Grease a 13 x 9 inch baking dish lightly with oil or butter.
Put the cream cheese and salsa in a small pan and cook, stirring, until hot.
Stir in the cooked chicken, vegetables, chilies, beans and seasonings.
Fill the tortillas with this mixture and roll them up, arranging them in the greased baking dish.
I like to dot sour cream on each before adding the cheese but that is optional.
Sprinkle the cheese on top and cover the dish with aluminum foil.
Bake for 30 minutes and take the foil off, then finish it off under the broiler to brown the cheese a little.
If you like, you can add black olive slices and shredded lettuce on top before serving.