This flavorful chicken wonton soup with cabbage also has green onions, sesame oil and more. If you are looking for an alternative to pork wonton soup recipes you might enjoy this one. You can make the filling up to 2 days in advance if you like.
It is a flavorful chicken wonton soup recipe that makes a healthy dinner or a warming lunch. You could even enjoy it as a snack in the middle of the morning of afternoon, whenever you aren't ready for a meal but you want something more substantial than just a cup of coffee, which is not going to fill you up too much but still warm your belly and put a smile on your face.
Chicken vs Pork Wonton Soup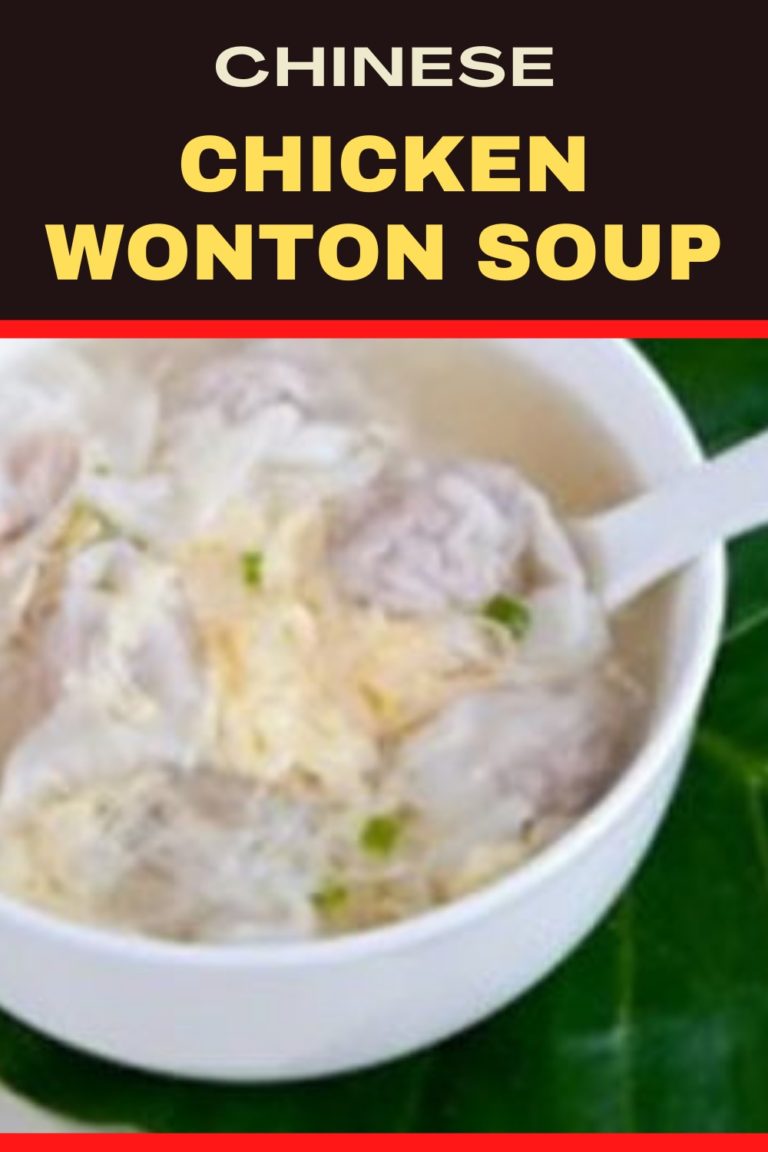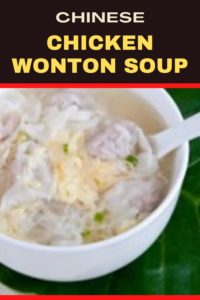 Chicken wonton soup recipes are every bit as tasty as pork wonton soup, but ground chicken does make a change. This chicken wonton soup with cabbage is really good.
Paired with flavorful Napa cabbage or another variety, as well as green onions and ginger, these wontons have an exciting filling which means you will enjoy eating it as well as putting the recipe together.
It is best to use a low-sodium broth for this chicken wonton soup with cabbage recipe, since the recipe also contains soy sauce and that can be quite salty too.
It is easy enough to add a little extra seasoning to the soup afterwards but there is not much you can do if it is too salty to begin with.
The soft wontons floating in the hot soup give it appeal and texture and anyone you serve this to is sure to love it. Kids like chicken wonton soup as much pork wonton soup too.
Print
Egg Drop Wonton Soup with Ginger
Chicken, cabbage and ginger are among the ingredients in this delicious egg drop soup recipe, and this is a very easy wonton soup to make. Take a look at this recipe and gather your ingredients – you will want to make this!
Author:
Prep Time:

15 mins

Cook Time:

7 mins

Total Time:

22 mins

Yield:

6

1

x
Category:

Wonton

Cuisine:

Chinese
½ cup

(

85g

) finely chopped Napa or Savoy cabbage

1

egg

6 oz

(

170g

) ground (minced) chicken

1 ½ teaspoons

toasted sesame oil

2

x 14 ½ oz (

400g

) cans reduced-sodium chicken broth

6

finely chopped green (spring) onions

1 tablespoon

finely chopped fresh ginger

1 teaspoon

soy sauce

24

square wonton wrappers, 3 inches (

7 ½

cm)

3 teaspoons

rice vinegar
Salt, as needed
Instructions
Toss the cabbage with half a teaspoon of salt and let it sit for 10 minutes. Wrap the cabbage in a double layer of paper towels and squeeze out the excess liquid.
Put it in a big bowl with the chicken, ginger, 1 teaspoon of the sesame oil, soy sauce and half the green onions. Mix well, using a fork. You can refrigerate the filling at this point, for up to 2 days.
Spoon a rounded teaspoon of filling into each wonton wrapper. Fold the wontons over in half to make triangles, wetting the edges so they stick together.
Make sure there is no air inside the wonton wrappers, just the filling, else they might open in the soup and the filling will leak out. Press down firmly to seal.
Wet one tip of the triangle and bring both tips together. Press to seal. Put the wontons on an oiled tray and cover them with a damp towel so they stay moist.
Bring the broth, 4 cups (1 litre) of water and a teaspoon of salt to a boil in a pot and add the wontons one at a time, bringing the soup back to the boil.
Turn the heat down and simmer the soup for 5 minutes or until the wontons are cooked through.
Stir in the vinegar, remaining sesame oil and remaining green onions.
Break the egg and drop it into the soup. Stir with a chopstick for 30 seconds. Season with salt if necessary and serve.
You can see from the picture how breaking an egg into the soup shortly before serving it adds texture and appeal. Egg drop soup is popular in China but if your soup features both egg and wontons, you know it is going to be hearty and satisfying.
This steamy hot soup offers chicken, sesame and green onion-filled wontons, so whether you are looking for a pick-me-up tonic for a cold or you simply want to make something classically Chinese and tasty, this chicken wonton recipe is sure to please all your senses.
Chicken Wonton Soup with Cabbage Boasts Such a Great Flavor
Chicken wonton soup is easy to make but don't underestimate the flavor because it really is magnificent. Yes you'll love this chicken wonton soup with cabbage. If you haven't made this before, prepare for a real treat because the flavor is so good.
You might think this is like the tasty soup you had in the last Chinese restaurant you went to, or perhaps you think it tastes even better, and you probably will because the flavors are just fantastic.