This cilantro shrimp wonton soup is my new favorite lunch snack!
Some people make wonton soup by dropping their filled wontons into their prepared stock and letting them simmer in there but others prefer to cook the wontons in water and then add them to the soup, so as not to make the soup cloudy.
Since you are the cook and the one who is going to be eating the dish, it is totally up to you. You can prepare your cilantro shrimp wonton soup however you prefer.
The first few times I made cilantro shrimp wonton soup I put the wontons directly in the soup mixture and let them cook in there. But then I experimented with cooking them in water and then lifting them into warmed serving bowls using a slotted spoon and ladling the hot soup over the top.
Both ways are good, the second perhaps more authentic. You will just need an extra pot.
This cilantro shrimp wonton soup recipe features shrimp (both whole ones to garnish the soup and minced ones inside the wontons) as well as plenty of sesame oil and cilantro.
The stock for this shrimp wonton soup recipe is made by infusing ginger, cilantro and more in a basic chicken stock and then sieving out the additions. It is important to serve a tasty stock with your wontons.
Print
Ginger Shrimp Wonton Soup
Shrimp and ginger are used to fill these wontons and they are served in an aromatic homemade broth. If you want a really fresh-tasting wonton soup recipe make the soup from scratch for outstanding results.
Author:
Prep Time:

20 mins

Cook Time:

25 mins

Total Time:

45 mins

Yield:

6

1

x
Category:

Soup

Cuisine:

Chinese
20

wonton wrappers

¾

pound (340g) shrimp

1 teaspoon

sesame oil

2 teaspoons

chopped ginger

1

egg white

1 ½ tablespoons

soy sauce

2 tablespoons

chopped cilantro (fresh coriander)
For The Broth:
1

box chicken stock

2

slices ginger root

1

garlic clove, sliced in half
Soy sauce, to taste
Sesame oil, to taste
Pinch of crushed red pepper flakes

3

green onions (spring onions)
Small bunch of cilantro (fresh coriander)
Instructions
First make your broth. Add the bunch of cilantro, 2 of the green onions (cut into thirds), the garlic, ginger, soy sauce, red pepper flakes and sesame oil to a box of chicken broth.
Let it simmer for 20 minutes on the stove. Strain the stock.
Pulse half a pound (225g) of the shrimp in a food processor and reserve the remainder. If you don't have a food processor, finely chop it with a knife.
Add the soy sauce, sesame oil, ginger or cilantro to the minced shrimp to make the filling.
Divide the filling between the wonton wrappers, using about a tablespoon of filling per wrapper.
Fold the filled wonton wrappers into triangles, using a water-moistened finger to seal the edges, then fold the pointy sides down and glue them together using a wet finger.
Drop 6 wontons at a time into boiling water for a few minutes, until they are translucent and flexible.
Add the whole reserved shrimp too. They will turn pink when they are done.
Carefully remove the wontons and shrimp with a slotted spoon.
Finely chop the remaining green onion and add that to the soup.
Add the wontons and shrimp to the stock to warm them through, then serve.
Be careful when handling the wontons because they are delicate.
Keywords: cilantro shrimp wonton soup, wonton soup with shrimp, how to make wonton soup, prawn wonton soup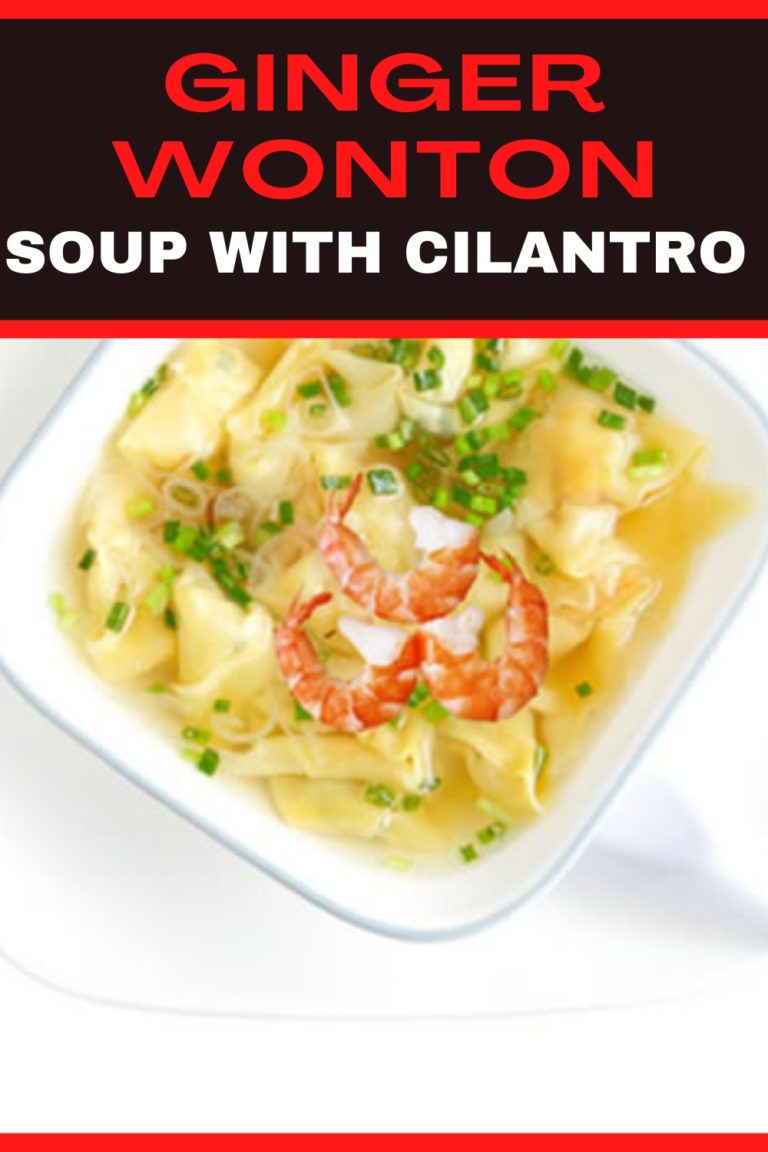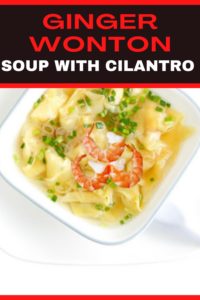 Saving a few of the shrimp to garnish the soup is a great idea. Not only can people identify the flavor of the wontons by seeing the shrimp but it adds a splash of color to this wonderful Chinese dish.
Shrimp are often used (with ground pork too) to make traditional wontons, but they are also good mixed with ginger, cilantro and sesame, and used to fill wonton wrappers.
Wonton soup is a healthy and satisfying dish.
This is the case whether you serve it for lunch, dinner or even a late supper.
Shrimp is a low-fat and flavorful ingredient to choose for your wonton filling.