Chinese recipes have been used for generations and have slowly been adapted to the Western world. However, if you want authentic, healthy meals, this cuisine is perfect. Try these easy pork and ginger wontons and you will see just how delicious Chinese food can be.
There are many different recipes available to cater to your taste and budget. Ingredients need to be fresh, ensuring that all of the nutrients are locked inside the meal. There are ingredients which are chosen for every Chinese recipe, to enhance the flavors and produce the ideal texture. Vegetables are a huge part of these recipes, and you will find that many different forms can be used.
Softer vegetables are cooked rapidly to ensure that they remain firm and retain their nutrition. Harder ones like carrot tend to be sliced, chopped or grated so they will also cook fast in recipes.
Not all Chinese food is stir-fried of course, and some cooking methods take far longer, because some types of food must be slow-cooked or braised in order to bring out the flavor and/or tenderize it properly. For these pork and ginger wontons, we are using various veggies as well as Chinese seasonings to ensure an authentic result.
Western Influences – Not All Bad!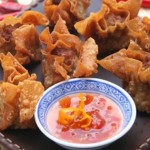 The Chinese food which you experience in the restaurants will often be nothing like traditional Chinese recipes. However, the cooking methods are incredibly similar, producing distinct flavors that everyone can enjoy.
By changing the ingredients and adapting the flavors, Chinese restaurants have ensured that more people enjoy their food, marrying authentic oriental dishes with some Western touches. Easy pork and ginger wontons might be made authentically or Westernized depending on the restaurant itself.
Pork and Ginger Wontons: Traditional Recipe
Wontons are popular throughout the whole of China, and there are several different recipes for you to enjoy which are straightforward to make. You will find all of the ingredients easily, and be able to prepare the easy pork and ginger wontons in a short space of time.
The following easy pork and ginger wontons recipe is just one example of an authentic wontons recipe. You might want to discover more about the the full range of wonton recipes you can make.
Regional Chinese Dishes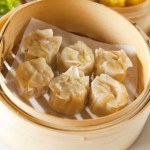 Many people think that all Chinese food is the same but you will find that the recipes and cooking methods are determined by the region. What a Chinese family sits down to eat in the far North of the country might even be unrecognizable to what they're eating in the South!
There are many dishes which are very made, cooked and served differently depending on where you travel to throughout China.
The people in the south of China will use rice and flour as their main carbohydrates, for example, but in the north they prefer to use wheat and noodles.
Print
Easy Pork and Ginger Wontons
Pork and ginger wontons are popular throughout China and you can bring the taste of the Orient to your dinner table with this recipe. You will need a bamboo or metal steamer to make these.
Author:
Prep Time:

25 mins

Cook Time:

10 mins

Total Time:

35 mins

Yield:

8

1

x
Category:

Appetizer

Cuisine:

Chinese
1

lb (450g) ground pork

1 tablespoon

sesame oil

2 tablespoons

minced garlic

1

shredded whole Napa cabbage

1 teaspoon

minced fresh ginger

2 tablespoons

soy sauce

1

package wonton wrappers
Instructions
Combine the pork, cabbage, garlic and ginger in a large bowl.
Mix the sesame oil and soy sauce together then add to the pork mixture
Place a small pile of mixture into each wrapper and wet the edges with water to seal.
Gather the edges and press until tightly closed, squeezing out any excess air, to ensure that ingredients do not escape.
Steam the pork and ginger wontons for 5 to 10 minutes then serve immediately.
Notes
Use a bamboo steamer to make these (you can pick one up from an Asian food store for a few dollars) or a metal one if you have it. Some people like to line the steamer with cabbage or lettuce leaves before adding the wontons on top to prevent sticking.
I like pork and ginger wontons with peanut sauce. Pork and ginger wontons with Szechuan sauce are also good, if a little spicier!
Pork and Ginger Wontons: Wonton Folding Tips
So how do you fold a wonton if you haven't done it before? This video shows you how to make wonton shapes, so once your filling is mixed, you are ready to spoon a teaspoon of mixture into each wonton wrapper and shape your wontons.