Before I go into the details of this delicious vegetarian, pakora recipe, you might be wondering what is pakora exactly. That is a very good question! Pakoras are made by combining grated or finely chopped vegetables (and perhaps other ingredients) with Indian spices, then cooking the results in little balls until crispy, either frying or baking them.
Vegetarian Pakora Recipe: Typically Indian
This crispy Indian snack is best served hot. There are different types of vegetable pakoras and you can use meat too if you aren't vegetarian.
These treats may be served alongside other Indian favorites, such as a chicken curry and rice, or you can enjoy them as an appetizer. Some people like to order onion bhaji in the Indian restaurant as well as vegetarian pakoras, because these two are nice enjoyed together, perhaps with a dipping sauce.
I like to get poppadoms with the trio of sauces (mango chutney, mint raita and the onion one) and either pakoras or onion bhaji too. I always wondered how easy it was to make an easy pakora recipe at home and now I know! I suppose there are trickier recipes you can use but this recipe is pretty easy to follow and the results are lovely.
Veg Pakoras Recipe Ingredients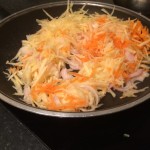 First you need to make sure you have all the ingredients to make this tasty dish. Here we are going to make vegetarian pakoras so you will need some tasty vegetables to make them.
I like to use carrot, rutabaga and shallot in my easy pakora recipe for a nice sweetness, as well as spinach so you get that lovely green color and a contrasting flavor.
A touch of garlic is also good and you can sauté that in the pan with the veggies. Use a nonstick pan to sauté them or a well heated stainless steel pan if you prefer, either a pot or a wok.
Don't be scared to change the ingredients in these veg pakoras because all kinds of veggies work here, and you can base the pakoras on carrot and onion for that typical flavor or experiment with different ingredients. See what you have in the refrigerator to use up.
You will need to keep stirring the vegetables so it is best to use something with medium or high sides, especially if you tend to flick things out of something with lower sides like I do! The first thing to do is switch the oven on, although if you are going to be prepping your veggies by hand (lots of grating!) then this can wait a while.
Preparing the Veggies for a Pakora Recipe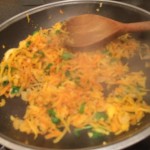 Grate or chop your vegetables using a food processor if you have one, else you can use a cheese grater or do them by hand. You might want to buy some of them ready-grated if you can get those where you live, just to save time and ensure the pieces are all of a uniform size.
Add some cooking spray to your pan and add the grated veggies and garlic, then keep it moving over a medium heat.
Don't worry about browning because some browning is fine with an easy pakora recipe. Obviously don't let the mixture burn! Burning does not equal browning! Keep the mixture moving, using a wooden spoon, and within a couple of minutes the vegetables should be crisp-tender and slightly browned, so then it is time for the next step.
You are now ready to add the spices, so throw in your salt, pepper, turmeric, garam masala and chili powder and keep stirring the mixture until the spices are well incorporated.
Now some people like spices more than others, and others like a spicy flavor more than others. What that means is you are the cook and it is your choice how much of each spice to add. Don't want it too spicy? Then add no more than a tiny pinch of chili powder. And so on.
Vegetarian Pakora Recipe: Adding More Ingredients
Once you have blended those spices in, you need to take the mixture off the heat, because you don't need to cook it any more.
Stir in some tomato concentrate (or tomato 'puree' if you're a Brit) and the spinach.
You can also stir in the flour (use all-purpose flour or 'plain white' flour here). The mixture should be starting to look and smell really good at this point and your mouth should be water, but don't taste it. It's not ready yet!
The most important thing to do at this point is just to get the ingredients right, and not just what you are adding but also work on the consistency. You don't want these to be too firm or too liquid, but a happy balance between the two, and you don't want too much of one kind of vegetable for example, or too much tomato.
Easy Pakora Recipe: Achieve the Perfect Texture
Add a little water too. Just a splash of water ought to be enough. Don't add too much anyway, just add a little at a time. The consistency should be like a thick batter.
The pakora mixture is going to be separated into little balls and baked like that so the batter should be thick enough for these balls to hold together.
You don't need to over-stir the mixture but everything should be well combined so make sure you give it a good stir to get a nice mixture of each ingredient in each pakora.
Vegetarian Pakora Recipe: Get Ready for Baking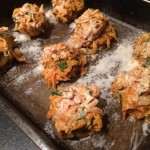 If your oven isn't already heated up turn it on now and let it reach 400F. Grease a baking sheet with cooking spray and then arrange dollops of the batter mixture on it.
The number you get depends on the size you make them but you should get about 8 pakoras on there.
Arrange them as far apart from each other as possible. You don't want them to stick together. They should hold their shape nicely if you've got the consistency of the batter right.
Bake Until Golden Brown, Crisp and Irresistible!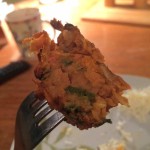 Spray more cooking spray over the easy pakora recipe and then pop the pakoras in the oven until they are golden brown and crispy. Now, depending on your oven this might take 20 minutes or it might take 30, but 25 minutes is a good average.
We live in Holland and have a 'mini-oven' (glorified microwave – shudder) so Indian recipes and other dishes usually take longer.
A frittata took more than an hour in there once but I digress. My sister Kath came up with this recipe and she lives in the UK and has a 'normal' oven, so you can count on the minute estimate being more or less right!
You will be able to see when the pakoras are done because they will look done. Wait until they are a lovely golden brown color and they look crunchy rather than soft. That's when to serve them! And enjoy them you certainly will!
Calories in a Veggie Pakora Recipe
Pakora calories vary hugely, especially if you choose to add meat to the mixture or deep fry them. The following recipe makes 2 generous servings and each serving offers 175 calories which is very reasonable. The reason they are so low in calories is they are mostly made of vegetables.
The amount of spray oil you use can alter the calories and in fact these might be closer to 150. Now if I'm counting calories I prefer to overestimate rather than underestimate, so follow the recipe and assume you are having 175 calories from this vegetarian pakora recipe to be on the safe side.
Even if you aren't counting pakora calories this is a nice vegetarian pakora recipe. You aren't sacrificing anything by baking rather than deep frying. The taste is still amazing, and the texture is still crunchy!
Print
Vegetarian Pakora Recipe
Hot and crispy, these make a fantastic snack. Serve this vegetarian pakora recipe alongside other Indian dishes for a full meal. This recipe is surprisingly low in calories.
Author:
Prep Time:

15 mins

Cook Time:

30 mins

Total Time:

45 mins

Yield:

2

1

x
Category:

Appetizer

Cuisine:

Indian

Diet:

Vegetarian
1

minced garlic clove

1

grated carrot

4

grated shallots

2 oz

(

55g

) grated rutabaga (swede)

3 oz

(

90g

) fresh or thawed (drained) spinach

1 tablespoon

tomato concentrate

30

ml (1 fl oz) water
Pinch each of salt, black pepper, turmeric, garam masala and chili powder

40g

(

1 1/2 oz

) all-purpose flour
Small handful cilantro (coriander) leaves
Frylight or PAM (or similar) cooking spray, as needed
Instructions
Sauté the garlic, shallots, carrot and rutabaga in cooking spray until beginning to brown.
Add all the spices (not the cilantro/coriander) and cook for 1 minute.
Take the pan off the heat and stir in the spinach, tomato concentrate, flour and enough water to make a batter consistency.
Add the cilantro and arrange small dollops on a greased baking sheet.
Spritz with cooking spray and bake for 25 minutes at 400 degrees F (200 degrees C) or until browned and crispy.
Nutrition
Calories:

175 per serving
Keywords: vegetarian pakora recipes, veg pakoras, veggie pakora, how to make pakoras
If you would prefer a more traditional recipe, the following video shows you how to make authentic vegetable pakoras and fry them in oil. You might like to compare both recipes and see which you prefer!