If you want to know how to make fries in the air fryer, you'll want to know some of the best French fry air fryer tips and tricks. An air fryer is quicker to use than the oven and doesn't require all the oil a deep fat fryer would.
Fries also go with just about everything from a juicy steak to griddled chicken or even a hearty salad. They make a great snack and there are hundreds of seasoning combinations to try out as well as dipping sauce options.
How Do You Crisp French Fries in an Air Fryer?
Choose an air fryer to make your fries and you will find they crisp up automatically. If your fries have gone soft or you want to re-crisp them up, you can also use the air fryer for this too.
Put leftover fries in the air fryer basket and set the temperature to 400 degrees F (200 degrees C) and give them about 3 minutes in there, shaking the basket halfway through. If they're not completely hot and/or crisp give them 1 more minute.
Whether you're using a PowerXL air fryer grill, Pampered Chef air fryer or another model, these instructions are the same. Cooking or reheating fries in an air fryer are both very quick and simple.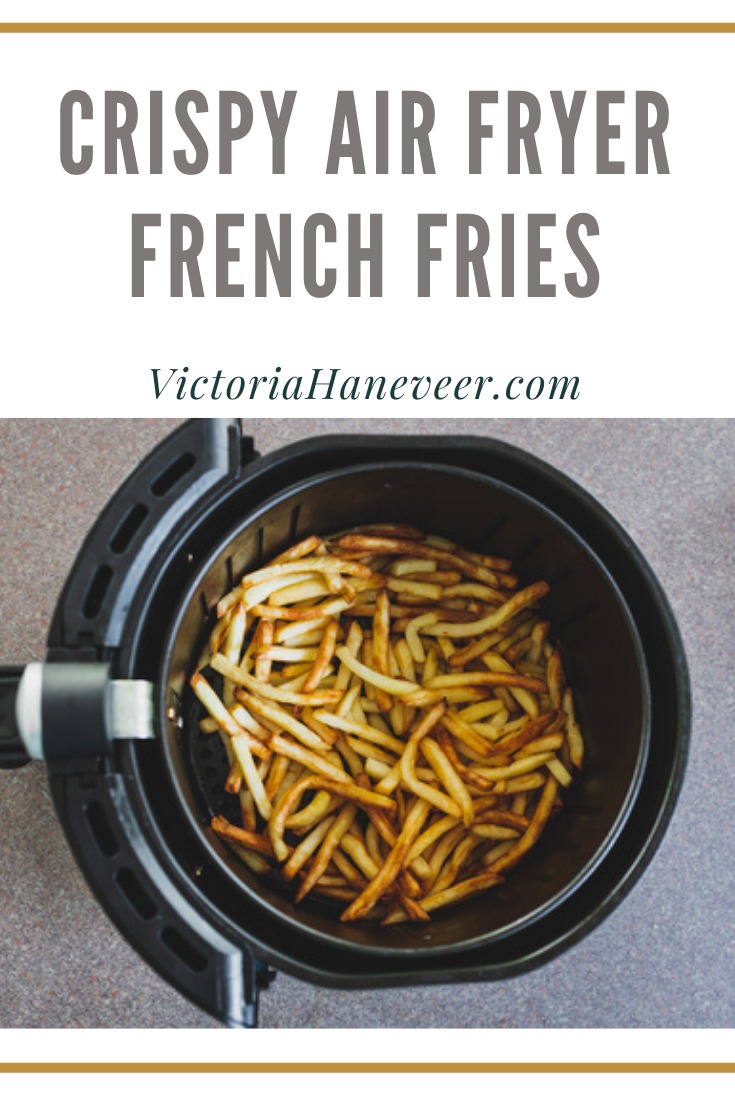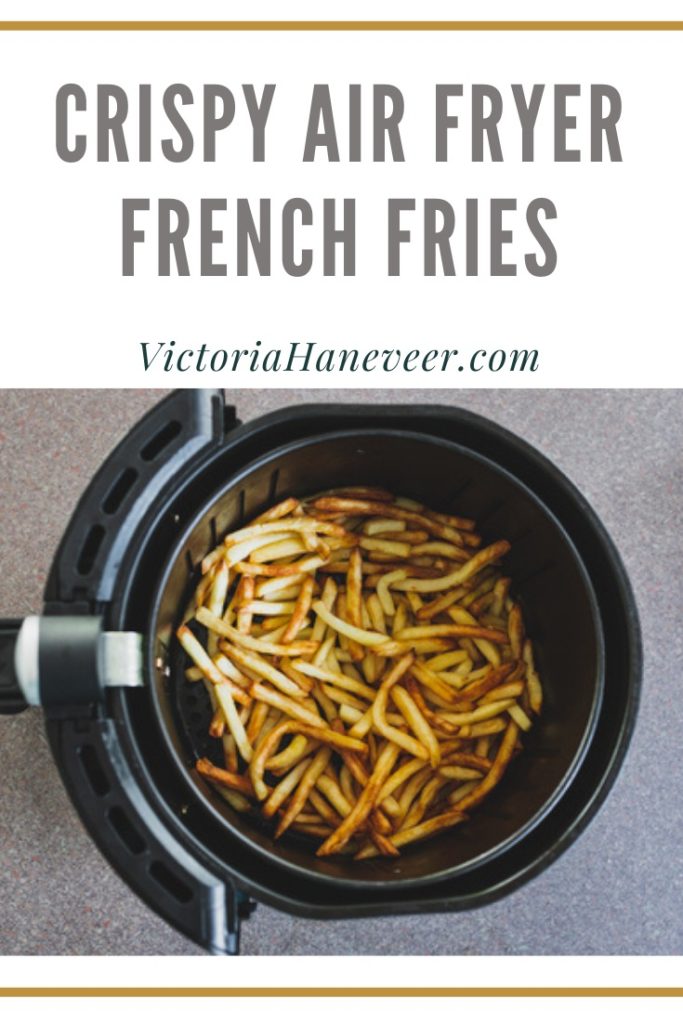 Frozen French Fries Air Fryer Instructions
If you want to air fry frozen fries, the instructions should be on the packaging. If it isn't, I'd suggest giving them about 8 minutes at 400 degrees F (200 degrees C) if they're thin ones.
Else give them a few minutes longer if they're steak-cut fries or wedges. It's easy enough to open the basket to check for doneness since they'll be golden when done.
Why Do You Soak Potatoes in Water Before Air Frying?
Have you wondered why people do this even after peeling potatoes? Well, there is a reason. Once you've peeled (this step is optional) the potatoes and sliced them up, soak them in water (preferably hot) for 10 minutes or so then pat them as dry as you can.
The soaking works magic on the starches in the potato slices and helps to ensure the fries come out really crispy. The water gets rid of excess starch which can inhibit the fries crisping up. So don't omit this step when making a French fry air fryer recipe from scratch.
What Type of Potatoes for a French Fry Air Fryer Recipe?
Yukon gold will give you a crispy exterior but rich, creamy interior. They have a natural buttery flavor too.
Russet potatoes are also crispy on the outside but they are slightly drier inside. If you use Russets you'll find each air fryer French fry reminds you of a restaurant style fry. You can even use sweet potatoes if that's what you enjoy best. It's down to personal preference.
French Fry Air Fryer Potatoes: How to Cut Them
It's totally up to you whether you peel the potatoes or not. Personally I prefer them peeled. If you aren't peeling them then just give the skins a good scrub before slicing to make sure they're clean.
Cut your potatoes into 3 or 4-inch (7½ or 10cm) lengths and make them roughly ¼-inch (6-7mm) in width.
French Fry Air Fryer Layering Instructions
Although an air fryer basket can hold a large volume, some foods are better cooked in one layer. If you do that, you will have to cook the French fry air fryer recipe in batches which is time-consuming.
I find a double layer comes out nearly as crispy as a single layer while layering them even more reduces the crispiness further.
I get a few layers of matchstick-thin grocery store frozen fries crispy by shaking the basket a number of times during cooking, so it's not THAT important.
How to Season the Fries Before Cooking
If you just want to add some salt that's fine. You could also add seasoning salt because it's garlicky, curry powder, parmesan truffle, or even Italian seasoning. Cajun seasoning works well too.
Did you know French fries aren't actually French? You can find out more about the history of fries here.
Print
French Fry Air Fryer Recipe and Tips
French fry air fryer recipes don't vary all that much. I like to keep mine simple with some salt and garlic powder. I dislike the sugar content of most commercial 'fry seasonings' so prefer to season my own. The air fryer makes incredibly good fries.
Author:
Prep Time:

15 minutes

Soaking Time:

10 minutes

Cook Time:

10 minutes

Total Time:

35 minutes

Yield:

2

1

x
Category:

Side Dish

Method:

Air Fryer

Cuisine:

American
2

medium russet potatoes or

1

pound Yukon gold

2 teaspoons

olive or canola oil

½ teaspoon

garlic powder

½ teaspoon

salt

¼ teaspoon

black pepper
Instructions
Peel the potatoes if you like then cut them into slices then sticks.
Put them in a bowl and pour hot water over them to cover.
Let them sit for 10 minutes.
Warm the air fryer up to 375 degrees F (180 degrees C).
Drain the potato sticks and dry them using a clean towel.
Wipe out the bowl and put the dried potato batons in there.
Add oil and sprinkle with seasonings, tossing well.
Add to the air fryer basket and cook for 5 minutes.
Shake the basket and give the fries another 5 minutes or cook until golden and crispy.
Pour the fries into a clean bowl, sprinkle with salt and serve.
Notes
If you don't want to use oil, just coat the basket with nonstick cooking spray before adding the fries.
Adjust the thickness of the fries according to your preferences.
These are best served as soon as they are cooked.
Nutrition
Serving Size:

Half the recipe

Calories:

90

Sugar:

1g

Fat:

2g

Carbohydrates:

17g

Fiber:

1g

Protein:

2g
Keywords: french fry air fryer, cook fries in air fryer, frozen french fries in air fryer, fries air fryer