Knowing how to griddle chicken breast means you can make all kinds of tasty dishes. The griddle is a fantastic tool which I often use in the kitchen for cooking not only chicken but steak, fish and vegetables too.
You need less fat than if you were to shallow fry or sauté, and can expect attractive griddle marks, either lines or crisscross, depending how you turn the chicken while it is cooking. Learning how to griddle chicken breast is so easy and worthwhile.
A nice cast iron griddle pan is a worthwhile investment, and since you can cook all kinds of meat, poultry, seafood, vegetables, and even some kinds of cheese (like halloumi) in there, you will find yourself using it frequently.
Griddled Chicken Breast Uses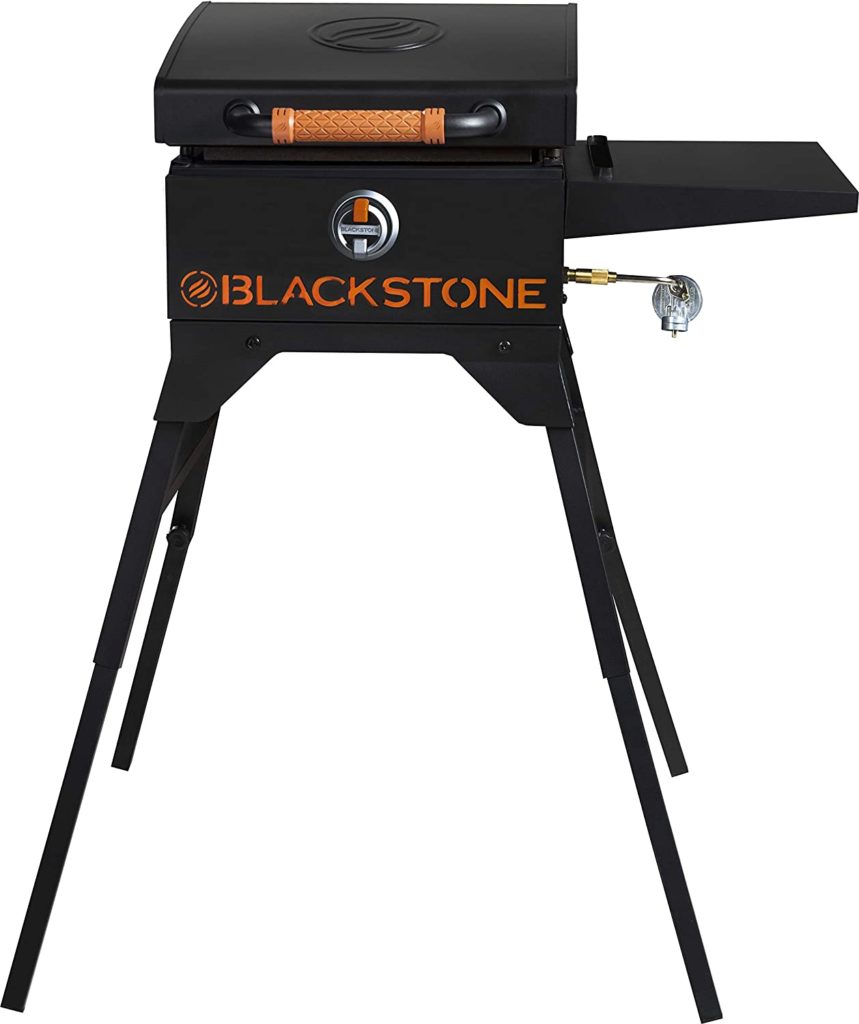 One of the best things to cook on there has to be chicken breast. This lean, tasty meat is perfect for any kind of diet (well, except vegetarian!) and you can serve it in all kinds of ways, perhaps marinating it first or adding a spice rub or sauce.
You can also cook it plain, then use it to top a salad, chop it and add it to omelets or tacos, or find many other uses for it. Some people like to cook a big batch of griddled chicken breast because it keeps in the refrigerator for up to 4 days and you can enjoy it as a snack or as part of a meal. If you know how to griddle chicken breast you can make all kinds of chicken dishes.
Get organic chicken breast if possible, if it's available where you are and within your budget, because it is healthier and tastes better. You can even grab a bunch of chicken breasts if you spot some on sale, because they freeze well.
Just thaw them overnight and then the following day you can make a griddled chicken breast recipe.
If you enjoy this recipe, why not try this 3 ingredient Cajun griddled salmon or a griddled steak recipe because these are also easy and delicious?
How to Griddle Chicken Breast in a Top Rated Griddle Pan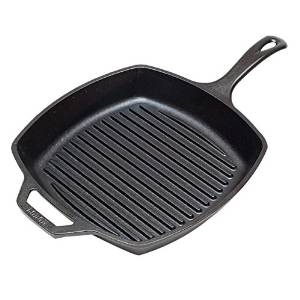 Top Rated Griddle Pan, on Amazon
This is a wonderful addition to any kitchen and the griddle pan comes pre-seasoned so it's all ready to use. Anyone can use a griddle pan because knowing how to griddle chicken breast and other proteins is simple.
If you can use a pan you can use this. Just get it nice and hot then add your meat or fish and flip it over halfway during cooking.
You can clean this with warm, soapy water, or even wash it in the dishwasher (that's how I clean mine!)
Expect even, uniform cooking and a great performance. It is ribbed so any fat will drip off your meat or fish and into the grooves. Use this on the stove, grill, campfire, or even in the oven. It is 10 1/4 inches square and it retains heat well so you can get it really hot and sear your meat beautifully.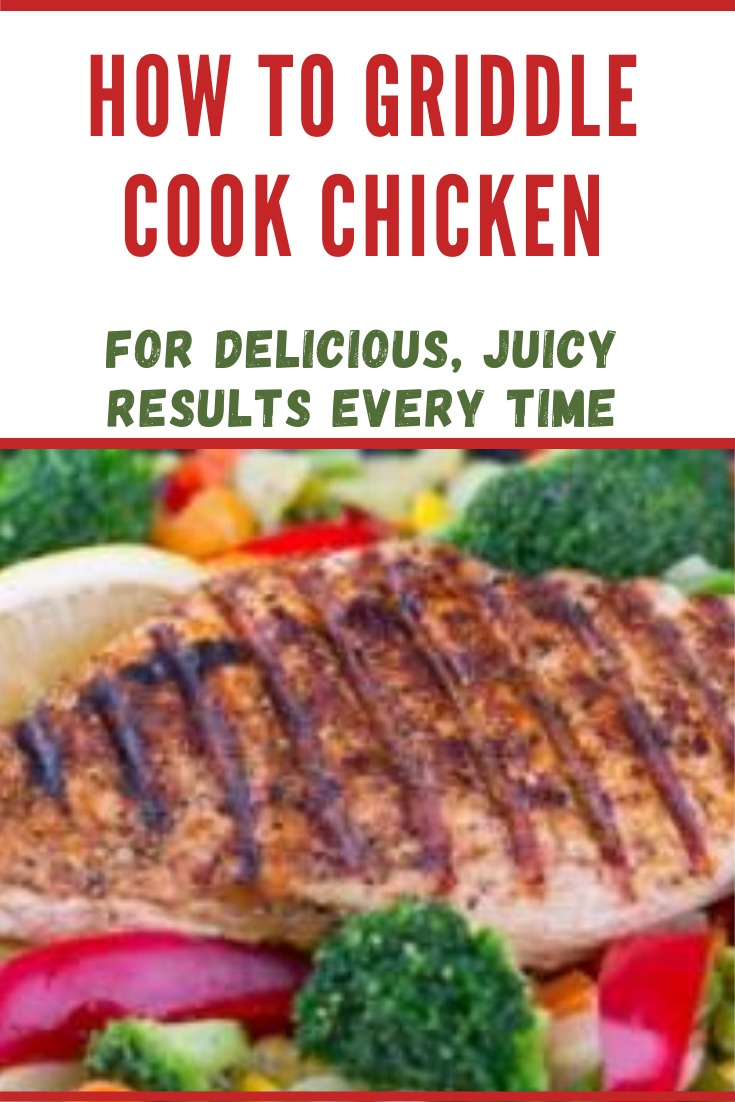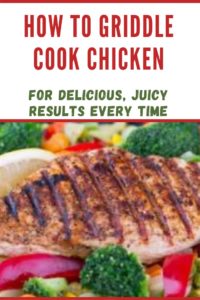 This griddle pan is going to last for decades and you might even want to pass it down to your own children (if you can bear to part with it).
Whether you like to griddle meat, poultry, fish, vegetables, or even halloumi cheese, the delicious flavors, versatility, low-fat results, and appealing griddle-marks on your food are all factors to tempt you into investing into such a wonderful pan.
The next time chicken breast or steak is on the menu for dinner, consider the griddle rather than a pan, for a very flavorful, low-fat result which everyone will love.
Griddled Chicken Marinade Idea
Know how to griddle chicken breast but ensure you add plenty of flavor too. Put 3 tablespoons of olive oil, 2 minced garlic cloves, 1/2 teaspoon of dried thyme, 1/4 teaspoon of dried oregano, 3/4 teaspoon of lemon zest, 1/4 teaspoon of black pepper and 3/4 teaspoon of salt in a Ziploc bag or shallow glass dish, and mix well.
Add the chicken and let it sit in this mixture for between 30 minutes and 6 hours to infuse it with flavor. Then remove the chicken, discard the marinade, and proceed with the recipe.
This adds an exciting flavor to the dish. It's worth knowing if you plan to learn how to griddle chicken breast and make it really tasty. There are plenty more griddle or Blackstone chicken recipes to choose from.
Print
Chicken Breast in a Griddle Pan
A good, heavy, cast iron griddle is one of the most-used pans in the kitchen because you can use it for meat, fish, veggies and more. Expect not only succulent flavor but also those attractive griddle marks.
Author:
Prep Time:

10 mins

Cook Time:

10 mins

Total Time:

20 mins

Yield:

2

1

x
Category:

Entree
2

chicken breasts
Oil or cooking spray, as needed
Salt, black pepper, dried herbs and/or spices (optional)
Instructions
Pound the chicken breasts between 2 sheets of plastic wrap until about 1/2 inch (1 1/4 cm) thick.
Heat the griddle pan for a few minutes or until a droplet of water 'dances' on there when flicked on.
Rub a little oil (any cooking oil) over the chicken or spritz it with cooking spray.
At this point you can also add salt, pepper, or any dried herbs or ground spices you want.
Cook the chicken for 4 or 5 minutes on each side or until done through.
If you want a crisscross pattern instead of stripes, then rotate it after 2 minutes on each side.
When the chicken is no longer pink in the center, it is done.
Now you know how to griddle chicken breast you can make this easy recipe anytime.
Nutrition
Serving Size:

1/2 of the recipe...

Calories:

165