Discover how to griddle steak like a pro! Steak is one of the most popular cuts of meat but unfortunately a lot of people are rather clueless about how to transform a raw steak into something flavorful, tender and perfectly cooked.
Perhaps it is your first time cooking steak or maybe you are keen to find out some griddle tips, because this ridged pan is so handy in the kitchen. Either way, read on for my foolproof recipe and learn how to griddle steak like a pro every time you make it.
Barbecuing is one of the best ways to cook this cut of meat, because you can't beat the lovely smoky flavor, but what happens if you can't barbecue and you don't want to pan-fry? The answer is using a ridged griddle pan. Not only can you cook the steak without adding any fat, but you can make crisscross marks on it and they add a certain charm to the meat. See how knowing how to griddle steak means you can rustle up something really amazing?
I cook strip steaks all the time, usually with the griddle. We live in the Netherlands and don't have room on our tiny balcony for any kind of grill. I like to use the griddle for meat, chicken, even salmon. I haven't used it for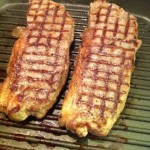 sweet items like griddled bananas, but the sky is the limit. This means you could use it with any meat, fish, veggies or sweet ingredients, anything you wish to cook on the stove and give nice grill-marks to.
How to Griddle Steak: A Very Important Tip
Anyway, one of the most important tips of all about griddling steak is to let the meat come to room temperature before doing anything, and that is going to take about 45 minutes depending on the temperature in your kitchen and the size of the steaks, of course).
If you choose not to do this, the chilled steak is going to seize up on the hot griddle and it will come out tough instead of tender, and nobody wants that! So let it come to room temperature – that is the best advice I can give you about learning how to griddle steak.
Print
How to Griddle Steak
Discover how to cook steak on the griddle so it comes out juicy and tender. Use strip steak or you own favorite cut. This method is very easy and when you know how to griddle steak you'll want to do it often.
Author:
Prep Time:

10 mins

Cook Time:

8 mins

Total Time:

18 mins

Yield:

2

1

x
Category:

Entree

Cuisine:

American
2

strip steaks (or your favorite cut, maybe filet mignon or rump)
Salt and black pepper, to taste
Instructions
Sprinkle salt and pepper over the steaks before you do anything else (adding salt too late will encourage moisture to come out of the steaks which is not what you want).
Allow the steaks to come to room temperature. This will take about 45 minutes.
Put the griddle over a hot flame and give it a few minutes to get nice and hot.
Flick a droplet of water on the griddle.
If it 'dances' the griddle is hot enough.
Add the steaks to the griddle and let them cook for a couple of minutes without touching them.
Don't press them down, don't move them around, just leave them alone.
After a couple of minutes have passed you can flip the meat, using a wide spatula.
Cook the steak until it is done the way you like it, then let it sit on a plate for 10 minutes covered loosely in aluminum foil.
Resting the steaks allows the juices to redistribute and keeps the meat extra-juicy.
Serve with your favorite side dishes and a nice glass of red wine if liked.
Notes
How do you tell when your steak is done? Press on it. If it feels soft and squishy it is rare, if it feels slightly firmer it is medium. If it feels firm it is overcooked or well done.
The steaks will take anywhere from 3 to 6 minutes per side (3 minutes per side for rare, 6 minutes per side for well done).
Use a meat thermometer if you are not confident with the pressing on the steak technique to test for doneness. These are the temperatures you need to know.

120°F (48.8 C) = Rare
130°F (54.4 C) = Medium rare (my recommendation!)
140°F (60°C) = Medium
150°F (65.5°C) = Medium well
160°F (71.1°C) = Well done

You can either add your salt and pepper 45 minutes before cooking the steak or right before putting it in the griddle because it draws out the juices then lets them settle on the crust. Don't salt steak more than 2 minutes or less than 40 minutes before cooking it!
Lodge L8SGP3 Pre-Seasoned Square Grill Pan, 10.5-inch
This grill pan, or griddle pan, is a great addition to the kitchen. It is ribbed to allow the fat to drip out of your food, and it is pre-seasoned so you can start using it right away. Once you know how to griddle steak you are ready to use this excellent grill pan to do it.
The handle is sturdy and has a hole so you can hang it when not in use if you want. Oven-safe to 500 degrees F, you can use this on the stove or in the oven, or start your dish on the stove and finish it off (or keep it warm) in the oven.
Measuring 10 1/2 inches by 10 1/2 inches, this square griddle pan is fantastic for everything from steaks to fish or vegetables, and it is delightfully sturdy. Reviewers give this griddle pan a high rating and say that steak comes out amazing when you use this.
The ridges are quite high so the fat will drain away, resulting in healthier food. This will last a lifetime and is resistant to any heat you can throw at it in the kitchen. It distributes heat perfectly evenly and is something you will want to use often. Clean it right after use and wipe it dry, and it will never rust. For less than $20 you are getting a great deal if you choose this grill pan.
Lodge L8SGP3 Pre-Seasoned Square Grill Pan, 10.5-inch
How to Griddle Steak: Which Seasonings to Add
When I first found out how to how to griddle steak, I usually just added some salt and black pepper and cooked it like that, then served some kind of sauce on the side. These days I often still do that or else I might add a rub or marinade.
If I am using an inferior cut I might marinate it, but with a strip steak (sirloin steak, whatever you call it where you are) that is unnecessary. Just enjoy the natural steak flavor.
Some people do not like to add pepper to the steak before cooking because they think it gives the meat a bitter flavor. Personally I like to add salt and pepper before cooking, but it is up to you.
Add the salt at least half an hour before cooking by the way, because it draws out the moisture and then it soaks back in. This results in a juicy piece of meat. If you add the salt shortly before cooking, the moisture will be drawn out just before the steak goes into the griddle pan, and that will make it less juicy, which is the opposite of what you want!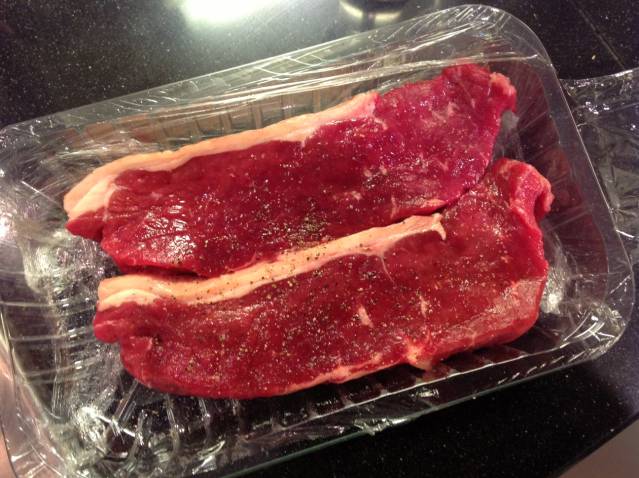 If you want to discover more griddle recipes, take a look at this recipe for griddle salmon, it is really tasty and probably one of the very best ways to cook fish! Alternatively my griddled chicken breast recipes makes a healthy, flavorful dinner.