Poke (pronounced po-kay, let's get that out of the way first!) is currently a huge craze here in Houston, and actually nationwide. There are poke restaurants springing up all over the place as this tasty way of serving seafood takes off. Talking of 'springing up' there is a new poke restaurant in Spring, just north of Houston and south of The Woodlands. Spring is part of the Houston-Sugar Land-Woodlands metropolitan area. Hawaiian Poke Co, Spring, is one of the newcomers to this seafood lovers' arena.
This poke restaurant opened just a few weeks back, occupying Howie's Tiki bar until 9pm when Howie's opens. Hawaiian Poke Co serves traditional poke, Hawaiian fusion food and other tasty treats during the daytime and early evening, and then you can stay on for the cocktails and cool Tiki atmosphere.
I'm quite a newbie to poke, although I've loved sashimi for years. I like my sashimi very, very cold and very, very thinly cut – typically Japanese. But poke is not prepared like that. Instead you can expect larger chunks of fish and different flavors than sushi dishes typically offer. Poke isn't the same as sushi or sashimi and you need to try it for yourself to enjoy what this delicacy really has to offer.
Head to an authentic restaurant offering classic poke and they will take pride in using fresh (not thawed) Hawaiian-caught tuna to make their poke. Hawaiian Poke Co uses only the finest fish, since that is the main ingredient in poke, and it's a shame not to use the best if you want to get the best tasting poke.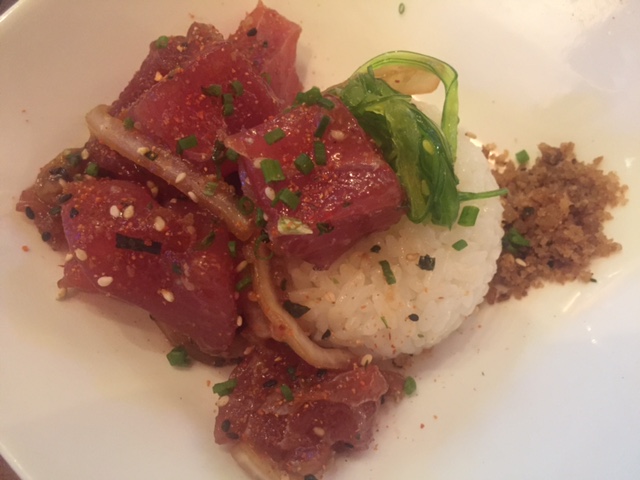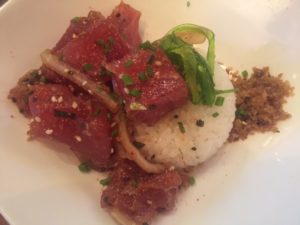 The Origin of Poke
Poke comes from Hawaii and it's usually made with seasoned, cubed raw fish, although you can also get octopus, tofu and more.
The cubed fish pieces are eaten on their own in Hawaii, or sometimes in a bowl of sushi rice. Modern, creative takes on poke include more ingredient such as tomatoes, quinoa and more. These aren't authentically Hawaiian but you can also find classic poke if you head to the right place.
Some Food for Thought at Hawaiian Poke Co
Let's move on to the food! The star of the menu has to be the poke, although there is plenty more on the menu as well. The poke with inamona (ground candlenuts) was very tasty.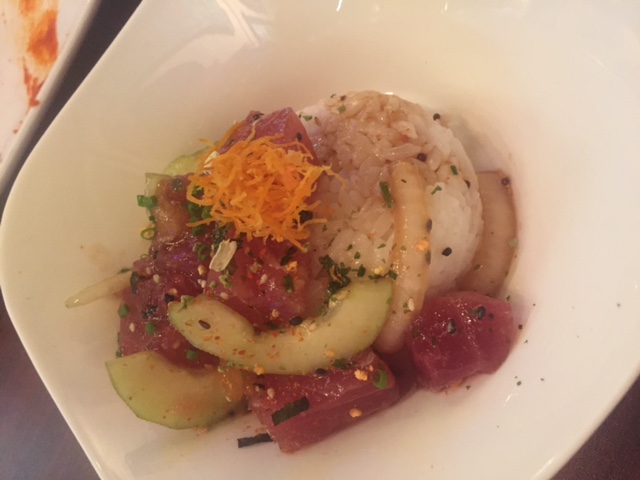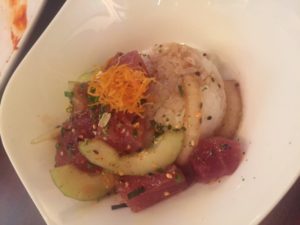 Inamona is popular in Hawaii and it's nice to get a traditional touch. Hawaiian Poke Co uses great quailty fish such as sashimi grade 1 Hawaiian big-eye tuna.
I also very much liked the ginger poke which was made with sesame ginger vinaigrette, onion, ginger, cucumber, furikake (a dried Japanese seasoning that tastes of seaweed and sesame), crispy sweet potato strings and sesame seeds, along with ahi tuna.
These dishes came with rice, to make a 'poke bowl' although Hawaiian Poke Co offers a bun or salad if you prefer those to the rice, or you could even order the poke by itself.
There are more options, such as crab, salmon or octopus if you want something other than tuna, although my recommendation would be heading to Hawaiian Poke Co with some friends so you can order a bunch of different dishes and share them. I found there to be enough appetizers, snacks and entrees on the menu for everyone to take their pick, and then you can all share. There are also cocktails and desserts so you aren't going to leave hungry!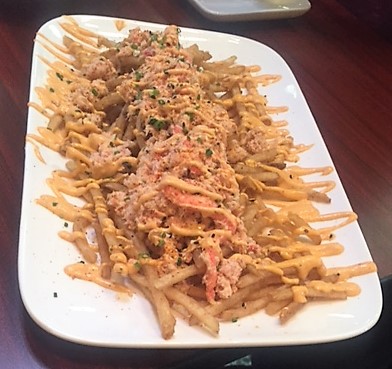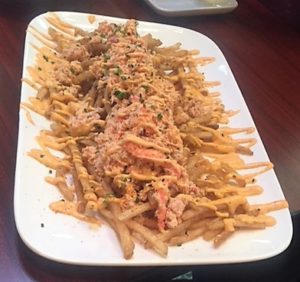 Other Dishes on the Menu Worth Ordering
Not in the mood for poke? No problem. You can choose from a variety of other dishes, including quesadillas, gyoza, chicken wings and more.
One of my absolute favorites on their menu has to be the crab fries. For $10 you get a huge platter of crispy fries topped with a generous portion of fresh snow crab. I usually enjoy my fries on their own, as a side or with some ketchup for dipping, occasionally with chili and cheese.
Never have I tried them with snow crab but this dish is imprinted in my memory as my new favorite way to eat fries!
Green onion, spicy aioli and furikake (that Japanese seasoning again) complement the snow crab fries to perfection. This is a dish I would order as a side every time.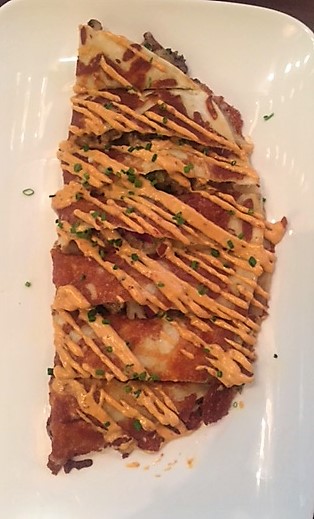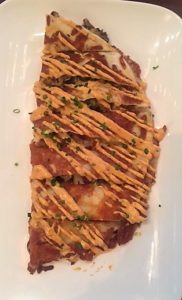 The gyoza were a bit crispy for my liking but I know when making hundreds of these little things it's easier to fry them than to cook them potsticker-style and steam one side while the other fries. Some people might prefer them crispy all over though, and if that sounds like you, you will enjoy these.
More Options to Whet Your Appetite
The shrimp quesadilla was very tasty too, another of my favorites at Hawaiian Poke Co. Roasted pepper pico, Monterey Jack cheese, chipotle aioil and cilantro complement this tasty quesadilla, and we were all delighted with the flavor of this one.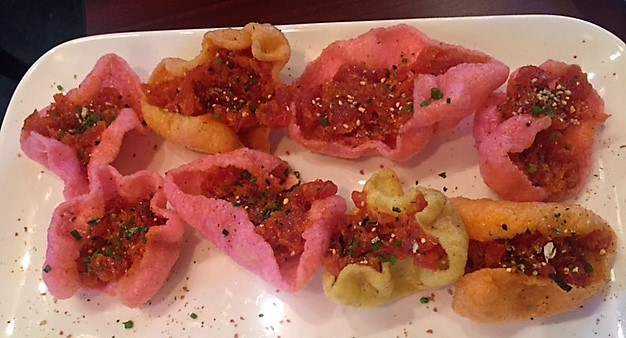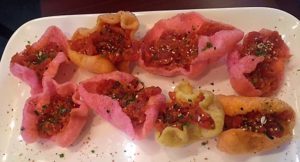 The spicy bombs were also fun, pairing spicy tuna with togarashi, furikake and green onion with a puffed shrimp chip.
These are cute and colorful and make a good appetizer if you want to enjoy a snack before indulging in a poke bowl or another entree.
The tuna mixture without the puffed chip was very spicy, but add the chip and the piquancy goes down, leaving behind the satisfying flavors of both shrimp and tuna, as well as those perfectly matched seasonings.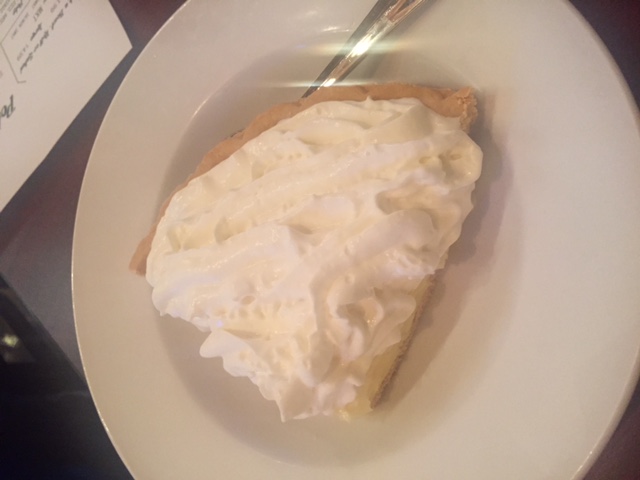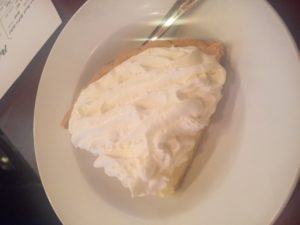 Hawaiian Poke Co: What's for Dessert?
To follow up, we enjoyed the enticingly indulgent coconut creme pie which was super-rich and creamy. The pastry was golden and crisp and I loved the coconut shreds in the filling. I couldn't finish a whole slice though. For me, the portion is shareable (or take home-able!)
Hawaiian Poke Co has its own cocktails on the menu, although after 9pm when it changes back into Howie's Tiki, there is a more extensive list.
Hawaiian Poke Co offers both cocktails and mocktails as well as soda. Try a Moscow Mule or Sake Mule (I liked the latter!) or perhaps a pineapple rum spritzer to complement the poke.
Having lunch at Hawaiian Poke Co and need to drive back to work? Then you can't go wrong with a mocktail such as the mango cooler or Hawaiian sun passion drink. Don't forget to head back another evening to try Howie's Tiki and its extensive cocktail menu.
Hawaiian Poke Co, 4334 Farm to Market 2920 #100, Spring, Texas 77388
Phone: (832) 299-6991
Hours:
Monday thru Saturday 11am – 9pm
Sunday 12pm – 8pm