What is keto Mississippi pot roast anyway, you might be wondering, and can you make a Mississippi pot roast keto? The answer to the first question is it's a chuck roast with ranch, gravy, butter and pepperoncini peppers. The answer to the second is yes, absolutely!
You can make this keto Mississippi pot roast crockpot recipe in 6½ hours all-in, or maybe 4½ if you are in a hurry and use the high setting. To keep this Mississippi pot roast keto we are using simple ingredients, namely meat, oil and butter, pepperoncini peppers and simple seasonings.
I typically use olive oil when searing the meat, but you can use another kind if you prefer, or melted butter. If you only have salted butter at home, then just omit some of the salt from the recipe and it will balance out fine.
History of Keto Mississippi Pot Roast
 This recipe can be traced back to Ripley in Mississippi, where Robin Chapman, a local, adapted a recipe she was given in the 1990s. She then shared her version of the Mississippi pot roast recipe with a friend, Karen Farese, who then added it to a church cookbook, simply calling it 'roast beef'.
As time passed, many people bought the church cookbook and tried this recipe, and in due course its name changed to Mississippi pot roast. It's been gaining popularity ever since, with the keto Mississippi pot roast version being very close to the original, which is simply beef (rump, chuck or sirloin tip), au jus, butter, pepperconis, and ranch dressing mix.
What are Pepperoncini Peppers?
 Pepperoncini peppers, or pepperoncinis, are small peppers whose flavor falls somewhere between hot and sweet. They are popular in Italian and Greek cuisine. The Italian ones are a bit longer and slightly less sweet. If they don't have them in your usual grocery store, try an Italian food market. Pepperoncinis are light green but turn red when ripe.
They are medium sized, similar to a banana pepper in shape and size actually, but with more rounded points. Also pepperoncini peppers are more wrinkled than banana peppers when you look closely. You can stuff these peppers, add them to pasta recipes, use them in this keto Mississippi pot roast crockpot recipe, or add them to your next batch of deviled eggs.
They're slightly spicier than banana peppers so if those are already too hot for you, you might like to swap them for a milder pepper or else use fewer when making this keto low carb pot roast slow cooker recipe.
Is there a Keto Ranch Seasoning Powder Recipe?
 If you prefer not to use the store-bought kind, it's possible to make your own keto ranch seasoning powder with a few ingredients. Simply combine the following then keep the mixture in a sealed container somewhere dark and cool. Use dried (not fresh) herbs in this.
3 tablespoons parsley
½ teaspoon black pepper
2 tablespoons onion powder
1 packet True lemon powder
2 teaspoons dill weed
2 teaspoons chives
1 tablespoon garlic powder
1 teaspoon Himalayan salt
½ cup buttermilk powder (optional)
You can combine this mixture with mayonnaise or Greek yogurt to make a ranch dip or dressing, use it to make fried chicken wings, or find other uses for it. The True lemon powder (you can also use True lime) is available from Walmart and some grocery stores. You can use it to flavor water or tea, make lemonade, as a rub or seasoning, or to include in recipes such as this keto ranch recipe. The buttermilk powder isn't carb-free but considering we are only using a tiny pinch per serving in the recipe it's fine.
What to Serve with Keto Mississippi Pot Roast
To keep the pot roast keto, try green beans, mashed or sautéed riced cauliflower, mashed turnips or kohlrabi, steamed spinach, or fried cabbage. If you're also making sides for carb eaters, consider the usual suspects of potatoes, carrots and perhaps peas or another green vegetable. Another idea is to serve this in buns, topped with a slice of Swiss cheese, to make keto Mississippi pot roast sandwiches.
Print
Keto Mississippi Pot Roast Crock Pot Recipe
Combining the delicious juiciness of beef with the flavors of butter, pepperonicinis, beef bouillon and ranch, this wonderful Mississippi pot roast recipe is going to knock everyone's socks off with its wonderful flavor.
Author:
Prep Time:

10 Minutes

Cook Time:

6 Hours 30 Minutes

Total Time:

6 hours 40 minutes

Yield:

6

1

x
Method:

Crockpot

Cuisine:

American
2½

lbs (1.1kg) chuck roast

2 teaspoons

cooking oil or melted butter

½ teaspoon

each salt and black pepper

1 teaspoon

beef bouillon powder

1 tablespoon

ranch seasoning powder

2 tablespoon

unsalted butter

8

whole Pepperoncini peppers
Instructions
Remove the visible fat on the outside of the meat and any you see between the muscles.
Rub most of the oil over it and grind over some salt and black pepper.
Heat a skillet over a moderate heat, then add the rest of the oil.
Brown the roast in there on all sides.
Transfer the chuck roast into your slow cooker and set the temperature to low.
Now dissolve the beef bouillon powder in 1/3 cup of boiling water.
Pour this over the roast.
Sprinkle most of the ranch seasoning powder on top and dot with butter.
Arrange the pepperoncini on top.
Cook for 6 to 8 hours on low, or until you can pull the meat apart using a fork.
Stir the remaining ranch seasoning into the juices and cook for 5 minutes more.
Serve this keto pot roast with your favorite side dishes.
Notes
You can cook this keto Mississippi pot roast on high if you prefer, in which case it will take 4 to 6 hours to cook.
Keywords: keto pot roast, keto mississippi pot roast crock pot recipe, low carb pot roast recipe
Best 6-Quart Crockpot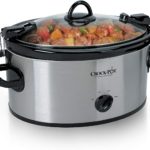 This is the best rated crockpot on Amazon, with more than 11,000 high ratings, and would be perfect for making this keto Mississippi pot roast recipe. Choose from black, red or stainless steel to complement your kitchen décor. The removable stoneware works as a serving dish too, so you don't have to transfer the pot roast out of it and into another serving dish.
Once done, simply pop the insert into the dishwasher for easy cleanup. Every kitchen needs at least one slow cooker, and this one is a nice size to make up to 8 servings of food. The control can be set to off, low or high, and there is also a keep warm function.
The locks on the lid mean no spills if you make food in there and travel with it to the party. The insert is oven-safe too, in case you want to warm something up quickly that you make and kept in the crockpot from the previous day.