Although many stores carry plus-size fashion clothing these days for curvy girls, there are also stores designed with plus-size girls in mind where you don't have to rifle through the racks searching for your size and everything is generously proportioned. These days plus-size clothes are not what they used to be. There is so much more choice and you can get some gorgeous pieces, items designed to flatter your curves rather than hide them, and clothing to enhance your best assets while disguising your least favorite, and that is something every girl wants to do regardless of shape or size.
Range of Plus-Size Fashion Choices
Because of an increase in need for clothes and accessories in a plus-size range, there are plenty of fashion designers who focus on such garments so plus-size girls can find gorgeous fashions regardless of personal style. There really is something for everyone these days.
Go back a few decades and what was sold as 'plus-size fashion' really shouldn't have been called 'fashion' at all and you might as well have thrown a tent on. These days, a lot more care and attention to detail goes into the design of plus-size garments, so whether you are planning to go to work, to the gym, shopping, to a friend's house, or a fun night out on the town, you should be able to find some gorgeous fashions.
Where to Find Plus-Size Fashion
Visit your local mall and take a look at what they have to offer in the way of plus-size fashion. You might well find a plus-size clothing store there, or else look online to see what you can find. If you prefer to try on clothes in the comfort of your own home, consider shopping online. You can always send back anything you don't like or that doesn't fit.
You will have more retail outlets and items to choose from too when shopping online, and the prices tend to be lower because online stores have lower overheads than the ones in the mall where the prices are higher to cover their higher rents and so on.
Shop online for plus-size clothing any hour of the day or night and take a look at all the fashions available. It is time to update your wardrobe with the latest plus-size fashions and feel like a million dollars! If you haven't shopped for a while you will be pleasantly surprised what is on offer these days.
Black Sheer Roll-Tab Sleeve Blouse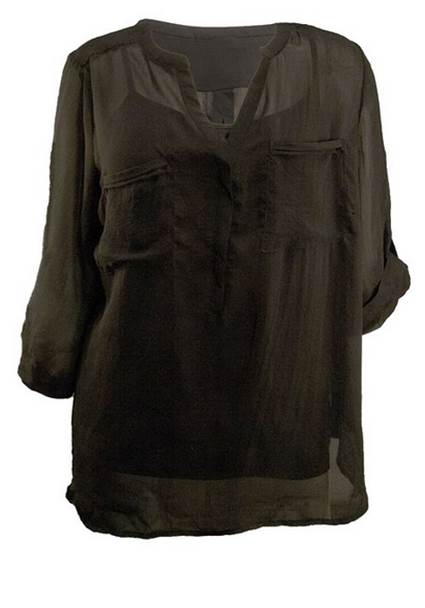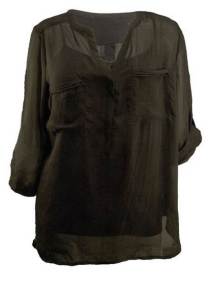 This is a gorgeous top if you're looking for plus-size fashion which is special and classy. It is black and sheer, and falls beautifully. Although some people view black as something of a cliche where it comes to plus-size clothing, sometimes it is lovely to wear because it is more slimming than any other color, and it can be paired with any color pants.
Everyone needs a gorgeous black top and this one is versatile enough to wear on practically any occasion.
The quality is great and this 60% cotton 40% top is machine washable. The roll-tab sleeves are cute and the V-neckline is complimentary. The 2 cute front chest pockets finish it off and this is a very pretty top indeed.
Pair it with a simple pair of jeans or capri pants, and wear the sleeves rolled up or have them down. Don't forget to add some chunky accessories to put your own stamp on the outfit and you are sure to get some envious looks!
Sheer Black Roll-Tab Blouse, on Amazon
Pretty Plus-Size Dress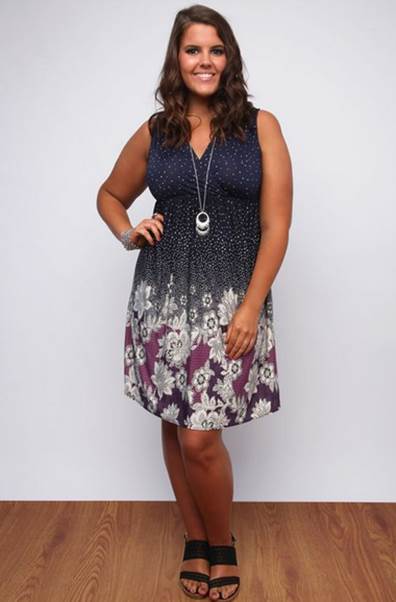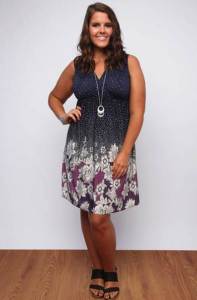 This pretty dress is perfect for the summer or you could team it with a beige, cream or white jacket for the cooler evenings, and perhaps some strappy sandals too to complete your plus-size fashion outfit.
Available in 24/26 Plus and 28/30 Plus, this dress is made of stretch fabric (polyester and elastane) to hug your curves, while the elasticated waist fits perfectly.
Team it with a pretty necklace like in the photo, and maybe a matching bracelet, and you will look and feel like a million dollars.
The V-neckline is flattering, as is the hemline which falls just above the knee. The tropical floral design around the hemline draws attention there while the V-neckline flatters your neck. The darker color is similarly flattering around the bust and waist area.
If you are looking for something really pretty which flatters a curvy girl, this is perhaps the perfect dress for you, because it is eye-catching in a good way and will fit like a dream.
The cut and length means it's ideal for short or tall girls and you can show off your tan legs in this, or else pair it with boots and a jacket if it is colder outside. This will be your go-to dress because it's so cute.
Plus-Size Sleeveless Dress, on Amazon
Gorgeous Red Leather Jacket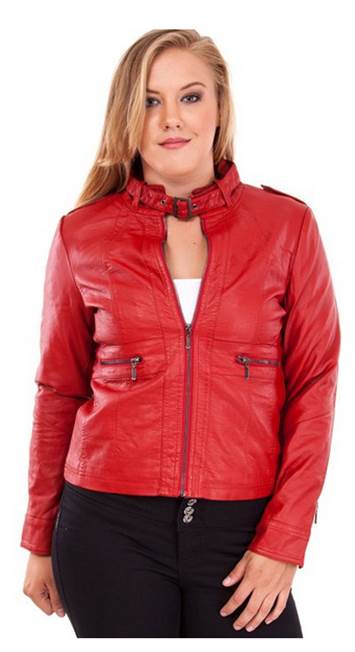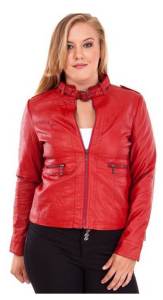 I love this! Made from polyester but looking just like leather, the price is great but the jacket is gorgeous. This is perfect to team with any kind of jeans or pants, or you could wear it over a dress for an evening out.
Priced under $50 and available in XL, XXL or XXXL this is a real bargain and you might want to snatch one up quick before they all sell out!
The model in the plus-size fashion photo is a size 1XL so you can see what it looks like when worn. Order up a size if you are going to wear a sweater or something bulky underneath, or your regular size if you're just going to put it over a thin top.
The neck fastening is a cute touch and this looks nice paired with a black, white or other neutral-colored scarf tied casually around the neck. It comes in black or red, and the front pockets zipper closed to keep your things safe.
This jacket is about 9 inches wide at the arm opening and 23 inches long, so the fit is generous and comfortable.
Red Leather Jacket, on Amazon