It is fair to say that potstickers are well-loved, and no wonder, when they boast such an incredible flavor in every bite. One is never enough. If you know something about potstickers history or you just like to eat them, you might already know through history potstickers have gone by a variety of names, including guotie, Peking Ravioli, pork dumplings, and wortip. Potstickers are both pan-fried and steamed.
Once the little dumplings are filled they are pan-fried on one side and then steamed in water or broth, so they end up crisp and browned on one side but easy to remove from the pan with a spatula. Try not to overcook them though, because then they will stick!
Curious Potstickers History
These little treats have been around since the Chinese Song dynasty, which dates back to 1280AD, although the exact origins are not known. According to legend however, they were invented when a chef in China's Imperial Court accidentally burnt some dumplings. Oops!
Since they were only burnt on one side, the chef served them burnt-side up, announcing it was deliberate and a new way to prepare dumplings. This was his only option because he didn't have time to prepare a new batch. Luckily, they were well received, and of course their history has gone from strength to strength.
Today they are enjoyed all over the globe and knowing potstickers history makes them all the more appealing.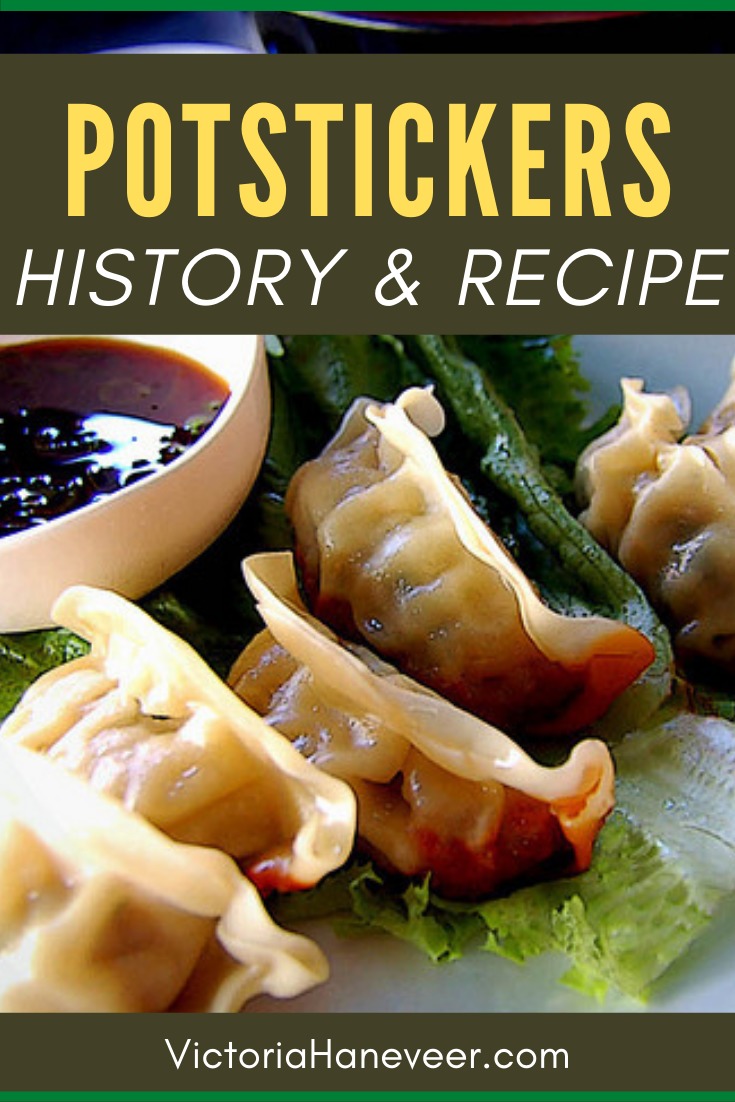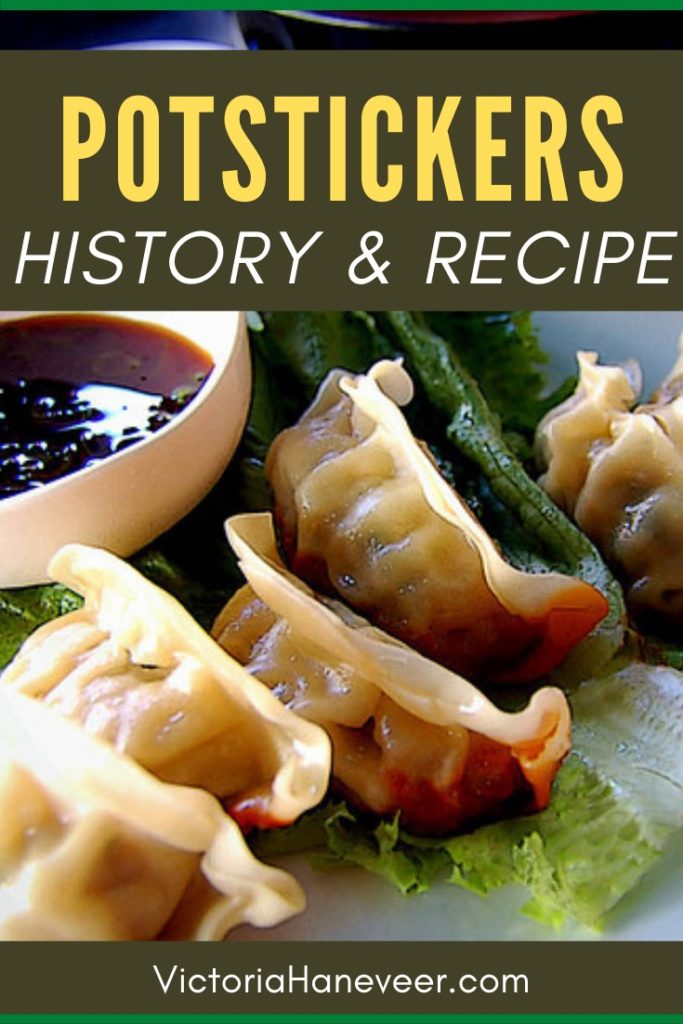 Tips for Authentic Potstickers
Potsticker dough is made with hot water to give it more elasticity. Actually most steamed and boiled types of dumplings are made with hot water dough. Perhaps you are craving potstickers but don't have time to make the dough, in which case try wonton wrappers cut into circles or gyoza wrappers.
You can also find dumpling skins in Asian markets – just look in the frozen section. Serve the finished potstickers burnt side up, in the authentic fashion, along with your preferred condiments. These can include:
soy sauce
hot chili oil
(preferably red) rice vinegar
shredded ginger
In the following recipe we are including a simple sesame oil dipping sauce which you can make simply by combining these two ingredients. This is perfect if you don't want anything too spicy.
You might want to offer a spicy dip alongside it though, because perhaps some people will want that. So now you know potstickers history it's time to make some potstickers of your own.
Print
Potstickers History and Recipe
These little treats are amazing and one is never enough. A hot water dough is used to contain a delicious pork filling, and they are fried on one side and then steamed for a charming, perfect result.
Author:
Prep Time:

30 mins

Cook Time:

30 mins

Total Time:

1 hour

Yield:

8

1

x
Category:

Appetizer

Cuisine:

Chinese
8 oz

(

230g

) Napa cabbage

3 teaspoons

salt

1

lb (450g) lean ground pork

2

finely chopped green onions

1 teaspoon

cornstarch

2 teaspoons

sesame oil

1 tablespoon

white wine
White pepper, to taste

1/4 cup

(

60

ml) soy sauce
Vegetable oil, as needed
For the Dough
2 cups

(

280g

) all-purpose flour

1 cup

(

250

ml) boiling water
Instructions
Cut the cabbage into thin strips, and toss it with 2 teaspoons of salt.
Set it to one side for 5 minutes then squeeze out any excess moisture.
Toss the cabbage with the pork, spring onions, cornflour, wine, white pepper, a teaspoon of sesame oil, and a teaspoon of salt.
Mix the flour with the water until you have a soft dough.
Knead it on a floured worktop until smooth.
This will take about 5 minutes.
Divide the dough in half and shape each one into a 12 inch (30 cm) long roll.
Cut each roll into 1/2 inch (1¼) cm slices.
Roll a dough slice into a 3 inch (7½ cm) circle and put a tablespoon of the pork mixture in the middle.
Lift up the circle's edges and pinch 5 pleats into it, to make a pouch which encloses the mixture inside.
Pinch the top together.
Repeat with the rest of the dough slices and the rest of the filling.
Heat a wok until it is very hot, then add a tablespoon of oil.
Swirl the oil around so it coats the wok sides.
If you don't have a wok you can use a nonstick frying pan but add 1½ tablespoons of oil instead.
Put 12 dumplings in the wok and fry them for 2 minutes or until they are golden brown underneath.
Add 1/2 cup (125 ml) water, then cover and cook for 5 minutes or until the water has been absorbed.
Repeat with the rest of the potstickers.
Mix a teaspoon of sesame oil with the soy sauce to make a great dipping sauce.
Notes
Makes About 48 Potstickers
Photo by Zeetz Jones, on Flickr