This is such a great recipe for the fall (or maybe you call it autumn, depending where you're from) and the juicy chicken, sweet pumpkin, comforting rice, and other tasty flavors in here combine beautifully to make this gorgeous pumpkin risotto.
To make a flavor-packed risotto, stick to delicate, fragrant flavors, and you will experience this timeless Italian dish the way it was meant to be enjoyed.
That Wonderful Risotto Texture
To get the texture of the chicken pumpkin risotto just right, use risotto rice (arborio or carnaroli perhaps) and keep adding the liquid in small amounts, letting the rice absorb the liquid before adding more. The rice is done when it is al dente, which means it still has a little bite to it. You might not need to use all the hot stock.
It's easiest to cook the pumpkin and chicken first, then sauté the onion and garlic in some olive oil. Next the rice goes into the mixture, and you can add the wine, then the chicken stock bit by bit, letting the rice soak up the liquid.
Finally the chicken and pumpkin go back into the chicken pumpkin risotto and you can stir in the parmesan. Use freshly grated parmesan, not that cheap powdery stuff (which isn't actually parmesan at all).
Tips for Perfect Chicken Pumpkin Risotto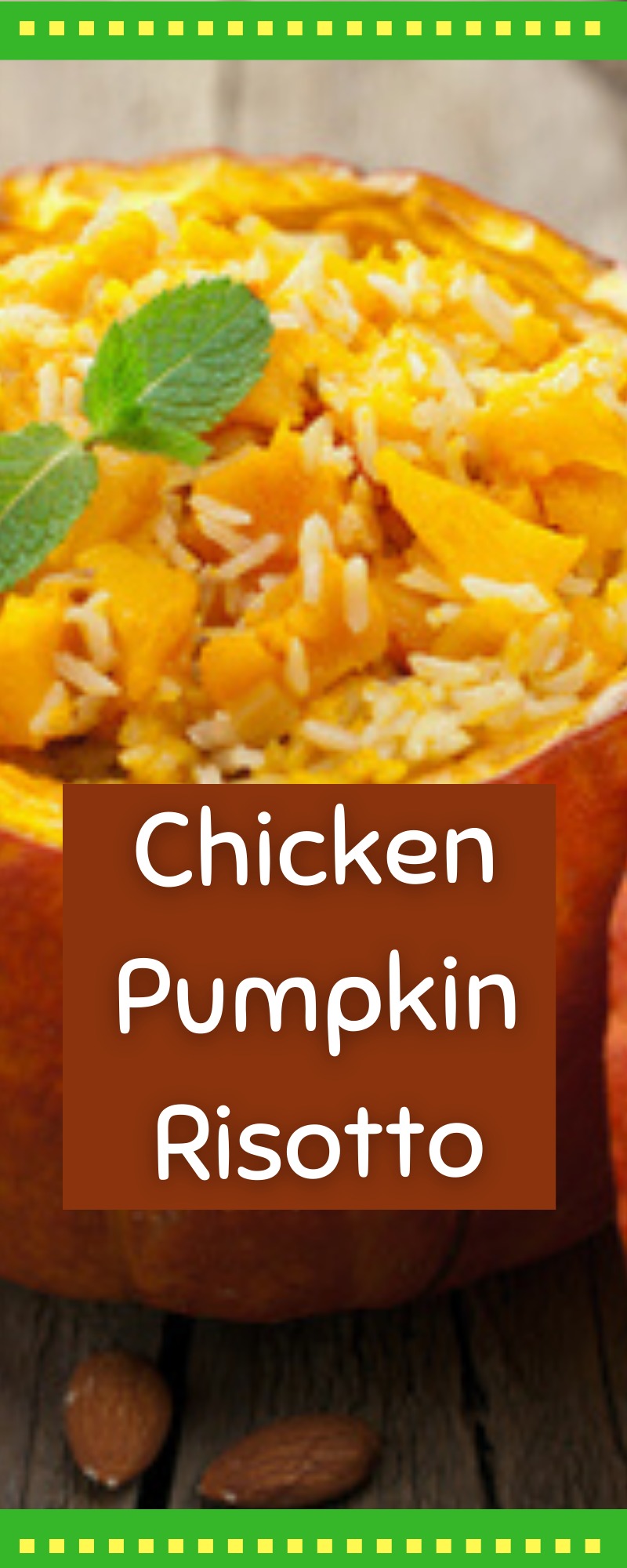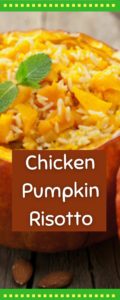 Do you have some leftover cooked chicken or pumpkin? If so, this will be much quicker to prepare!
Cut the chicken into cubes before cooking if you are sautéing it, or afterwards if not, and cut the pumpkin into cubes too. These cubes can be about 1/2 inch (1 cm) in size.
Why not hollow out a pumpkin and serve the finished risotto in that? That would look really spectacular and offers all the same amazing flavor of conventional chicken pumpkin risotto.
Pumpkin Risotto: Garnish Ideas
I like to garnish my chicken pumpkin risotto with a sprig of fresh mint, but use any kind of herbs you want. Sage would be nice here.
Feel free to make any tweaks to the recipe you want, such as adding some spinach to the risotto. Or what about adding some toasted flaked almonds at the end?
Make this chicken pumpkin risotto a few times and you will discover how you like it and what you want to put in there.
This is the best chicken pumpkin risotto recipe for the cooler months because it is really yummy and sure to put a smile on every face! I also love this mushroom risotto. This recipe feeds 4 to 6 people.
Oh and this banana cheesecake recipe would be great after!
Print
Best Chicken Pumpkin Risotto Recipe
This gorgeous risotto includes juicy chicken and sweet pumpkin, along with onion, garlic and white wine. This is amazing comfort food or, served in a hollowed out pumpkin, an unusual gourmet treat.
Author:
Prep Time:

15 mins

Cook Time:

40 mins

Total Time:

55 mins

Yield:

4

1

x
Category:

Entree

Cuisine:

Italian
2 cups (450g) pumpkin, cut into small cubes
17 ounces (500g) chicken breasts
3 tablespoons olive oil
1 finely chopped yellow onion
2 minced garlic cloves
2 cups (230g) uncooked arborio rice
1 cup (250ml) white wine
4 cups (1 litre) hot chicken stock
1⁄2 cup (45g) freshly grated parmesan
Black pepper, to taste (optional)
Fresh sprigs of mint, for garnish (optional)
Instructions
First bake the pumpkin in a 350 degrees F (180 degrees C) oven for 15 minutes.
Meanwhile you can grill, pan-fry, roast or poach the chicken until just cooked through.
Cut the chicken into small cubes when it is cool enough to handle.
Sauté the onion and garlic in the oil in a pot for 5 minutes or until tender.
Add the rice and stir until the grains begin to swell.
Turn the heat down to low.
Add the wine.
Keep cooking and stirring until the liquid is absorbed.
Add about ½ cup (125 ml) of chicken stock and keep stirring while it is absorbed by the rice.
Repeat, stirring all the time.
When you are adding the final bit of stock, add the chicken and pumpkin to the risotto too.
Take it off the heat and stir in the parmesan.
You can add some black pepper too, and perhaps garnish the finished risotto with mint sprigs.
Serve right away.
Keywords: chicken pumpkin risotto, chicken risotto with pumpkin, pumpkin risotto with chicken, risotto in pumpkin bowl