Saute chicken of the woods in place of poultry or meat, and you can enjoy a vegetarian-friendly dish. Not to be confused with chicken of the sea (tuna!) chicken of the woods is the name given to a type of mushroom.
Cooking chicken of the woods is super-simple and they just take a few minutes to soften to perfection in a skillet or wok in some oil. Because the flavor is neutral and chicken-like, you will be able to add these chicken of the forest mushrooms to pretty much any dish in place of chicken, and use it in all kinds of cuisines.
This fungus (Laetiporus Sulphureus) grows in many countries. Other names for chicken of the woods include chicken fungus, chicken mushroom and sulfur shelf. It's similar to hen of the woods, false chicken of the woods or maitake (Grifola Frondosa) but that's a different edible mushroom altogether.
It grows in "shelves" which can be between 2 and 10 inches wide. Some groups of shelves are small while others can weight up to 100 pounds (45kg).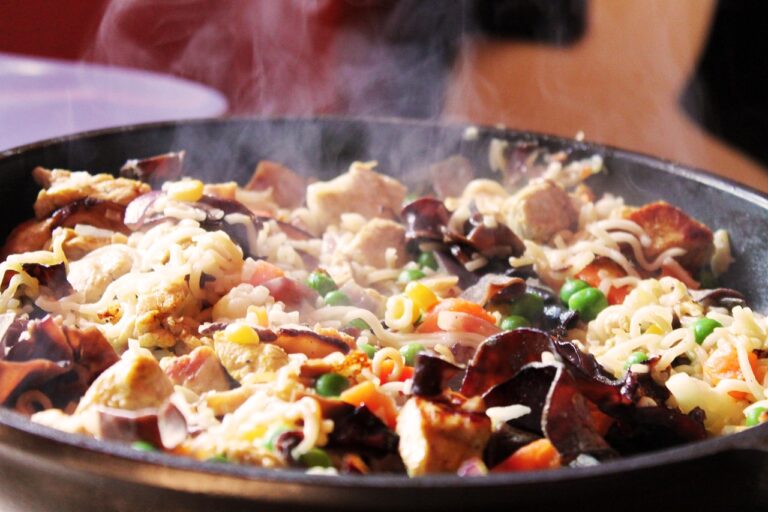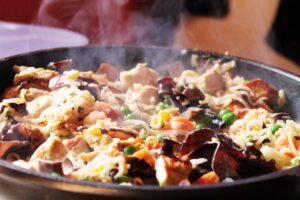 Chicken of the Woods Mushroom: Where to Find Them
Found primarily growing out of tree wounds, you might find chicken of the woods on oak, eucalyptus, willow, sweet chestnut, and yew, as well as conifers sometimes. It can also grow on dead or nearly dead oak, beech and cherry as well as on dead conifers. Chicken of the woods season is from spring to the early fall.
If you enjoy the flavor of chicken and mushrooms, give this tasty fungus a try. You can even make it for vegetarians. The follow recipe is a stir-fry. It really is simple to prepare and great for those busy weeknights when the last thing you want to do is stand over a hot stove.
So find out how to saute chicken of the woods and get ready for an amazing flavor experience. For added veggies you could also make this napa cabbage side dish.
Print
Saute Chicken of the Woods
Once you know how to saute chicken of the woods, these forest mushrooms (which taste like chicken) can be used in all kinds of tasty recipes in addition to, or instead of, regular mushrooms.
Author:
Prep Time:

10 minutes

Cook Time:

15 minutes

Total Time:

25 minutes

Yield:

2

1

x
Category:

Main Dish

Method:

Stir Fry

Cuisine:

Asian

Diet:

Vegetarian
2

 

tablespoons

 

oil

1

 

pound

(450g)

chicken of the woods in 1/2 inch (1 1/4 cm) strips

1

sliced small onion

3

minced garlic cloves
Handful of chopped veggies (anything you want)

1/2 cup

(125ml) chicken or vegetable broth
Soy sauce, sesame oil, black pepper, chili flakes, and/or ginger paste, to taste
Instructions
Heat the oil in a wok or skillet.

Spread the chicken of the woods out in a single layer in the wok.

Cook for 5 minutes until the mushrooms begin to brown.

Stir in the onion and garlic as well as your chosen vegetables.

Cook for about 5 minutes.
Add the broth and cook for another 5 minutes.
Stir well and serve over rice or noodles.
Notes
This recipe is a good starting point but you can make it however you wish. Some tweaks and variations include the following:
Use white wine, lemon, salt, and parsley in place of the broth and Asian seasonings
Spice it up with hot sauce, chili flakes or cayenne pepper
Enjoy it with egg fried rice which you can make in another pan
Keywords: saute chicken of the woods, mushroom stir fry, vegetarian stir fry recipe, chicken of the woods, hen of the woods